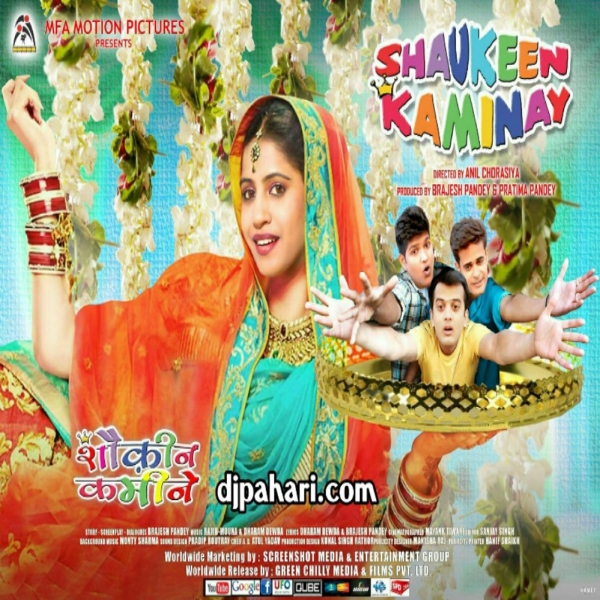 Q. Pencil in your filmic background in a nutshell. Besides how was your experience while filming "Shaukeen Kaminay"?
A. I Have acquired adequate experience as a director as well as a film Maker. I have made a lot of Ad Films, Short Films, Corporate Films, Documentaries & also shot varied music videos for renowned singers like Vinod Rathod & Pamela Jain in association with Brajesh Pandey. My passion for making films of varied genres inspired Brajesh Pandey to assign all the film direction projects of MFA Motion Pictures. I also created a record of sorts in Varanasi by shooting a children film within 48 hours. That apart I created world record by training & shooting The Largest Flash Mob by Kids at a single venue on mother's day for surf excel. So, the past experience really counted in and now I have made Shaukeen Kaminay which will be a real visual treat for the eyes of the cinegoers.
Q. Name your one ideal inspiration in Showbiz world?
A. Right from the beginning I am inspired by Shri Dadasaheb Phalke for bringing cinema in India.
Q. Is there any specific reason for naming your current project as Shaukeen Kaminay?
A. Actually speaking we are looking at the young generation who are highly influenced by the western culture, and are adopting to those tradition & cultures which demean the status of women. This film is specially made for the Indian youth.
Q. Were you given a free hand while How was your working with the producer of Shaukeen Kaminay?
A. To be very, very frank working with my producer Brijesh Pandey was a, awesome experience, he did not compromise on the quality of the film. We hired the best crew and shot in the best places without any problems or hindrance. Brajesh Pandey always motivated & gave positive vibes to the whole cast & crew.
Q. Ok now tell us what is so special about Shaukeen Kaminay and how is it different from the other films of its ilk?
A. I would only like to add that Shaukeen Kaminay along with being a comedy film has a great message within it. Shaukeen Kaminay can definitely change the mindset of people who think of women as a weakling. The film is a rollercoaster ride of emotions, making a change in the society.
Q. Is there any underlying message that you do are trying to put across through Shaukeen Kaminay?
A. Of course Shaukeen Kaminay is an effort to uplift the status of women and to stop gender bias and hypocrisy in our society.
Q. Entail briefly about the crux of Shaukeen Kaminay?
A. You see Shaukeen Kaminay raises a pertinent question as to why virginity is a privilege for men and justification for women is the crux of the film and the line from our writer "Aurat ka jab maan badega, Bharat ka samman badhega" validates this fact.
Q. What is the USP of Shaukeen Kaminay?
A. According to us the concept is the hero of the film.
Q. So What is the actual story of Shaukeen Kaminay?
A. Really speaking it is the story about guys who just want to enjoy with different girls every time but expects virgin girls as their wives. They find a place called "Naariganj" where there is tradition of "one night marriage" but life leads them to a cycle of emotions which totally changes their mindset and teaches them to respect women.
Q. As per you do you think you have justified the script of Shaukeen Kaminay?
A. Yes I do think so. The script of the film has been written by Brajesh Pandey which was highly ambitious, while reading the script of the the film I could totally picture it in my mind. The screenplay & dialogues are packed with punches and shall be remembered by all.
Q. What has the response been to the Shaukeen Kaminay's music track so far?
A. Well! I would say it's been phenomenal. "Maahi Re", has been trending on social site for a long time. Shaukeen Kaminay's album has received a great response by the audience and will be a chartbuster soon. The work of Aman Trikha, Mohammad Irfan, Javed Ali & Indu Pandey is absolutely commendable.
Q. So what do you think is the one X factor that should drive audiences to watch Shaukeen Kaminay?
A. To this query my answer would be or rather I think there isn't one. There is more than one. I think it's a fabulous youthful story
giving a beautiful message and moreover raising the status of women.
Q. So what is your next lined up project?
A. My next lined up project is also with MFA Motion Pictures titled as Mastermind – A white collar crime based on illegal hacking of credit & debit cards.
Q. As a parting shot tell us Who are your favorite Bollywoodian actors?
A. Sincerely speaking I really appreciate the works of Naseeruddin Shah, Irrfan Khan & Nawazuddin Siddiqui.