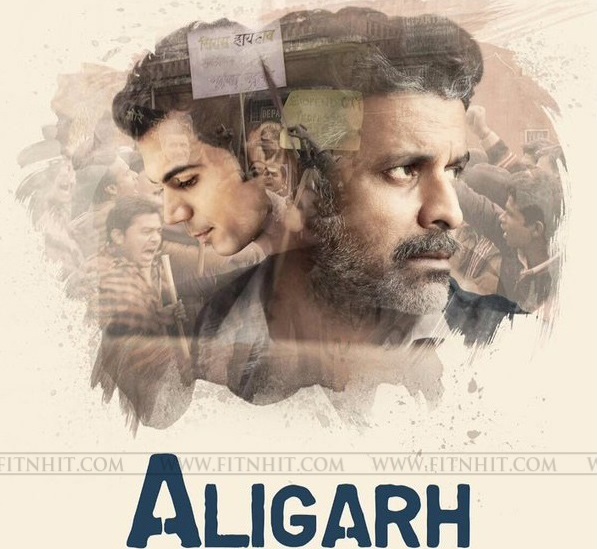 Banner: Eros Entertainment & Karma Pictures
Producers: Sunil Lulla & Shailesh R. Singh
Director: Hansal Mehta
Star Cast: Manoj Bajpai, Rajkummar Rao, Ashish Vidyarthi, Ishwak Singh, Nutan Surya, Divya Unny, Suman Vaidya & Master Devyansh Agnihotri
Director Hansal Mehta is known more for tackling themes which are more suited, or rather which are more often than not slotted, in the category of the middle of the road cinema. No doubt his kind of cinema wins a lot of critical acclaim topped with awards galore in global film fest circuit. Just like his latest offering Aligarh which got a standing ovation in Busan International Film Festival.
Aligarh's plotted scenario starts off on the premises of Aligarh Muslim University, the very 'Urdu dominated' place where Professor Shrinivas Siras (Manoj Bajpayee) happens to teach Marathi to the students. The film gradually moves onto capturing the 'intimate moments' between Professor Shrinivas Siras and a rickshaw driver Irfan. The moment they get intimate with each other, 2 reporters (who claim to be from TV 100 channel) do a sting operation on the duo. As Siras & Irfan get caught in the act, Dr. Zuber Khan, Dr. Firoz Majid, Dr. Shadab Qureshi & Professor A. K. Murtuza from the university enter the room. Even though Dr. Shadab Qureshi (who also happens to be the college's PRO) assures Siras that he will not leak his intimate video, yet he goes back on his words and tells the media all about the incident. The next day morning sees all the newspapers & channels screaming about Siras' incident, which also results in a mob burning his effigies, human protests et al. All of this results in Professor Siras being suspended from the college and gets told to vacant the quarters within a week's time. Meanwhile, a young & 'fire in the belly' journalist Deepu Sebastian (Rajkummar Rao) starts writing about the case arming himself with thorough investigation, because he feels that Siras is not guilty and could have been framed. Initially, Siras is reluctant to speak to Deepu about the incident because the latter is a journalist. But after a few meetings, Siras develops full faith in Deepu and he confides the whole incident that had taken place that night. While on one hand, Deepu goes all out to get justice for Siras, on the other hand, the court case against Siras only gets prolonged day after day. After days & days of struggle, when Deepu finally succeeds in being the 'agent of change' for Siras to get justice, a drunk Siras tells Deepu on the phone that he strongly feels that he should get settled in US as that's where people of his sexual orientation get accepted with open arms.
Director Hansal Mehta deserves a standing ovation, a heartfelt salutation coupled with some brownie points for his par excellence directorial prowess in Aligarh. That apart hats off to its producers Sunil Lulla & Shailesh R. Singh for backing Aligarh with all their sincerity & their integrity. That apart a round of another standing ovation also goes to behind the scenes team of Apurva Asrani for his story, screenplay & editing, Karan Kulkarni for his background music & Satya Rai Nagpaul for his cinematography.
Performance wise Manoj Bajpayee is simply outstanding. He excellently & effortlessly conveys the humiliation & the pain by straight away getting into the skin of his character, seriously no other actor could have stepped into his shoes. So much so that Aligarh adds yet another milestone in his chequered career innings. While on the other hand Rajkummar Rao proves yet again that he is no doubt a gifted actor in his own right. That apart the rest of the cast comprising of Ashish Vidhyarthi, Ishwak Singh, Nutan Surya, Divya Unny, Suman Vaidya & Master Devyansh Agnihotri
bring in their own value added performances to make the film reach its goal.
Tail Piece: Sadly enough even though Aligarh is a sensitive, heart-wrenching & heart warming film it may appeal to a very niche segment of the multiplex audiences. It has already proved to be a critics delight but may not attract the masses, mainly the commercial entertainment starved audiences of the single theatres. All in all Aligarh is one classy film that will not attract the mass audiences.