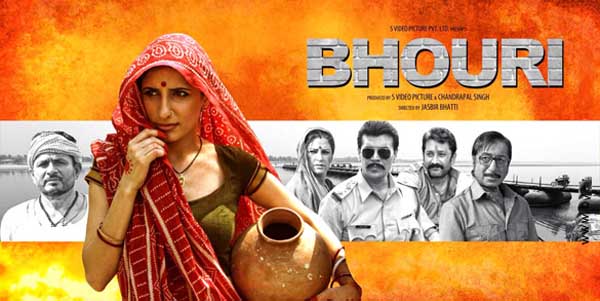 Débutante producer Chanderpaul Singh is now ready with an off beat & realistic film, needless to say with all the commercial trappings intact, offering named 'Bhouri'. In this exclusive interview he speaks at length all about his pet project 'Bhouri'.
Right at the outset tell us what is your upcoming film 'Bhouri' all about?
First of all I would like to enlighten one & all that my upcoming film 'Bhouri' is a womencentric film. It depicts how all women, especially if they are beautiful, in a particular small village is treated as an object of a lusty desire of some men to give vent to their carnal pleasure.
How about narrating the plotline of 'Bhouri' in a nutshell?
The opening sequence of 'Bhouri' introduces us to the part of a famished rural India to which the higher authorities have turned a blind eye. The local governance & supplies are dominated by a group of 5 upper class men who collectively rule the village. They exploit their power in every possible way. The villagers are compelled to satisfy them, often at a great expense to their meager means & dignified self respect to the extent that most of the women, especially 'Bhouri' the most beautiful of them who was recently married to Dhanua one of the villager, in the village have been compelled to flesh trade for these so called 5 tyrants' gratified sexual pleasures. And all these women are a hapless & helpless as their menfolks' only means of livelihood in the village is the Zamindar owned & run kiln (Bhatta). The film 'Bhouri' narrates the plight of these women who are sexually exploited sometimes even with force. Until Bhouri revolts & protests strongly against this sexual malpractises.
Don't you think this sexual exploitation scenario has been repeated time & again in Bollywood movies?
Yes! You are right on this score but you forget one thing that every filmmaker & director presents such oft repeated scenario with their own perspective, their own hindsight. And as far as 'Bhouri' is concerned it is based on one particular angle which is set against the backdrop of the fight of women in rural India. In particular 'Bhouri' is based on a fictional yet somewhat true story of a 22 year old girl named Bhouri whose extremely fair complexion & sharp features became a source of endless pain & punishment in life as her only crime was that her over attractive looks aroused (sexual) lust, lust & only lust.
Don't you think the blatantly bold theme of 'Bhouri' topped with a fair amount of skin show will prove to be a hindrance at the time of censoring the film?
The skin show that you are referring to has been done in a very decent & dignified manner as per the requirement of the theme of the film. So I don't think the censors will raise any objections to it.
As a parting shot how about giving us an insight into the crew & the cast of 'Bhouri'?
'Bhouri' has been produced by me under the banner of S Video Picture Pvt Ltd Presents. The other crew members are directed by Jasbir Bhati, screenplay & dialogues by Jagat Bhushan Singh & Manjeet Mahipal, cinematography by Mohammed Rubaiz, editing by Mansoor Azmi & Miraz Ali, music by Sanjay Pathak, lyrics by Priya Pathak & Manjeet Mahipal & PRO Raju Kariya. The film stars débutante Masha Paur as Bhouri & stalwarts like Raghuveer Yadav, Kunika, Shakti Kapoor, Mohan Joshi, Sitaram Panchal, Mohan Joshi, Mukesh Rishi & above all Aditya Pancholi.