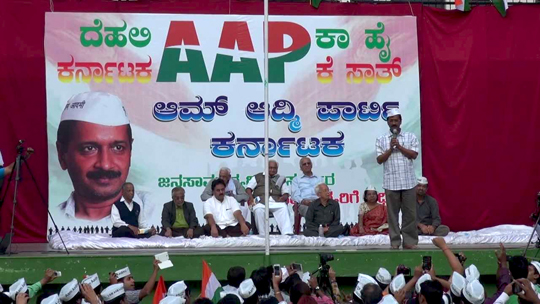 Bengaluru: The Aam Aadmi Party (AAP) unit of the state has launched a helpline owing to its 'Bribe-Free Karnataka' programme that will begin from October 13.
Freedom Fighter HS Doreswamy who launched the helpline urged the people to call the given number and get their work done without paying any bribe.
The helpline number launched is 9342522223 and people could call on the number for reporting instances of corruption.
Sources say that the helpline would be active on all working days. People from the state can call the number and report the demand of bribe.
At the same time, the AAP workers will also pay visits to government offices and urge officials not to take bribes; apart from this, if any official did not complete the work, the matter would be taken to the seniors in the department.
The AAP has come up with the initiative after the Lokayukta had become headless.
An AAP leader said that the Lokayukta had not returned for work and had also not assigned any duty to the Upalokayukta.
(Agencies)