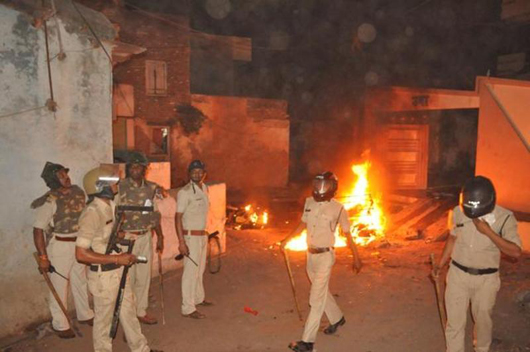 Indore: An indefinite curfew has been clamped in Madhya Pradesh's Khargone city after overnight clashes between two communities during a religious procession injured over two dozen people including police personnel.
Police lobbed tear gas shells and canned rioters after several houses and vehicles were set ablaze during the violence on Thursday night during the 'vijay juloos' (victory procession) which followed the Dussehra celebrations.
The Hindu festivities coincided with the Muharram procession of the Muslims this year.
Sources said differences over the same route taken by members of the two communities triggered the clashes, shattering a fragile peace in the midst of a surcharged atmosphere in many parts of the country.
The Khargone additional superintend of police (ASP) and three other security personnel were injured when rioters pelted stones during the clashes which spread to several localities of the city.
"Extra police forces have been deployed to prevent any untoward incident in the future," said Dilip Arya, the Khargone deputy inspector general of police.
Police said that the clashes started when some people allegedly pelted stones on the 'victory procession' near a popular cinema hall in the heart of the city. This turned into full-fledged clashes as the other group retaliated.
The violence spread to several other localities — Sanjay Nagar, Tevedi, Goshala Marg, Talaab Chauk – where houses and vehicles were set ablaze.  Police said that several families of a community fled their homes as the arson spread.
(Agencies)