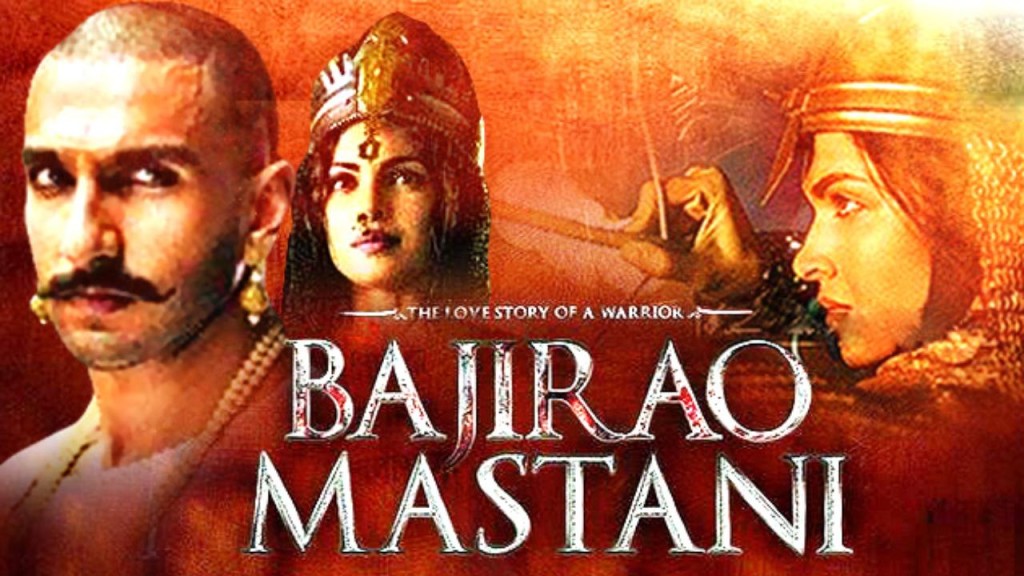 Banner: Sanjay Leela Bhansali Films
Producer: Sanjay Leela Bhansali
Director: Sanjay Leela Bhansali
Star Cast: Ranveer Singh, Deepika Padukone, Priyanka Chopra, Milind Sonam, Aditya Pancholi, Tanvi Azmi, Sukhada Khandekar, Anuja Gokhale, Vaibbhav Tatwadi, Ayush Tandon, Sanjay Mishra & Mahesh Manjrekar et al
Music: Sanchit Balhara, Shreyas Puranik & Sanjay Leela Bhansali
Sure enough director Sanjay Leela Bhansali is a well – known filmmaker of Bollywood, who needs no special introduction whatsoever. He had conceived this dream of making a historic biopic on Bajirao Mastani almost a decade ago. But he shelved the project midway due to unavoidable circumstances. And during this interim phase he ended up making films like Black, Saawasriya, Guzarish, Goliyon Ki Rasleela – Ram Leela. And finally he succeeded in filming & releasing his ambitious decade long dream project Bajirao Mastani. And what a brilliant film he has made!!!
Bajirao Mastani is a short & sweet triangular love drama. The scripted scenario of Bajirao Mastani kicks off with Bajirao (Ranveer Singh) being appointed as a Peshwa. Then soon enough Mastani (Deepika Padukone) seeks his help to save her kingdom. Although Bajirao is already married to Kashibai (Priyanka Chopra), love blossoms between Bajirao & Mastani.
In short Bajirao Mastani explicitly projects the period love story, the lovers conflict, the dramatic altercations, the battle sequences and of course, the ostentatiously opulence settings. The script is faultless, the pace is racy, in fact director Sanjay Leela Bhansali has kept a tight reigns on his cast & crew and thereby no one falters. The entire film keeps you hooked till the end with not a dull moment till the climax arrives which leaves you with a filling of déjà vu. Overall Bajirao Mastani is an enthralling period film that transports you to an era you had only read about in history books.
The entire team of Sanjay Leela Bhansali comprising of screenplay by Prakash R. Kapadia, additional screenplay by Sanjay Leela Bhansali & Mallika Dutt Gharde, editing by Rajesh G. Pandey, cinematography by Sudeep Chatterjee, music by Sanchit Balhara, Shreyas Puranik & Sanjay Leela Bhansali, action by Sham Kaushal, production designing by Sriram Kannan Iyengar, Sujeet Subhash Sawant, Saloni & Ankush Dhatrak et all deserves kudos for their brilliant efforts as they have given their full concentration & cooperation for Bhansali's dream offering Bajirao Mastani. Besides Bhansali and his crew have adorned the film with fascinating characters & inspirational sub – plots that advance into a stunning culmination. But somewhere along the line Bajirao Mastani's music does reminds you off the classical touch that reflects in all the songs especially the "Pinga" song that has an uncanny resemblance to "Dola Re" from Devdas.
Performance wise Ranveer Singh as Bajirao has delivered a mind blowing act. He is in his element by sinking his teeth deep into his character which proves he is in top form. This time he has finally proved that he is certainly an actor to be reckoned with and is here to stay. His body language is in sync with his character from "The Beginning" to "The End". He has worked wonders in the climatic portions too. Deepika Padukone as Mastani is a sheer delight. She adds one more histrionic feather in her illustrious & chequered career after Piku. Priyanka Chopra springs a magical surprise with her tour de performance. She is indeed too good to be true. And both Deepika Padukone & Priyanka Chopra deserves all kudos oriented brownie points for depicting their brilliant on screen chemistry, almost as good as the Aishwarya Rai Bachchan & Maadhuri Dixit's on screen chemistry in Bhansali's own film Devdas. And last but not the least even the supporting cast is top notch, especially Tanvi Azmi (terrific), Milind Soman (wonderful), Vaibbhav Tatwawdi (superb), Yateen Karyekar (competent). Mahesh Manjrekar (perfect), Raza Murad (good) & Aditya Pancholi (eye catching). In fact all of them have enacted their respective roles with finesse.
Tail Piece: Bajirao Mastani is like a precious cinematic diamond which will leave you stunned till the last frame. It will leave you spell bound with its picture perfect performances, deft direction, superb screenplay, dynamic dialogues, melodious music and last but not the least the lavish mounting. Surely not be missed highly recommended fare.