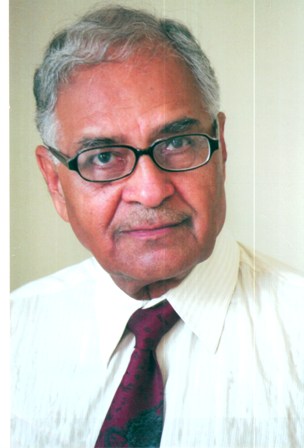 A stalwart filmmaker like G. L. Bhardwaj has come to showcase his 10 min documentary film titled Educating Tribal Girls in the special screening category, in the ongoing 14th Mumbai International Film Festival (MIFF) for documentary, shorts and animation. G. L. Bhardwaj, having crossed the 88 summers of his life is still going strong.
Can you give us a brief insight of your illustrious work as a documentary and short filmmaker?
Even at this ripe young age of 88 years I consider myself a self taught and a self made man. In the beginning of my career I had the privilege of working with the Late Raj Kapoor in R. K. Studios as a Stills Cameraman from the year 1951 to the year 1955. But now I am like a one man army solely donning the hat of a producer, director, cinematographer, writer and editor. And I sometimes handle all this designations rolled into one under my own production banner namely Bhardwaj Films. I am a full-fledged documentary and short filmmaker having made scores of films for India's largest documentary organization namely Films Division, Government of India and even for the small screen arena. Besides I have also made documentary and short films for American Broadcasting Company based in New York, Worldwide Television London and several foreign film productions. I have been invited to many foreign film festivals and I have also served as a Jury Members of many National and International film festivals both in India and across the seven seas.
Can you enlist some of the remarkable documentary and short films that you have made till this date?
Some of my remarkable documentary and short films are Festival Time, Land Of Krishna, Fibre – The Fabric Of Life, Mata Ganga, Yamuna, Destination Bombay, Welcome To India, This Is Not My Story, There Are Others, Drought, Woman Cart Pullers, Woman Labourers, Melody Of Monsoon, Kanak Rele, 50 Years Of Hindi, India Love And Devotion, Udham Singh – Freedom Fighter, Savita Rathi – Sarpanch and many, many more and all of them have bagged awards galore both on the National and International front. And now I have come to MIFF with my latest film Educating Tribal Girls which was screened yesterday in a special screening category.
Tell us something more about Educating Tribal Girls.
The story of Educating Tribal Girls takes place in the year 1974. Purnima Pakvasa started a school under a tree with just 15 tribal girls in the tribal district of Saputara on the border of Gujarat and Maharashtra. The school was called the Vishwa Vidyapeeth Girls High School and it was meant for the Dangi tribal girls. Purnima Pakvasa is now 103 years old and is still active. She also happens to be the mother of the great classical dancer named Sonal Mansingh.
Do you have any regrets whatsoever in your career?
My only regret is that even a stalwart documentary and short filmmaker like me does not get an assigned job from the concerned persons and authorities. I had to wait for at least six years before coming up with my latest film Educating Tribal Girls. My last films were Udham Singh – Freedom Fighter and Savitha Rathi – Sarpanch in the year 2008 and 2010 respectively.
What do you think could be the real reason behind this non – assigning of jobs even for a stalwart filmmaker like you?
Earlier Ii used to get a job, just a phone call away but now I have to pitch my work in front of a lot of concerned people.
What do you think of the currently ongoing MIFF?
I think that the Mumbai International Film Festival held every two years is a great opportunity for documentary and short filmmakers to interact with each other. It also helps in networking with the concerned people in your same work arena. It also helps you to get prospective buyers and clients. But I only lament the fact that it only takes place once in two years. It's like serving all tasty food all at once. After all how much can you partake at one time so I think MIFF should certainly take place every year.