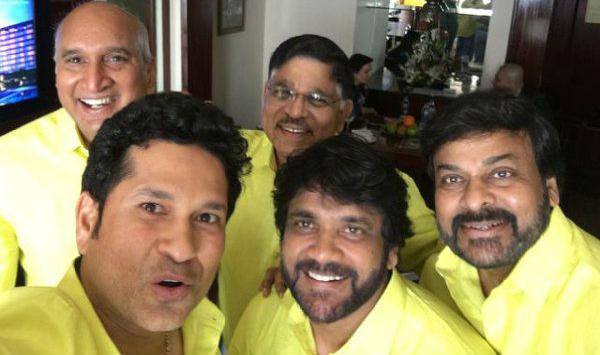 Thiruvananthapuram: Indian Super League (ISL) franchise Kerala Blasters, co-owned by cricketing legend Sachin Tendulkar, on Wednesday got several financial backers in the form of Indian movie stars.
A consortium of investors including regional megastars Chiranjeevi and Akkineni Nagarjuna, leading film producer Allu Arvind and industrialist and serial entrepreneur Nimmagadda Prasad have joined hands to purchase stakes in Blasters Sports Pvt. Ltd.
Tendulkar arrived here on Wednesday and had a meeting with Chief Minister Pinarayi Vijayan and his cabinet colleagues and later the cricket icon introduced the new owners of the club to the media.
At the press conference, Tendulkar, Chiranjeevi, Nagarjuna, Allu Arvind and Nimmagadda Prasad signed a football, sporting the Kerala Blasters logo.
The third edition of the ISL is scheduled to kick off from October, 2016.
Commenting on the development, Tendulkar said, they are beginning their third season in right earnest and have some of the biggest names coming on board as investors in Kerala Blasters.
"I welcome Chiranjeevi, Nagarjuna, Allu Arvind and Prasad to this exciting experience which is made more special with the faith and unique place that Kerala Blasters holds in the hearts of millions of its followers," said Tendulkar.
Chiranjeevi said, he is very excited to be part of a popular team co-owned by Tendulkar.
"All of us in Kerala Blasters are committed to expanding the football base in the state and give the potential talent a platform to perform and excel," said Chiranjeevi.
"I have been supporting sports in the country and I am excited to start with football and a very special football team – the Kerala Blasters. I am keenly looking forward to experience the craze for the game in the state and beyond and wish the team the very best," said Nagarjuna.
Arvind said, he is very happy to strengthen his special relationship with Kerala by being a part of Kerala Blasters.
Kerala Blasters enjoys the highest television popularity in the country with an average TRP of six with a 100 per cent year-on-year increment in the Kerala market.
It also has one of the largest number of followers in the digital space among the clubs in ISL.
(