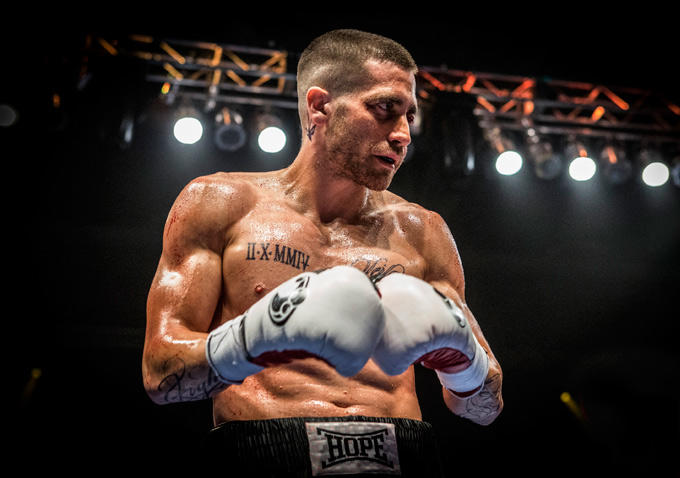 Producer: Todd Black, Jason Blumenthal, Steve Tisch, Peter Riche, Alan Riche, Antoie Fuqua & Jerry Ye
Director: Antoine Fuqua
Star Cast: Jake Gyllenhaal, Forest Whitaker, Rachel Adams, Naomie Harris, Victor Ortiz, Curtis Jackson, Miguel Gomez, Oona Lawrence, Beau Knapp, Rita Ora & Clare Foley
Genre: Thriller
Verdict: AVERAGE
Antoine Fuqua is known more as an action director as he has mostly directed action films. His most famous action film is The Replacement Killers. And in his last offering South Paw too, he has delved into the same genre of filmmaking.
Plot: It tells the riveting story of Billy "The Great" Hope, reigning Junior Middleweight Boxing Champion of the World (Jake Gyllenhaal). Billy Hope seemingly has it all with an impressive career, a beautiful & loving wife (Rachel McAdams), an adorable daughter (Oona Laurence) and a lavish lifestyle. Tragedy strikes when his lifelong manager & friend (Curtis Jackson) leaves him behind, Hope hits rock bottom and turns to an unlikely saviour at a rundown local gym: Tick Willis (Forest Whitaker), a retired fighter & trainer to the city's toughest amateur boxers. With his future riding on Tick's guidance & tenacity, Billy enters the hardest battle of his life as he struggles with redemption to win back the trust of those he loves.
Aces: Some of the boxing scenes and riveting performances mainly by Jake Gyllenhaal & Forest Whitaker.
Minuses: The dull proceedings from "The Start" to "The End".
Last Word: Watch it only if you have no other choice for the weekend.