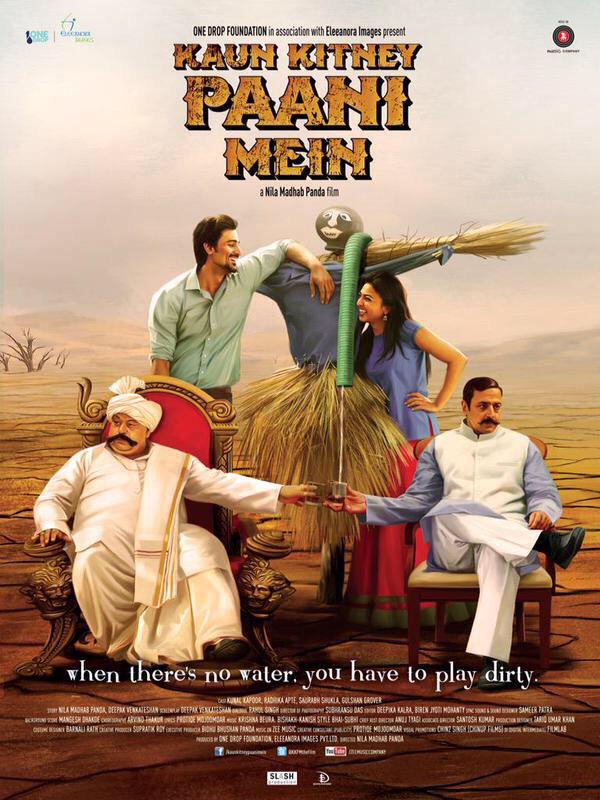 Producers: One Drop Foundation & Eleeanora Images Pvt Ltd
Director: Nila Madhab Panda
Cast: Kunal Kapoor, Radhika Apte, Gulshan Grover, Saurabh Shukla et al
What one really fails to understand is that how come a brilliant director like Nila Madhab Panda, who has earlier made excellently outstanding film like 'I Am Kalam' come with such a mediocre film like 'Kaun Kitne Paani Mein'. Which is a satirical take revolving around water politics in a fictional Odisha village.
The film opens with an honour killing where the king of a village (nestled in the hills) shoots his daughter and the low caste man she has fallen in love with and banishes the man's poor family to the foothills of the village. 3 decades later, the rich wastrels of the king's part of the village (known as Upri) and the hardworking commoners who now reside in the foothills (Bairi) lead starkly & starkingly different lives. While Upri, once fertile, is rendered barren over the years due to lack of water, Bairi has been transformed into lush agricultural land thanks to its enterprising residents as they are well – versed in water conservation methods and manage to store all the rain water that trickles down to them from Upri every year.
Heading these warring sub – villages are Raja Braj Singh Deo (Saurabh Shukla) & Kharu Pehelwan (Gulshan Grover) respectively. While the film mostly consists of satirical set pieces to stress just how water politics takes shape, the film's story only gains momentum with the entrance of the film's protagonists Deo's son Raj (Kunal Kapoor) & Kharu's daughter Paro (Radhika Apte).
The Odisha Director Nila Madhab Panda seriously needs to take an escapism break to hone up & sharpen his directorial skills.
Performance wise all the actors right from the youngsters (Kunal Kapoor & Radhika Apte) to the veteran & seasoned actors (Gulshan Grover & Saurabh) have just sleep walked through the film. Need anything more be said.
Tail Piece: If you have nothing better to do than settle down in front of your small screen (idiot box) or just go for a stroll.