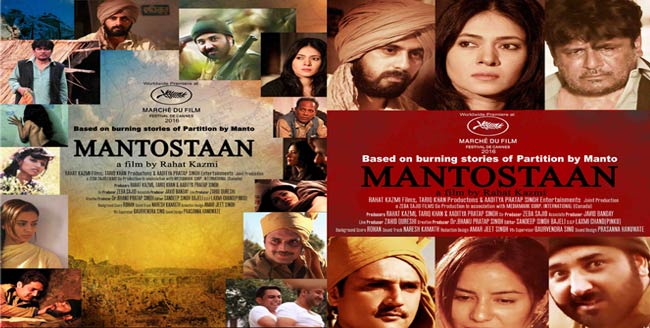 Rahat Kazmi the director of acclaimed film Identity Card has recently completed Mantostaan; a dark satire based on 4 burning and the most controversial short stories namely Khol DO, Thanda Ghosht, Assignment & Aakhri Salute of Legendary Urdu writer Saadat Hassan Manto.
Of his works around the partition, Manto avers, "Hindustan had become free. Pakistan had become independent soon after its inception but man was still slave in both these countries, slave of prejudice…slave of religious fanaticism…slave of barbarity & inhumanity."
Sonal Sehgal is super excited to play the character of Kulwant Kaur from Thanda Ghost, she admits that Mantostaan has been an entirely different experience and is a very powerful film indeed. Sonal avers, "My character is very dark & disturbing, somebody who doesn't leave you long after you leave the sets It's a character you haven't seen on screen before". Raghubir Yadav, Shoib Kazmi, Virendra Saxena, Tariq Khan, Raina Bassnet, Sakshi Bhatt & Rahat Kazmi himself have played key characters in the film.
Saadat Hassan Manto was heartbroken & shaken by the trauma the partition brought in its wake, and some of his best pieces revolve around what he saw during those horrific months. The stories of Mantostaan are about the single – minded dedication with which men killed men, the remorse felt by some and even the tears shed by the murderers.
In the riots, which preceded the partition in the Punjab Province, between 200,000 & 2,000,000 people were killed in the retributive genocide between the religions, estimates 14 million Hindus, Sikhs & above all Muslims too were displaced during the partition; it was the largest mass migration in human history.
Mantostaan is produced by Rahat Kazmi Films, Tariq Khan Productions, Aadititya Pratap Singh Singh Entertainments, Co – Produced by Zeba Sajid in association with Media Mark International Corporation, Canada.