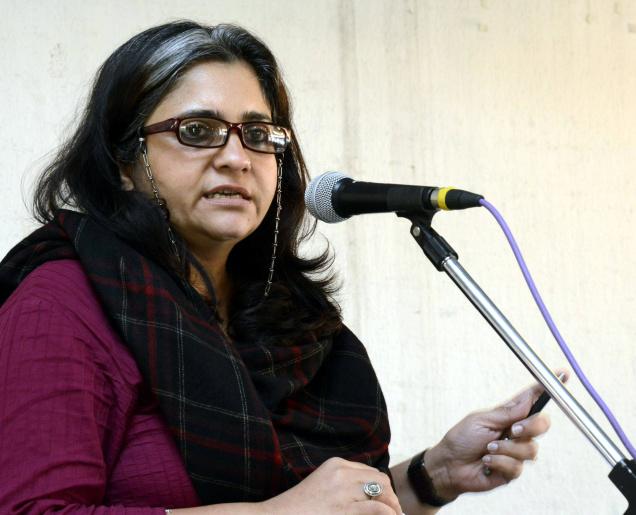 Hyderabad: Civil rights activist Teesta Setalvad and two Communist Party of India-Marxist MPs were Thursday not allowed to enter University of Hyderabad, evoking protest from students.
The university security personnel stopped Teesta and MPs from Kerala, T. Rajesh and P.Sampath, at the main gate.
They were invited by the students' groups to address a public meeting as part of the ongoing agitation against last week's police crackdown and the demand to remove P. Appa Rao as vice chancellor.
Teesta and the two Lok Sabha members lodged strong protest over the denial of entry. They condemned the curbs imposed by the university on entry of political leaders, activists and media into the campus.
The students, who were waiting from on the campus, also rushed to the main gate and raised slogans against the university authorities.
Joint Action Committee for Social Justice, an umbrella grouping of various students' groups, has condemned the university's action and called it an attempt to stifle the movement for justice to Rohith Vemula, a Dalit research scholar who committed suicide in January.
The unrest on the campus began on January 17 after Rohith, one of the five Dalit students suspended for allegedly attacking a leader of ABVP, committed suicide. This triggered a massive protest by students, who demanded action against vice chancellor and central minister Bandaru Dattaetrya who were named in First Information Report.
Appa Rao, who went on leave on January 24, resumed charge last week, triggering huge protest. The students ransacked the vice chancellor's lodge on March 22 and in the subsequent police crackdown 25 students and two faculty members were arrested and jailed.
They were all released on bail on March 29.
(IANS)