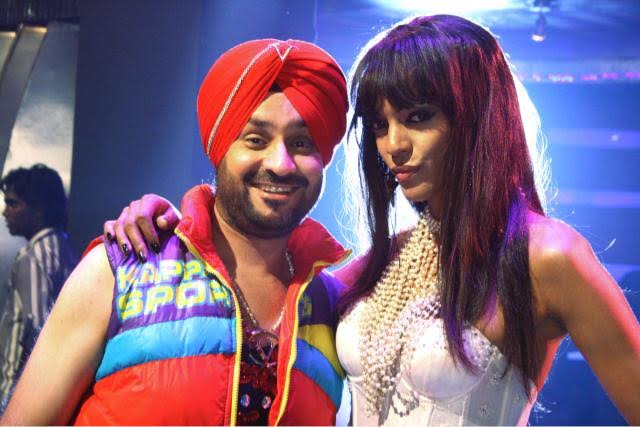 Varinder Vizz, the latest musical sensation in B – Town happens to be a well – known singer, composer and performer too. And now he is all set to add one more illustrious musical feather to his musical cap by donning the grease paint and facing the arc lights for Shubir Mukherjee's movie namely Club Dancer and that too with Hollywood actress Judi Shekoni of Twilight Saga fame.
Give us an insight into your pre-filmic background?
Basically speaking I am a hard core Punjabi lad, hailing from the capital city, Delhi. Besides right since I was that high I was totally inclined towards music, so to pick up the finer musical nuances I took training under my musical Guru named Pandit Manmohan Sharma for almost one and a half decade.
How did you land up in the musical firmament of Bollywood?
After the journey of the musical training ended I too headed straight for Bollywood and then of course after the initial phase I happened to meet Shubir Mukherjee of Film Magic Productions Pvt Ltd who was producing a film named Club Dancer. And after having a musical sitting with him he was so impressed that he instantly made me an offer to compose two songs, sung by me. And thus I landed my 1st ever Bollywood musical break in Club Dancer.
Which are the two songs that you have composed for Club Dancer?
The two songs that I have not only composed but also sang and performed are Tanatan and Ek ek sip karke pee gaya Patiala peg and both the songs have become an instant chart-bursting hit on the social networking sites and even garnered a million hits on Youtube since its release. It has also become a rage amongst the music lovers.
You have earlier performed in music videos and now you are all set to make your Bollywood debut as an actor. How come?
Actually speaking I love performing on my own songs which I have already done in my two music video albums Desi No 1 and Midnight. When Shubir Mukherjee saw my albums he asked me to perform on the Patiala song too along with Hollywood actress Judi Shekoni of Twilight Saga fame.
Who are your favourite inspirational singers?
My personal choice in this regard is first and foremost Nusrat Fateh Ali Khan, Hansraj Hans, Lata Mangeshkar and above all Mohammed Rafi. And amongst the music composers Allah Rakha Rahman is my all time favourite.
What do you think about today's musical scenario?
The musical scenario has a constantly changing phase. The audiences loved the earlier melodious style songs because they were all based on pure classical ragas which were enjoyable, but today's songs are mostly based on western beats and that too sometimes they appear quite noisy.
But then why are the so-called Punjabi songs, which are mostly used in Hindi films, such a big hit nowadays?
It is so because the audiences love to listen to such foot-tapping songs and they become an instant hit.
What do you love most composing music, singing songs composed by you or performing on your own songs?
Frankly speaking composing music is my first love. And now that I am here in Bollywood I would also love to sing songs composed by other music composers. And if the filmmaker wants me to sing songs composed by me and also perform on them, just as I have done in Club Dancer, then I don't mind it at all.