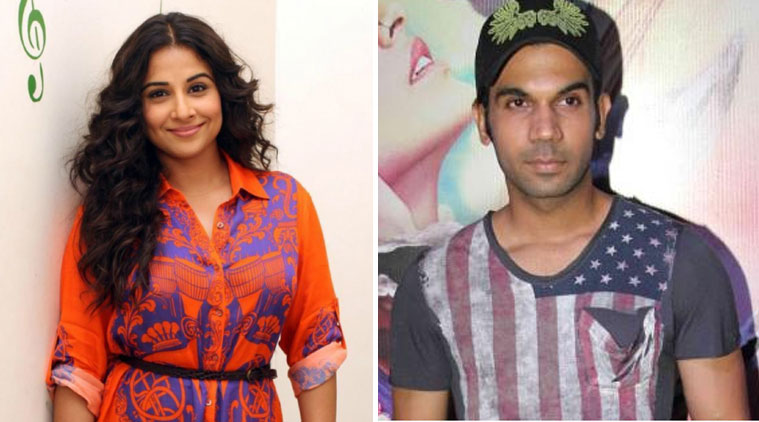 The 2018 edition of Power Brands – Bollywood Film Journalist's Awards, organized by Planman Motion Pictures & Daily Indian Media, was held at Hotel Orchid recently. Started with the clear ambition of being the Oscars of India this is India's only film awards decided on the basis of Open Ballot Voting. Arindam Chaudhuri, the man behind Planman, thanked the voting jury profusely for their integrity & courage for exercising their ballot in a very transparent manner. 22 of the most prominent film critics decided who deserved the trophies for Hindi cinema 2017. Apart from being Open Ballot & highly credible due to voting being restricted only to film critics, the award also is unique as it honours not just the winner but the associate winner as well. The "Best Actress" award winner Vidya Balan as well as the "Best Actor" award winner Rajkumar Rao were present. In the supporting actor category female Seema Pahwa & Meher Vij took the honours. Marcin Laskawic came all the way from Poland to take his "Best Cinematography" trophy for Tiger Zinda Hai. Also taking away special Power Brands Awards for furthering the cause of cinema were Raveena Tandon & Anil Thadani, Kay Kay Menon who bagged Trendsetter Award, Anu Kapoor, Sonali Kulkarni & Sachin Khedekar who bagged Power Brands Outstanding Contribution to Marathi Cinema, Ram Kamal Mukherjee who won autobiographer of the year, Komal Nahata, the power brand "Best Trade Analyst" for the year 2018, Mayank Shekhar the film critic of the year & Subi Samuel won Photographer of the year. The life time achievement award was given to Moushumi Chatterjee.
'HOUSEFULL 4' WAS NEVER IN THE PIPELINE FOR SONAKSHI SINHA
Sonakshi Sinha surely has many films in the pipeline and every now and then we keep hearing speculations about her signing some film. And one such recent rumour was that the actress is doing Housefull 4. However, none of this is the true. Sonakshi will be shooting for Dabangg 3 around the same time as Housefull 4 goes on floor. In fact, the actress does not have dates for Housefull 4, as she will be shooting for the 3rd part of the successful franchise Dabangg.
BOBBY DEOL IS BUSY!
Bobby Deol this year has been really busy shooting for films and shuttling between Yamla Pagla Deewana – Phir Se and the 3rd instalment of the Race franchise. While his home production has Sunny and him playing brothers & papa Dharmendra as a charming, flirtatious lawyer renting out rooms from the duo, Race 3 which also features Salman Khan, Anil Kapoor, Jacqueline Fernandez, Saqib Salem & Daisy Shah, is more about song, dance & maardhaad. Bobby Deol has also signed Sajid Nadiadwala's Housefull 4 which stars Akshay Kumar & Riteish Deshmukhin the zany comedy. Housefull 4 revolves around the theme of reincarnation and is a laugh riot. After the success of the 1st ever Houseful films, the makers are keen to take the film to the next level and believe Bobby fits in perfectly."Bobby who is currently filming Race 3 in Abu Dhabi confirmed the news, saying, "I am really looking forward to collaborating with both the Sajids. I've always wanted to work with Sajid Nadiadwala and finally it's happening. Akshay and I share a great rapport and it will be fun working with him again. Housefull 4 is a big franchise and I can't wait for the film to start.".
SALMAN KHAN IS THE NEW FACE OF APPY FIZZ
Parle Agro has appointed Salman Khan as the new face of its brand Appy Fizz. Salman will feature in the new campaign for Appy Fizz. Salman's stylish, macho & energnetic attitude is a seamless fit for Appy Fizz's bold & edgy persona and shall help drive far reaching impact & recall for the brand. Associating with Salman Khan is a part of Appy Fizz's strategic large scale marketing investments, aiming to further strengthen the brands connect with millions of consumers across India.. Nadia Chauhan, Joint MD and CMO, Parle Agro said, "With this collaboration, we want to further build the brand through aggressive marketing initiatives. Salman Khan's magnetic personality seamlessly reflects the brand's identity, and we aim to make this brand a household name." Salman Khan said, ''With the exciting new campaign, I am positive the fans & the brand's consumers will Feel the Fizz!" Salman Khan is the newest addition to the existing list of A – listers as the face of a Parle Agro brand with Alia Bhatt as the brand ambassador for Frooti and its variants & Tollywood Allu Arjun for Frooti in South India.
RAM GOPAL VARMA TO DIRECT A BIOPIC ON 'SRIDEVI'?
After Sridevi's untimely & sudden demise, director Ram Gopal Varma, who had worked with her in many movies like Great Robbery, Govinda Govinda, Hairaan, Kshana Kshanam , is now planning to make a film on Sridevi's life. The director has not yet officially announced the news, but lyricist Sirasri who is a follower of Varma told a Telugu TV channel that Varma will officially announce the biopic once the story is locked. Few days back, Ram Gopal Varma has written an open letter to Sridevi's fans too. "I know her life from the time I met her. I saw with my own eyes how her life was like a bird in the sky till her father's death and then became like a bird in a cage due to her overprotective mother. In those days actors used to be only paid in mostly black money and due to fear of tax raids her father used to trust friends and relatives and every one of them betrayed her the moment her father died. Coupled with this the ignorant mother made many wrong investments in litigated properties and all those mistakes combined made her almost penny less by the time Boney came into her life."
KANGANA RANAUT'S THRILLER FILM TITLED 'MENTAL HAI KYA'
Kangana Ranaut is busy shooting for her movie Manikarnika: The queen of Jhansi, an epic biographical film based on the life of Rani Laxmibai of Jhansi, in which she is playing the title role of Rani Laxmibai. Kangana Ranaut will be seen next in a psychological thriller directed by the son of the veteran director K Raghavendra Rao Prakash Kovelamudi opposite Rajkummar Rao. Prakash Kovelamudi is all set to make his Bollywood debut with the film. Kangana & Rajkumar Rao were last seen sharing the screen space together in Queen and now they will be again seen together in Mental Hai Kya written by Kanika. The story talks about mental health, but also has light heartedness to it and it revolves around a woman who could be a murderer or a mentally ill person. It's a fast-paced thriller revolving around the two protagonists. Set in London & Mumbai, it is expected to roll in Mar, 2018. Raj recently heard the script and immediately came on board. Rajkumar Rao will start shooting for the movie after wrapping up his upcoming film Ek Ladki Ko Dekha Toh Aisa Laga directed by Shelly Chopra Dhar. The film goes on floors this month with their 1st ever schedule beginning in Mumbai before the cast & the crew gear up for London.
LONDON SCHOOL OF ECONOMICS INVITES ANUPAM KHER FOR A KEYNOTE SPEECH
Anupam Kher's incredible body of work as an actor, includes over 500 feature films worldwide. The actor is also a highly sought after motivational speaker. He was invited to speak in London at the India Forum (LIF) 2018, hosted by the prestigious London School of Economics (LSE) on 3rd Mar, 2018.Previously known as the Economic Forum for India at LSE (EFIL), which is a 1st ever of its kind conference in UK involving keynote speeches & panel discussions on major issues facing contemporary India across a variety of fields. The conference serves as a platform for students & professionals alike, to hear from and engage with inspiring leaders. Kher flew to London this week, where he addressed the students at the Old Theatre at LSE .Says Anupam Kher, "By sharing my life experiences, I hope to motivate them to achieve their dreams, become successful individuals and most importantly responsible human beings. The youth are the future of the country and live in times of tough competition where certain failure is inevitable. The Power of Failure gave me the strength to succeed and it is our responsibility to help our youth realize this to be able to live life to its fullest."
SUNNY DEOL TO SHOOT WITH ALANKRITA SAHAI FOR AN AD FILM
Alankrita Sahai seems to be on a roll as very rarely do you see a debutant landing an add for herself just at the release of her film (Love per square feet by Ronnie Screwvala). A source revealed, It was love per square feet that got the makers to lock Alankrita as the commercial needed a girl with girl next door look who is cute and has some spark and charisma. As Alankrita just fits the bill perfectly she was signed for the ad.On touching base with Alankrita she stated," It's overwhelming to have got to share space with Sunny sir and we have just had a great time shooting the commercial. He is very down to earth and sophisticated.. Loved shooting with him."
RAVEENA TANDON'S CASE OF LOST AND FOUND!
Raveena Tandon's faith in humanity was reaffirmed after her recent experience with an auto – rickshaw rider. The actress's friend, Purnima Lamchhan was paying her visit at her residence in Bandra. She hadn't even realised that she had forgotten her phone in the auto – rickshaw she had boarded. When the auto -rickshaw rider found the phone in the backseat, he rode all the way to Tandon's bungalow in Bandra to hand the phone. Touched by his honesty, the gorgeous actress clicked selfies with him and wrote a post dedicated to him on her Twitter handle. She wrote, "This honest man, came back to return Purnima Lamchhan's phone of his own accord even without us realizing she had left her phone in his autorickshaw! This reinstalls my faith in people. All is not lost!"
ANUPAM KHER FULFILLS HIS MOTHER'S WISH!
Amongst all the laurels & accolades Anupam Kher has earned, his new house in Shimla stands as one of his most special achievements. As he owns this house in the scenic locales of Shimla, the actor fulfils his mother, Dulari Kher's ardent wish. Kher, who hails from Shimla had nursed the same wish for a long time as well. Interestingly, he has named his new abode, Kherwadi. The celebrated actor was so overwhelmed at this milestone that he took to his Twitter handle and wrote, "Mom is the happiest person in the world in her in new home. It was her dream to own a house here. We are performing the puja. We have decided to call the house KHERWADI. Dulari Rocks .I love you – I am at rest with you – I have come HOME. Dulari's has a home in Shimla – KHERWADI."
VIVEK OBEROI HAS A HEART OF GOLD
An online poll called Bubble Digital Awards has named Vivek Oberoi as of one of its nominees. The award is a recognition for celebrities' pursuing noble causes and by the looks of the update on the poll's online page, the versatile actor is on the lead. Known for his generosity & philanthropic work, Vivek has been championing humanitarian & charitable causes including rebuilding a tsunami struck village, serving as the World Health Organisation's anti – tobacco spokesperson, working closely with cancer relief organizations, reserving 21 flats for the kin of martyred Indian soldiers & also supporting acid attack survivors. With a contribution like this, it is hardly a surprise that Vivek is currently topping the poll.
GURMEET CHOUDHARY CELEBRATES HIS BIRTHDAY WITH KIDS OF SMILE FOUNDATION!
Gurmeet Choudhary, who is known to have a heart of gold, celebrated his birthday with the kids of Smile Foundation Mumbai on the 22nd Feb, 2018. The talented actor has previously worked closely with a number of humanitarian causes and had recently associated with the NGO that works towards providing underprivileged kids with education & good health in order to bring in his birthday with them. Gurmeet was seen having a fun time with the kids, while singing & dancing with them. He also ate food with them and probed into what their careers & future prospects would be.
RAVI KISHAN TO MAKE HIS DIGITAL DEBUT WITH ALTBALAJI'S CRIME BASED WEB SERIES
ALTBalaji is India's largest OTT platform for original & exclusive shows. Since its launch in Apr, 2017, ALTBalaji has more than 15 million mobile downloads. The ad free, subscription based platform is available in over 90 countries and offers original content in varied Indian regional languages, making it India's largest repository for original & exclusive digital content. 2018 has started on a high note for ALTBalaji with big announcements such as Habib Faisal and big back to back hits like The Test Case & Haq Se. With many more engaging & interesting #ALTBalajiOriginals in the pipeline, the digital platform has announced its next collaboration – The platform has signed up Ravi Kishan for its next crime based digital show tentatively titled The Family. ALTBalaji had recently announced Vivek Oberoi in the project and now this news comes in that Ravi Kishan who is making his digital debut with ALTBalaji will be seen playing a pivotal role in the show. Ravi said "I am very excited to debut in a web series and what better association than ALTBalaji. The concept is different and not explored much. This is also the 1st ever time that I am collaborating with Ekta Kapoor and I am very excited about it."
NEHA DHUPIA TAKES A DIG AT KARAN JOHAR ON VH1 INSIDE ACCESS
In the recent episode of Vh1 Inside Access, Neha Dhupia is on fire being as witty & fun as she is. The host, Malini Agarwal turned the tables when she made Neha play the "Scary Spice" game which the former makes her guests play on BFFs with Vogue. To make things juicer, Malini asked Neha to name the guest "who talks too much". Known to be quite a talkative person herself, Neha instead named Karan Johar. She also further added by mentioning that Karan is quite particular about his camera profiles. Constantly being compared to Karan for her chat show hosting skills, was this a subtle dig at Kjo?
ASHIM AHLUWALIA'S 'PALACE OF HORRORS' TO HAVE ITS WORLD PREMIERE AT SOUTH BY SOUTHWEST (SXSW) FESTIVAL
Ashim Ahluwalia's short segment, Palace Of Horrors, is part of the International horror anthology, The Field Guide To Evil and will have its world premiere at South by Southwest (SXSW) festival soon. The film stars Niharika Singh (Miss Lovely), Mark O'Gleby, Henry Throop & Robin Das Palace Of horrors, shot in luminous black & white, unfolds over the summer of 1913 in Bengal. The Field Guide to Evil is produced by Alamo Drafthouse, Christos V. Konstantakopoulos (Before Midnight, The Lobster), Keith & Jess Calder (Anomalies, Blair Witch) & Legion M etc. The film features dark folk tales with creepy stories of possession, curses, love, lust & envy. The horror anthology of dark folk tales brings together 8 of today's talented genre filmmakers from Austria, Germany, Greece, Hungary, India, Poland, Turkey and United States. They are Ashim Ahluwalia, India (Miss Lovely, Daddy) Peter Strickland, Hungary (The Duke Of Burgundy) Calvin Reeder, United States (The Rambler) Veronika Franz & Severin Fiala, Austria (Goodnight Mommy) Katrin Gebbe, Germany (Nothing Bad Can Happen) Can Evrenol, Turkey (Baskin) Agnieszka Smoczynska, Poland (The Lure) Yannis Veslemes, Greece. Ashim Ahluwalia says, "It's quite an honor to be the 1st ever Indian filmmaker to have a world premiere at SXSW. It's a horror film, inspired by dark folk tales from around the world," he says
RUMMYPASSION.COM JOINS HANDS WITH AMY JACKSON AS BRAND AMBASSADOR
British model & Bollywood actress Amy Jackson has joined hands with Rummy Passion, India's most loved & fastest growing online rummy portal as its 1st ever brand ambassador. The development comes close on the heels of Rummy Passion striking a strategic deal with Stride Gaming, a London Stock Exchange listed company. Amy has also acted in a number of Kollywood movies. Amy Jackson said," It is indeed a matter of pride for me to tie – up with and be the 1st ever brand ambassador of Rummy Passion, an online rummy brand that has garnered immense popularity in a short period of time to become India's most loved rummy destination. Having availed myself of the marvelous services of the site, I realized that Rummy is a skill based game, and an out of the box approach to enhance our mental prowess. While I am fond of swimming & dancing that involve physical activity and are great exercises for the body, I have come to discover that this traditional card game exercises our brain & memory. I perceive that the uniqueness of the game lies in the fact that it works in a subtle manner and induces positive changes in our life. Moreover, it gives me a superb adrenaline rush and is a source of great entertainment. Especially now that I am a part of the Indian film industry, I revel in playing this card game which has always been customary here."