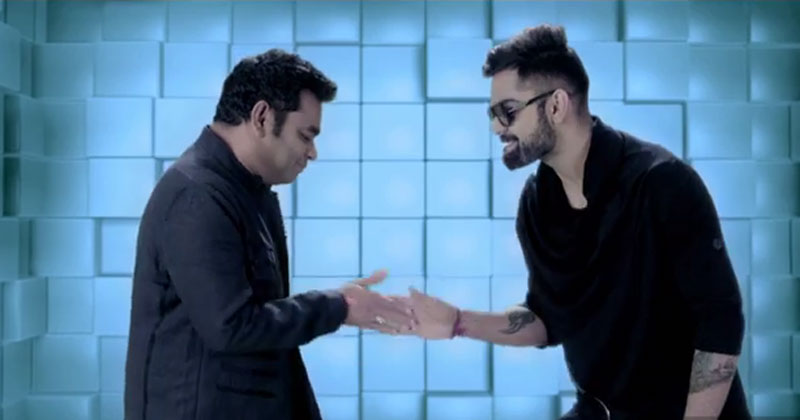 Premier Futsal unveiled Allah Rakha Rahman as the composer of the league's official anthem, to be sung by India test captain Virat Kohli, who is Premier Futsal's league ambassador, at an event in Chennai ahead of its inaugural season. This is the 1st time ever that the Oscar award – winner Allah Rakha Rahman is lending his musical genius to a franchise – based sports league in the country. Allah Rakha Rahman said, "It makes me happy to see such young entrepreneurs being passionate about the sporting scenario of the country. I'm especially excited to work with Virat Kohli on this, let's hope he is as good with his melody as he is with his bat!" Virat Kohli, League ambassador, Premier Futsal said, "I have been a fan of Allah Rakha Rahman for years. It will be a privilege to share the screen with him and lend my voice to the anthem of Premier Futsal." This high decibel marketing initiative from Premier Futsal is aimed at creating awareness for the sport of Futsal and promoting the league ahead of its launch on 15th Jul, 2016. The anthem, titled "Naam Hai Futsal", has been released with a video featuring Virat Kohli exclusively via Premier Futsal's digital platforms. The concept & production of the anthem have been done by DDB Mudra. Allah Rakha Rahman's association with Premier Futsal adds further gloss to the league, which already boasts Portugal football legend and former World Player of the Year Luis Figo as President. Premier Futsal will be telecast live & exclusive on Sony SIX, SONY ESPN & Sony AATH. Matches will also be available to live stream on Sony LIV.
EROS INTERNATIONAL & MAGIC LANTERN ANNOUNCE MALYALAM ACTION COMEDY 'IDI' WITH JAYSURYA
Eros International in collaboration with Magic Lantern has announced their upcoming Malayalam film IDI (Punch) starring Jayasurya, slated to release on 12th Aug, 2016. The directorial debut of Sajid Yahiya, this action comedy will feature the super hit pair of Jayasurya & Shivada who won hearts as a couple in their previous film Su. Su. Sudhi Vathmeekam. The film also stars Joju George, Yog Japee, Saiju Kurup & Sudhi Koppa. A mass entertainer with big scale action sequences, protagonist Jayasurya will be playing the character of a super cop – Inspector Dawood Ibrahim. Rahul Raj is the music director of the film.
A R MURUGADOSS REVEALS THE REASON BEHIND SONAKSHI SINHA'S SCAR IN AKIRA
The poster of Akira has definitely created a lot of curiosity amongst the moviegoers about the film. Whats interesting is that the scar that is visible on Sonakshi's forehead has an interesting back story to it. Director A R Murugadoss wanted to establish that she has gone through enough but isn't weak to stand up and fight it out. Talking about the same, he avers, "In life every scar that occurs on our body has a story behind it. Similarly Akira has a past wound that has dried up & remains a scar now. The moment we see her face we should come to know that she has had a painful past. That's why I created the scar under her eyes."
ERIKA JOINS THE JOURNEY OF SHIVAAY
SHIVAAY's international face, Erika Kaar has been finally released by the makers of the film! And with this poster Erika has joined her journey of Shivaay. Erika, who was last seen as a leading girl in one of the famous BBC Production's television shows, is making her Bollywood debut with SHIVAAY! Directed by Ajay Devgn, SHIVAAY releases this Diwali on 28th Oct, 2016.
KARAN MAHAVAR LOOKS FORWARD TO GETTING BLESSED BY MR. BACHCHAN
There is not a single soul in the industry who doesn't admire Amitabh Bachchan, and young debutant Karan Mahavar is no different. Karan Mahavar, who is all set to make his debut this week in Bollywood with an interesting film, Kerry on Kutton is really hoping to show the film to his childhood idol, Amitabh Bachchan. Karan has always been inspired by Amitabh Bachchan's work, during his college days he would go watch AB's film and stand in front of the mirror and try to act like him. Karan has done a lot of theatre too during his college days. Karan is hoping that Mr. Bachchan sees it and gives him his blessings. Karan Mahavar says, "This is my 1st film as an actor and I am extremely excited about it, I have always been passionate about acting and started my theatre at a very young age. Kerry On Kutton is a very special film for me."
BENGALI FILM UNDER SCANNER BY CBFC
Even as the debate now shifts to HARAAMKHOR, after UDTA PUNJAB, a Bengali film fought a 6 month long battle with the Central Board of Film Certification (CBFC) in Kolkata to again show that the board is defunct and their members unfit to review films for certification. SHAHEB BIBI GOLAAM, directed by Pratim D. Gupta and starring Swastika Mukherjee in the lead with music by Anupam Roy (Piku), had applied for a certificate in mid – Dec, 2015 and after as many as 5 screenings (4 in CBFC alone), the film got the certificate on 16th Jun, 2016 with just a small cut and 6 muted words thanks to Film Certificate Appellate Tribunal (FCAT) But the
harassment the makers went through goes on to show that the problem lies not only with Mr Pahalaj Nihalani, but the board and its system and rules. Finally when the film was resubmitted to CBFC for them to check whether we followed the FCAT recommendations, 6 words were muted and a rape scene shortened and they sent it back saying "Smoking causes cancer" card is missing. Funnily, no one smokes in the film! SHAHEB BIBI GOLAAM Shaheb now releases nationally (including Mumbai, Delhi & Bangalore) on 26th August, more than 7 months after 22nd Jan, 2016.
MILAN LUTHRIA'S MULTI – STARRER IS ALL SET TO GO ON THE FLOORS IN MUMBAI THIS AUG
Milan Luthria has zeroed in on the rest of cast for his much awaited Ajay Devgn starrer BAADSHAHO which also includes Emraan Hashmi, Vidyut Jammwal, Ileana D'Cruz, Esha Gupta & Sanjay Mishra. The multi – starrer film is all set to go on the floors this Aug with a 15 day schedule in Mumbai, followed by a 2 month schedule in Rajasthan. BAADSHAHO, co – produced by Milan Luthria & Bhushan Kumar and written by Rajat Aroraa, is a thriller set in the Emergency era of the '70s. Milan & his team spent 3 months on the research. Milan will collaborate with a foreign action director for BAADSHAHO and the music includes Rajasthani folk with a funky twist, composed by Ankit Tiwari.
KETAN MEHTA TO RELAUNCH HIS CAPTAIN VYOM STARRINg MILIND SOMAN
Nothing beats nostalgia! It's time to relive the fabulous 90's with India's most iconic and 1st ever science fiction television series on superhero Captain Vyom. The space adventure; the saga of the superhero and his inter galactic super villains starring the heartthrob and India's 1st ever supermodel Milind Soman. Directed by Ketan Mehta and produced by Deepa Sahi, it is set to be resurrected and revived by Cosmos Maya. The classic from the turn of the century broke on the internet on Thurs 23nd, Jun, 2016.
Directed by Ketan Mehta, Captain Vyom is the 1st Indian live – action superhero science fiction (sci – fi) television series, which was aired on DD National at the end of the century. The TV series pioneered the art of computer animation & visual effects in India. Captain Vyom takes you to the future – 2123, where humans conquer the entire solar system. Ketan Mehta, who had directed the show said "It has been almost 20 years since this landmark show, was 1st aired. The show went on to achieve a cult following amongst its viewers, who were then introduced to a show that was much ahead of its time, and in an era when science – fiction and superheroes were unheard concepts not just on television, but also in films. The series also has Tom Alter, Kartika Rane, Sanjay Singh, Divya Palat, Madhu Sapre, Rahul Bose, Dino Morea etc.
WHEN OBAMA LOVED OSAMA IS THE FATHER OF ALL COMEDIES
Producer Jaiwinder Singh Bhati's last film was HUM HAI TEEN KHURAFATI which clicked at the box office. Now he has come up with yet another comedy caper called When OBAMA LOVED OSAMA. The subject of the film is very interesting. It is about 2 heroes & 2 heroines. In his 3rd film titled CHEATERS, the hero actors will be seen cheating each & every one around them but will not break the hearts of the girls with whom they fall in love with. After making his 4th film titled THE GUINNNESS BOOK which will be an out & out entertainment oriented film based on 2 kids, perhaps the producer will hopefully find his name in the prestigious Guinness Book of World Records as a maker with the maximum number of comedies to his credit. OBAMA LOVED OSAMA has been directed by Sudeesh Kumar Sharma. The story has been written by Vaibhav Bhist while music has been composed by Kashi. The film stars Nishan, Parul Chauhan, Vicky Chowdhary, Divya Sharma, Mushtaq Khan, Brijendra Kala, Mohit Baghel & Manoj Bakshi
EROS INTERNATIONAL & SOHAM ROCKSTAR ENTERTAINMEN TO PRODUCE A SEQUEL TO NAYAK
Eros International has announced the sequel to the 2001 hit political thriller, Anil Kapoor starrer NAYAK, in association with Deepak Mukut's Soham Rockstar Entertainment. Produced by Eros International & Deepak Mukut, the film will be scripted by K V Vijayendra Prasad who has written blockbusters like BAJRANGI BHAIJAAN and BAAHUBALI. Continuing from the earlier film, the sequel will be a political satire with romance as the backdrop. The sequel will also introduce fresh characters while retaining some of the old characters including the lead character, Shivaji Rao from NAYAK. Sunil Lulla, Managing Director, Eros International Media Ltd averred, "NAYAK created ripples on its release and was one of the most successful political satires of its time. It's the apt time to plan the sequel in the current political milieu. And we can expect only the finest writing with Vijayendra Prasadji on board who has given 2 of Bollywood's biggest releases last year – BAJRANGI BHAIJAAN & BAAHUBALI.". Producer Deepak Mukut of Soham Rockstar Entertainment, adds, "We are partnering with Eros International to jointly produce the sequel of NAYAK. This was a very popular film and continues to be widely watched on television. We have bought the rights of the film and the action promises to be even bigger & better."
THE RISE & RISE OF AYESHA DHARKAR
In the landmark year when Britain's Royal Shakespeare Company is marking the 400th death anniversary of William Shakespeare, Ayesha Dharker has won "the equivalent of a Nobel Prize in her field". She features prominently in all the RSC's posters, having landed a key role in its main offering in 2016. Says Ayesha: "I have fallen in love with the RSC — completely". That's easy to understand, not simply because the RSC has cast her in the crucial role of Titania, Queen of the Fairies, in its current production of A Midsummer's Night's Dream, but also because it is a very political organization. And like the RSC, almost certainly the most prestigious drama group in the world, Ayesha believes passionately in the political power of theatre, not simply to entertain middle class folk who can buy the expensive tickets (£30 or more in Britain), but to transform the lives of the disadvantaged children. All art is political and you have to embrace that, be proud of it and take responsibility for what we mean when we put on a piece of art. I desperately wish there was something like the RSC in India. That would be a dream for me," she sighs. She is wonderfully eloquent and her voice is soft & expressive, which is why she has been sought out for everything from Shakespeare to soap, radio & musicals. Ayesha is 38 now with nearly 3 decades of acting behind her.
2ND SHOOT SCHEDULE OF MUZZAFARNAGAR 2013 HELD IN UMARGAON
Mannu & Sara have arrived in the city of Umargoan to shoot a very important sequence for their film – Muzzafarnagar 2013. These 2 roles are from the movie and actors Dev Sharma & Aishwarya Devan are enacting them. This is the 2nd shoot schedule for the film and it will complete in 10 days. Other actors like Anil George & Mursalen Qureshi were also present along with the starcast. Based on the actual communal riots which took place in the year 2013; this film is based in a village called Morna in Uttar Pradesh. Every communal riot is a result of dirty politics which evil minds play with the citizens of the country. This film aims to expose all that and more! Muzzafarnagar 2013 is directed by Harish Kumar & produced by Manoj Maandi. Story & lyrics are by Manoj Kumar.
1ST EVER KONKANI CHILDREN'S MOVIE AAA VAI JAA SAA BY FILM INDIA PROUDUCTIONS!!!
AAA VAI JAA SAA is the 1st ever Konkani children's film to hit the theatres in Jul, 2016. The film is expected to be exceptional and promises many take aways for the young and not so young; AAA VAI JAA SAA stands for Aaadhyatmik, Vaignanik, Jaatyateeth and Saamajik. This movie is concerned with the holistic development & progress of the new generation. It very devotedly & very aptly undertakes the serious task of divulging the dire need for spiritual, social, cultural as also collective growth & progress of the youngsters. Every nuance of film making is adopted to make it incredibly informative, educative as also entertaining. The film has artists from Karnataka, Kerala , Maharastra & Goa. You will find all Konkani dialects in this movie. The child artistes include Sarthak Shenoy, Shreyas Kamath, Samarth Shenoy & Spandana Pai. The film is directed by veteran Konkani film director Dr K Ramesh Kamath. The film has been shot in beautiful coastal belt of Karnataka. The film is 1st ever Konkani film and will be having its world premiere at the international Konkani convention 2016 organized by NAKA at Atlanta, Georgia, USA on 2nd Jul, 2016
RAAKHI SAWANT'S BROTHER RAKESH SAWANT MAKES 30 SHORT FILMS
If Imtiaz Ali made a short film with Huma Qureshi recently & Shailendra Singh made his short film I AM, A SEXAHOLIC with Shama Sikander, Shirish Kunder has made KRITI and now Raakhi Sawant's brother Rakesh Sawant has directed not just one but 3 short films called BASTARDS, PSYCHO & EK THI LAILA under the banner of his mother Jaya Sawant's Jaya Productions. He has also come out with a music album called DARD FIRST LOVE under the music label of Jaya Productions. The song has been sung by Kumar Sanu & Ejaz Khan has acted in the album. The hightlight of the short films BASTARDS & PSYCHO is that Shakti Kapoor has essayed dark negative roles in both of them. It is his 1st attempt at acting in short films. Present on the occasion were Raakhee Sawant, Rakesh Sawant, Shaktui Kapoor, Mukesh Rishi, Kunika Lal & Ejaz Khan.
YEH HAI JUDGEMENT HANGED TILL DEATH READY FOR RELEASE
Director Mann Kumar has completed the shooting of his debut film YEH HAI JUDGEMENT HANGED TILL DEATH in a span of 40 days in Manali, Malegaon, Kalyan, Lonavala and several parts of the city of Mumbai with Nishant Kumar & Neetu Wadhwa in the lead. The film has been produced under the banner of Maaj Productions, after extensive research over the subject by the director for over a year. Incidentally, it is the debut film of Nishant Kumar too who had earlier acted in several ad films. The film YEH HAI JUDGEMENT HANGED TILL DEATH is inspired by Yakub Memon and Nishant is essaying the role of Ashraf Ansari. "The film is not a biopic of Yakub Memon but has been inspired by his character and hence I am playing a character with negative shades called Ashraf Ansari modeled on Yakyub Memon, who was allegedly involved in the 1993 riots in Mumbai. Mann Kumar has now decided to launch his next film called GANGS OF AZAMGARH with Aman Trikha, Amit Singh & Nishant Kumar shortly, after YEH HAI JUDGEMENT HANGED TILL DEATH is released in July this year.