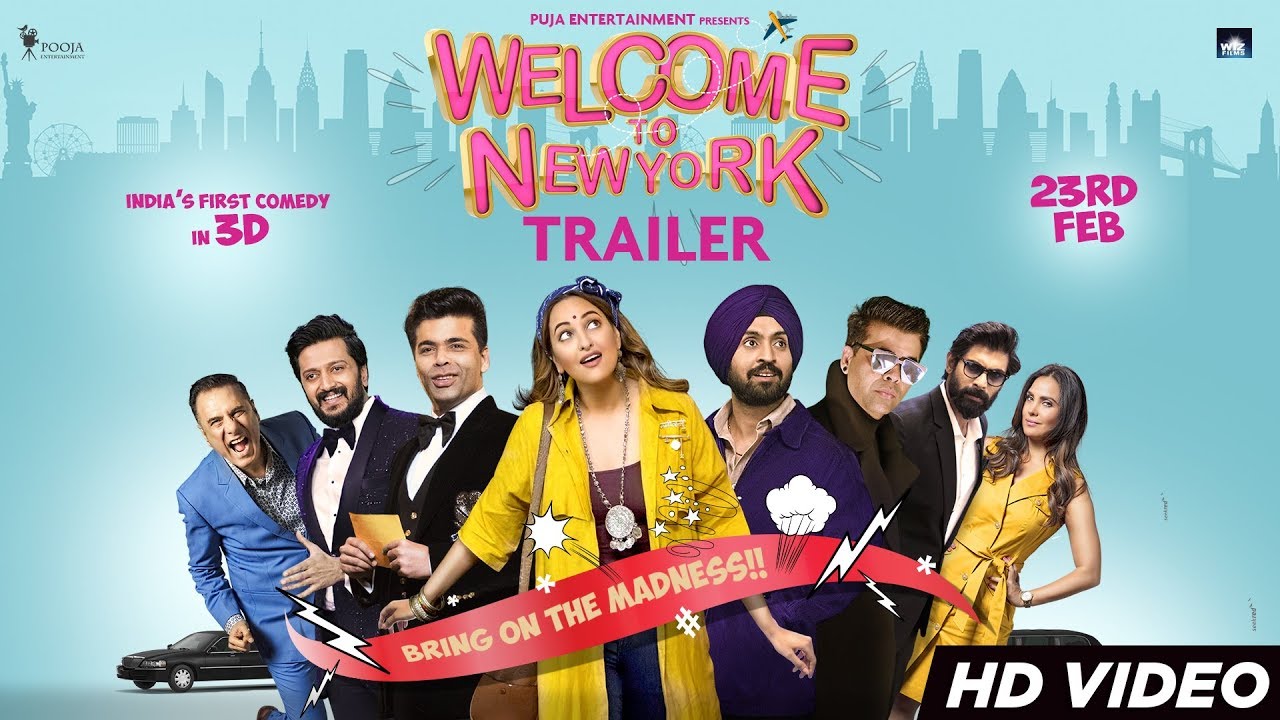 Banner: Wiz Films Company
Producer: Vashu Baghnani, Jacky Bhagnani, Deepshikha Deshmukh, Andre Timmins, Viraf Sarkari & Sabbas Joseph
Director: Chakri Toletti
Star Cast: Diljit Dosanjh, Sonakshi Sinha, Ritiesh Deshmukh, Lara Dutta, Rana Daggubati, Sushant Singh Rajput, Karan Johar, Aditya Roy Kapur, Disha Patani, Tapsee Pannu, Kriti Sanon, Shahid Kapoor, Tiger Shroff, Priety Zinta, Neha Dhupia, Suniel Shetty, Boman Irani, Mohit Sinha & above all Katrina Kaif & Salman Khan
Music: Sajid – Wajid, Meet Bros & Shamir Tandon
Welcome To New York, directed by Chakri Toleti & produced by Vashu Bhagnani's Puja Films releases this week along with Luv Ranjan's Sonu Ke Titu Ki Sweety. Welcome To New York stars Sonakshi Sinha, Diljit Dosanjh & Karan Johar in pivotal roles and has an entire entourage of Bollywood A – listers making cameos as it is based against the backdrop of IIFA Awards. The film is meant to be a satire on the Hindi film industry & the 2 leads Diljit Dosanjh & Sonakshi play underdogs who make it big in Bollywood, despite coming from a humble background.
The movie is about a sloppy recovery agent Teji (Diljit Dosanjh) who dreams of being an actor & a "dhinchaak designer" Jinal (Sonakshi Sinha) who wants to escape from her dreary life. They win a
contest and are selected to showcase their talent at the IIFA Awards by Sophie (Lara Dutta) who is a part of the organizing team spear headed by Gary (Boman Irani). Sophie purposely selects the "two losers" Teji & Jinal in order to settle scores with Gary, who refuses her partnership in the company.
The entire film is supposed to be a comedy of errors with both Teji & Jinal winning Bollywood fraternity's hearts with their genuine talent. What it turns out to be is a whole lot of different story. In between all this is the main celebrity host of the show Karan Johar, who has his own set of issues with the organizer Gary. But at the same time, Karan is also under threat of being kidnapped by his lookalike New York based gangster Arjun (Karan Johar) who wants to punish him for making romantic films. Riteish Deshmukh, who is the co – host of the show, uses this situation to his own selfish benefit. In between all this chaos behind the scene, IIFA awards take place in New York.
Karan Johar, in his double role as Karan (the director & head honcho of Dharma Productions) & Arjun (the gangster) manages to keep the movie engaging. There is a lot of self – referencing & self deprecative humor (be it about his sexual orientation or his movies) which does makes you laugh at quite a few places. Diljit Dosanjh as the goofy Teji Singh is adorable. His comic timing is impeccable. Sonakshi Sinha is lost throughout the film and is not very convincing. Even a dream sequence with Salman Khan does nothing to the character that is weak. Boman Irani as the stressed out, snarky stooge managing the event looks solely disoriented as he flits listlessly around from frame to frame. Lara Dutta tries to save the film as she does her part in whatever little scope she has been offered. Salman Khan, Sushant Singh Rajput, Katrina Kaif, Aditya Roy Kapur & Riteish Deshmukh's cameos look forced & out of sync.
The 1st ever half of the film manages to keep one engaged because the writers Dheeraj Rattan & Sara Bodinar create some interest in the lead characters after they land in New York and there is a certain curiosity about who Karan's doppelganger is and why he wants to harm the Dharma Productions' head honcho so badly.
Director Chakri Toleti's comedy of errors goes wrong especially in the 2nd half because the whole plot of the film goes out of the window, due to the lack of a proper script.
Editor Ritesh Soni has kept the film at 2 hours & 5 minutes instead of making it even more long & exhaustive. The film's music is forgettable except for the last dance number "Pant Mai Gun". Cinematographers Neha Parti Matiyani & Santosh Thundiyil do an average job.
Tail Piece: On the whole, Welcome To New York comes across as a blatant endorsement of IIFA Awards with a handful of funny gags thrown in here & there. The impeccable comic timing of Diljit Dosanjh & Karan Johar's funny take on himself & the industry act as the saving grace. You can safely skip this Movie.
At the Box – Office turnstiles, the movie will have a very limited scope.