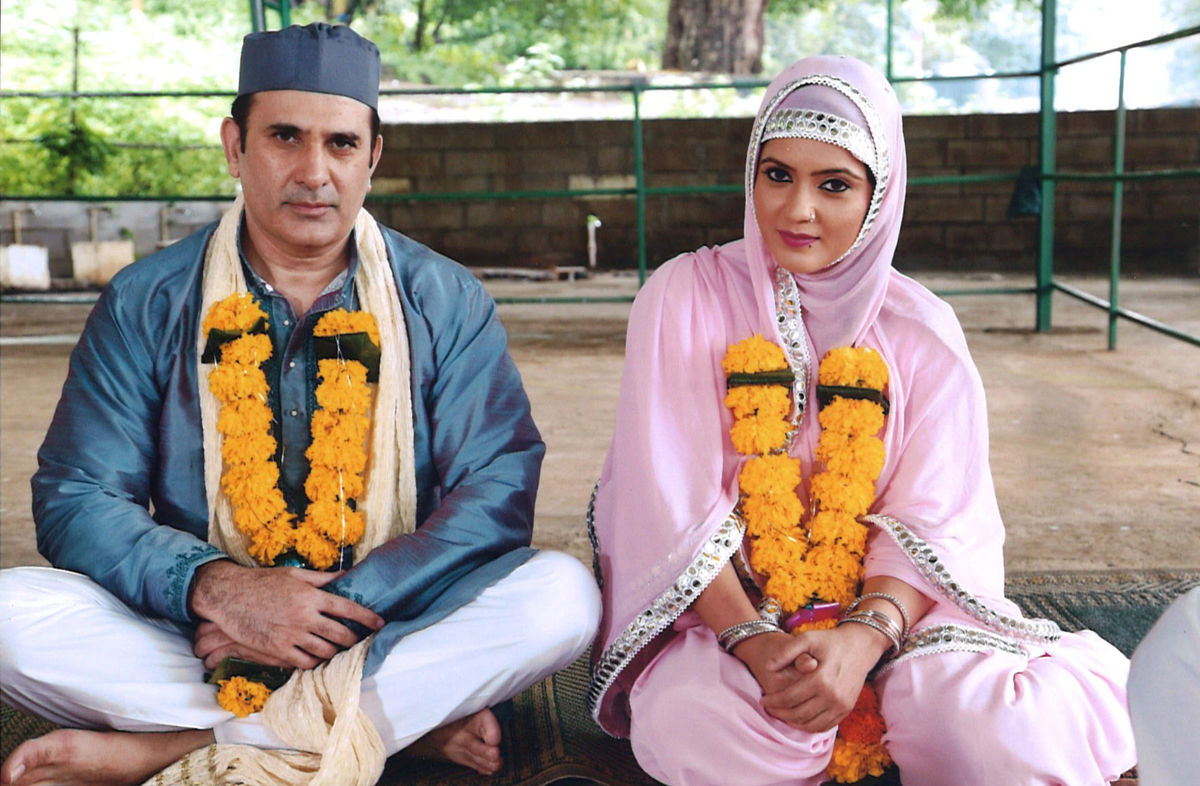 Late Lekh Tandon's last directorial venture Phir Usi Mod Par One based on the controversial issue of Triple Talak got exhibited at Berlin Film Festival in English language titled Back To Square One. The screening witnessed a jam packed theatre with 120 film experts giving a standing ovation to avant garde movie. At the Cocktail Reception to follow at Waldorf Astoria; critics & filmgoers unanimously heaped generous praise on the film applauding its bold subject, performances, music, singing and of course the direction. The Phir Ussi Mod Par team at Berlin comprised of Kanika Bajpai, Trinetra Bajpai, Anil Tipnis & Suresh Singh Bishnoi. After Lekh Tandon's sad demise, his close friends Trinetra Bajpai & Kanika Bajpai have taken the onus of releasing the film on themselves. Mr. Bajpai has also given music to the film & his wife Kanika has sung a song and played an important role in the film.
PULKIT & KRITI SHARE AN AMAZING CHEMISTRY OFF SCREEN AS WELL!
The lead actors of Veerey Ki Wedding, Pulkit Samrat (Veerey) & Kriti Kharbanda (Geet) have already given a glimpse of their sizzling on screen chemistry to the audiences after the launch of the trailer recently. The duo shares an undeniably amazing equation not only on screen but off screen as well. They will be seen opposite each other for the 1st time ever in Veerey Ki Wedding. The actors at 1st bonded on their common love for food on the sets. Being true blue Punjabis, the actors share a passion for food and are always found sharing a bite of scrumptious snacks during breaks & in between shots as well! Looks like Pulkit has left his earlier love interest Yami Gautam behind and latched on to Kriti and they complement each other very well on & off screen as well. Both Kriti & Pulkit say that they signed the movie just because the other was being cast opposite them and have also said that they will surely be excited to work with each other in the future as well.
'BHOOTWALI LOVE STORY' IS A FILM WITH A DIFFERENCE
At a time when Bollywood is churning out films on a wide variety of out of the box content, Passion World Entertainment is now readying a fantasy called Bhootwali Love Story which is a blend of reality & fantasy. The title itself reveals that the content will comprise of novelty in an extra ordinary manner. Sarika Vinod Tambe & Gajendra Shrivastav have produced the romantic horror story directed by Shantanu Anand Tambe about how a beautiful ghost is able to convey her love to her beloved through a thief who strays into a house, through a series of humorous incidents. The film stars Kanchan Awasthi, Suhas Ruke, Tushar Acharya, Laxman Davbhatt, Preetam Bhandari etc. Satish Pujari of Audio Lab is the co -producer of the film.
KAY KAY MENON TO PLAY FOOTBALL TEAM MANAGER IN 'PENALTY'!
Kay Kay Menon is all set to spring a huge surprise on the audiences, especially his fans with his next offering, Penalty, a sports based film in which he is playing a football team manager. The makers have recently launched the poster. Interestingly, the actor has always had an inclination towards sports and his passion for the same got him hooked on to the film. Kay Kay was extremely excited from the 1st ever narration of Penalty, and with football being the baseline of the film, the actor was game for the movie. From shoot at 5 in the morning to 16 hour shifts, Penalty saw a sea of hard work & patience. Menon also did a special football training to get himself prepared for the film. Nilesh Sakhiya presents Penalty, a film by Shubham Singh, produced by Nilesh Sakhiya, Ritu Shrivastva, Aditya Shrivastva, Ravi Singh, Annu K . Besides Kay Kay Menon, the movie features Shashank Arora, Manjot Singh, Lukram Simle, Shrishti Jain. Music & background score by Siddhant Madhav. Releasing on 30th Mar, 2018, Penalty revolves around the lives of a football coach Parth and her student Lukram. The story conveys the social message against racial discrimination prevailing internally in the states of India.
TRAILER LAUNCH OF 'INDIAN NEVER AGAIN NIRBHAYA'
The trailer of a film based on the true event of Delhi bus gang rape & murder named Indian Never again Nirbhaya produced by Bidisha Adhikary & Kanchan Adhikary & directed by Payal Kashyap & K Adhikary was launched recently. The film stars Riecha Sharma, Bidisha Adhikary, Dinesh K Mehta, Ravi Kumar, Raju Kher, Shailendra Srivastava, Raju Shrestha, Anil Yadav, Gopal K. Singh, Pappu Polister, K. Adhikary, Kamaal Malik & Gehna Vasisth. Producer K Adhikary says, "Films based on such incident highlights the issue that now in 21st century also girls are not treated the way they should be. As the film is based on true event it was very difficult to change anything. At the time of shooting it was really hard for us to shoot some of the scenes; everyone was remembering the time when it was actually happening to that girl." Manoj Nandwana of (JVEL) is the distributor & marketing consultant for India for release of the movie, which is all set for 20th Apr, 2018.
UTKARSH SHARMA TO MAKE HIS DEBUT IN ANIL SHARMA's 'GENIUS'
Remember the child who played Sunny Deol's son in Gadar: Ek Prem Katha? Utkarsh Sharma, son of Director & Producer Anil Sharma gears up to make his debut in Anil Sharma's next film Genius on 24th Aug, 2018. Genius is very fast – paced & high – tech action on a huge scale, with a healthy dose of romance with handfuls of thrills & pinches of drama. Genius will be a new, exciting & saucy mix, but put together very tastefully and served with style. K. C. Sharma & Kamal Mukut presents Anil Sharma Productions & Soham RockStar Entertainment's high – tech Action love story based Musical film Genius is all set to release in all over. Utkarsh Sharma Jeetey of Gadar fame and new find Ishita are leading cast of the film. The other cast includes Mithun Chakraborty, Ayesha Jhulka & Nawazuddin Shiddqui. Genius is produced by Deepak Mukut, written, Produced & Directed by Anil Sharma, screenplay & dialogues by Anil Sharma, Sunil Sirvaiya, Amjad Ali, music by Himesh Reshammiya & lyrics by Manoj Muntashir.
'WHEN OBAMA LOVED OSAMA' IS A COMPLETE LAUGH RIOT DEAL
Yet again, comedy – love story is in line to crack up the audiences with its barrage of fresh comedy. The audiences will again be entertained with a funny title When Obama loved Osama. No, we are not kidding… That's what the movie is called. The upcoming movie When Obama loved Osama will be helmed by Sudhish Kumar Sharma What you get to see in the movie will leave you in splits! Yes. The maker of Hum Hain Teen Khurafaati released in the year 2014 are back with their latest movie When Obama loved Osama, and it would be a comic – drama, replete with relatable humor & sidesplitting one – liners. The movie is being produced under the banner of Shape Entertainment. The music is by Kashi Richard & Rishabh Sambhav Jain. The movie promises to give rib – tickling comedy to its viewers and is expected to hit the Box – Office turnstiles in May, 2018. Produced by Jaivindra Singh Bhati & Chaman Gupta & directed by Sudhish Kumar Sharma, the film stars Mousam Sharma, Swati Bakshi, Rahul Avana, Amrita Acharya, Mohit Baghel, Vikas Giri, Kimti Anand, Mushtaq Khan, Manoj Bakshi, Lilliput Faruqui, Heena Panchal, Hemant Pandey & Himani Shivpuri.
BHOJPURI FILM 'DAMRU' REVOLVES AROUND A LIFE OF A DEVOTEE WHO HAS A GREAT FAITH IN LORD SHIVA
A soft – hearted follower of Lord Shiva, who has a firm belief in God and he has faith in relationship with God. His devotion & belief force God to come on earth for the sake of him & humanity. Pradeep K Sharma has produced the film Damru under his banner Baba Motion Pictures. It has been written & directed by Rajnish Mishra. Khesari Lal Yadav & Yashika Kapoor from Punjab play the lead in the film. Pradeep K Sharma had made 2 Hindi films Direct Ishq & 1.13.7 is now making his name in Bhojpuri & Marathi film. His 1st ever Bhojpuri film Damru is making waves on IMDB page .The film is giving tough competition to Hindi film Baaghi 2 ,Hate Story IV & even Hichki and will release on 5th Apr, 2018.
SHALEEN BHANOT'S 'PASSAGE TO HOLLYWOOD'
Shaleen Bhanot trains with the best of Hollywood to learn & unlearn acting. Michelle Danner who has trained the best actors of Hollywood like James Franco, Seth MacFarlane, Salma Hayek, Henry Cavill, Zooey Deschanel, Gerard Butler, Chris Rock, Chris Martin, Penelope Cruz, Michael Pena, Michelle Rodriguez, Kate Del Castillo and many others now trains Shaleen Bhanot for his debut Hollywood venture. Shaleen Bhanot who has spent over 1 decade in the industry in TV shows such as Suryaputra Karn, Sher – E – Punjab: Maharaja Ranjit Singh says, "Training under her is like going to a Gurukul. She has trained some of the best actors in Hollywood today & having her train me is an honor also she is a lovely human being."
JENNIFER WINGET LAUNCHES EFFICIENT INSURANCE BROKERS – MOBILE APP
Spearheaded by founder Parthiv Group of "Efficient Insurance Brokers" by Rakesh Rathi is one of the fastest growing Insurance Broker in the Country. Since Jul, 2017 they are now present in about 7 States & 9 Cities across India. The launch of their "Insure Efficient" Mobile APP was by Jennifer Winget at Eskay Resort, Borivali West in the presence of Deepshikha Nagpal & Rohit Verma. Efficient is a Trademark Registered Insurance Broker and is the fastest growing broking company in the country with a team of 100+ employees across the country and is further planning to make its presence in felt 9 more locales in a span of 12 months with the creation of more than 200+ employment. Mentor Director Rakesh Rathi says "The formation of Parthiv Group in 2015 was with a view to making simplified Insurance model & creating employment in the industry. "Team Efficient help clients determine their exposures, Structure their Insurance Programs; Negotiate Rates, Terms & Conditions; Place Their Risks with one or more insurance companies; Ensure Prompt & Equitable Settlement of Insurance Claims whenever the insurable events occur. In addition, they provide multiple services alongside the insurance value chain.
ARJUN KAPOOR & PARINNETI CHOPRA REUNITE FOR 'NAMASTE ENGLAND'
Pen Movies & Reliance Entertainment, in association with Blockbuster Movie Entertainers, have announced the release date of their upcoming film on 7th Dec, 2018. The makers have released 2 posters of the film with this announcement. Vipul Amrutlal Shah's Namaste England is a young & refreshing story that traces the journey of 2 individuals Jasmeet & Param. It tracks their love story across the landscapes of India & Europe. Starting from Punjab and moving to Ludhiana, Amritsar, Dhaka and all the way to Paris followed by Brussels and finally to London. It's a fun quintessential Bollywood love story film starring Arjun Kapoor & Parineeti Chopra. Produced & directed by Vipul Amrutlal Shah, the film is presented by Pen Movies & Reliance Entertainment, in association with Blockbuster Movie Entertainers. Namaste England has already gone on the floors with this announcement and is scheduled to hit the theatres on 7th Dec, 2018.
ILEANA DCRUZ TALKS ABOUT HER CHARACTER IN 'RAID'
Ileana Dcruz will be seen playing the role of Ajay Devgn's wife in Raj Kumar Gupta's directorial venture, Raid. Set in 1981 Lucknow, Raid is based on one of the biggest income tax heists that changed the course of history! From her debut in rom com Barfi or showcasing her comic timing in Mubarakaan, the actress has always attempted to play a varied choice of characters. Ileana says "Even though the film is about the raid with Ajay (Devgn) as an income tax officer, I do have a pivotal role. I admit, in terms of footage, it's not large, but it's an interesting part of the film. My character is not a demure biwi from the 80's, she is sensible, speaks her mind & is quite the force behind him. There's no plan as of now, but I'd love to work with Ajay again because he's been doing a lot of content driven films and is a nice, positive person to hang out with. On the sets, he was always chatting with his daughter (Nysa) or son (Yug) and since I was invariably listening in, I now feel I know his whole family." Produced by Bhushan Kumar, Krishan Kumar, Kumar Mangat Pathak & Abhishek Pathak, Raid is directed by Raj Kumar Gupta. The film releases on 16th Mar, 2018.
'PARESHAAN PARINDA' WILL NOW RELEASE ON 23RD MAR 2018
Due to circumstance beyond their control, the release of Pareshaan Parinda is postponed to 23rd Mar, 2018. Made under the banner of Dreamz Productions, Pareshaan Parinda – ek bechara stars Meeraj Shah, Sakshi Singh, Pankaj Kumar, Avtar Singh Bhullar, King B Chouhan, K P Sandhu, Pallavi Sharma, Sadia Nabila, Ricky Sapuran Singh, Dave Sidhu, Sahil Sood, Sammy Gill & Naz Gill. Pareshaan Parinda has been artistically captured by cinematographer of the film Gilbert Rae in Sydney & Singapore. The film has melodious songs given by Johny Seth, Tapeshwar Kalia & Ravinder Bhinder. The sound design is done by Asif Chandwani & the background score by Dev Chauhan. Dr. Rachel Singh is not just the producer of the film but also story – concept, writer, screenplay, production designer & art director. The director is Devesh Pratap Singh. The entire film is shot in varied locales of Sydney (Australia) & Singapore.