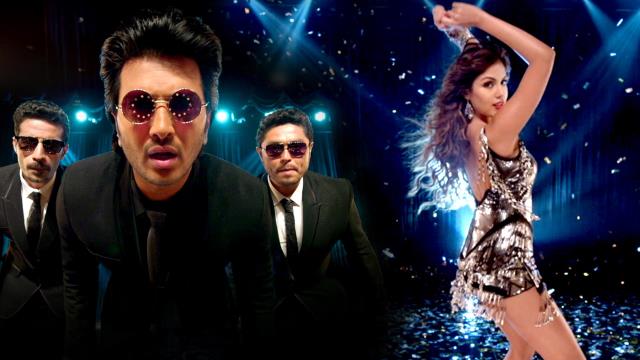 The 1st song from Bank Chor brings together the 3 idiot chors in the worst dance number of all time
Last week, the world got introduced to Champak, Genda & Gulab, the stupidest Bank Chors ever. 1st, their antics made everyone laugh out loud in the Bank Chor trailer, that trended #1 on YouTube for 3 days, and has cumulatively crossed 10 million across the Y – Films social media platforms within a week. Then, the film's Imaandaar trailer managed to rake up a social media storm as the 3 chors gave a hilarious dose of imaandaari that Bollywood has never seen before.
And now, in the title song of Bank Chor, innovatively titled "Hum Hain Bank Chor", the worst chors ever come together for what is certainly the worst Bollywood item song ever! They dance, gyrate & shake their booties in an attempt to lure the audiences into watching the film, falsely proclaiming that they are awesome chors. But the truth about their stupidity is fairly visible all through the song.
Written, composed & sung by Kailash Kher, instead of featuring an A – list Bollywood superstar in the video, the song features the incompetent trio of Champak, Genda & Gulab yet again. Fortunately, the song also features Rhea Chakraborty, who plays a reporter, Gayatri Ganguly in the movie, so there is still something to cheer about.
Says Riteish Deshmukh, "Just like the rest of the film, "Hum Hain Bank Chor" is also hilarious because in the song, the 3 idiot chors believe that they're actually smarter than everybody else. So for a change, it was fun for me to make everyone dance to my tune, because in the rest of the film "Meri Tashreef Lagi Hui Hai!"
Adds composer – lyricist – singer Kailash Kher, "After creating history with iconic songs like "Teri Deewani", "Saiyaan" & "Allah Ke Banday", I'm all set to destroy that with "Banday Hai Hum BankChor…" all on Y – Films doing. Jokes apart, this was really special as it showcases a mad, naughty & fun side of me that not many people have been exposed to. So after the soulful sufi comes stupid masti… hope you enjoy it as much as I did making it!"
Self – confessedly India's STUPIDEST comic thriller, Bank Chor, directed by Bumpy & produced by Ashish Patil, is all set to embarrass its makers when it releases in theaters on 16th Jun, 2017. The trailer of the film is out on YouTube.com / YFilms.
Y – Films is the dynamic, vibrant start – up at the intersection of films, creativity & youth culture that hopes to challenge the norm and detonate boundaries. Giving the youth a creative outlet and voice that will entertain & unite on film and beyond. A studio that promises to deliver kick ass content of the youth, by the youth, for the youth. And be a platform for talent – both on screen & behind the scenes – that will break and set new rules of story – telling.