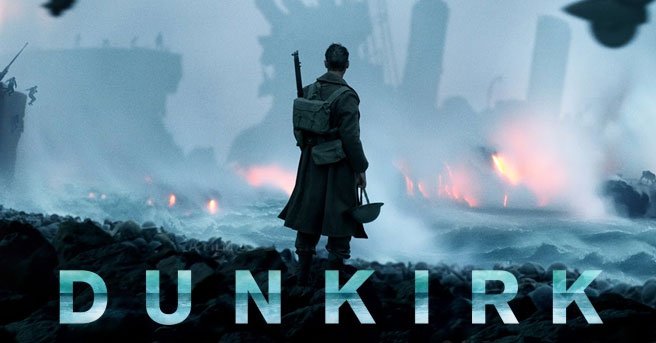 DUNKIRK' WINS WEEKEND AS VALERIAN CRUMBLES
Dunkirk comfortably won a middling weekend at the China Box – Office turnstiles. In 2nd place was new release Japanese film Gintama. The Christopher Nolan directed Dunkirk enjoyed a wide release with over 85,000 screenings per day. But suffered from an opening that was delayed several weeks after its North American & international outings, complicated story telling & a subject that is little known to Chinese audiences. It grossed $30.2 million in 3 days, according to data from Ent Group. Fully $5.7 million of that was achieved from 436 IMAX screens. IMAX reported that as Christopher Nolan's best opening in China. Gintama, a live action adaptation of a Japanese cartoon that is well – known in China, debuted in 2nd place. With some 50,000 screenings per day, the largest ever release pattern for a Japanese movie, Gintama enjoyed its highest place on Sat, but was actually 3rd to the enduring Wolf Warriors II on both Fri & Sun. Wolf Warriors II, extends its all time Box – Office turntiles record with every ticket sold. In its 7th week on release, it added $8.76 million. That extended its unprecedented haul to $849 million. Valerian And The City Of A Thousand Planets, which won its opening weekend, tumbled to 4th place in its 2nd frame. That was a steep 78% drop. After 10 days it stands on $58.3 million, making China by far & away from the film's biggest territory. The global total for Valerian And The City Of A Thousand Planets stood at $202 million after the weekend, according to ComScore. Color Of The Game, a Hong Kong & Chinese crime actioner, took 5th place with $3.55 million in 4 days after its Thurs release. But its performance was weak and lost the ground on both Sat & Sun. Cars 3 had a quiet Fri, but accelerated slightly on Sat & Sun for 6th place. It took $2.83 million for the weekend and stands on a 10 day cumulative of $19.4 million.
CHINA FORECASTERS AGAIN TURN BOLD
Chinese authorities have once again begun forecasting that China will be the world's largest Box – Office turnstiles territory by 2020. Such grandiose forecasts of world dominance ceased in mid 2016 when China's Box – Office turnstile abruptly slowed down. But the renewed confidence appears to be another side effect of the recent Wolf Warrior II smash hit. China's Box – Office turnstile sales will reach $8.36 million (RMB55 billion) in 2017 & the Chinese film market is expected to be the world's largest by 2020, said the State Administration of Press, Publication, Radio, Film & Television (SAPPRFT), as reported by state media. The forecast for the current year implies a return to 20% growth. 2 further years of 20% growth would suggest a total of $12 billion by 2020. The Motion Picture Association reported North American theatrical takings as $11.4 billion in 2016. The record breaking RMB5.5 billion score for Wolf Warriors II fell almost entirely within Aug, 2017. It was released on 27th Jul, 2017, giving a huge boost to that month & reinvigorating figures for the 1st 8 months of this year. Jul, 2017 delivered Box – Office turnstiles of $2.48 billion (RMB16.3 billion) according to data from Ent Group, propelled by the stratospheric performance of Wolf Warriors II. That put the total for the 1st 8 months of the year at $6 billion (RMB39.6 billion), an increase of 16% for the year to date.
SEKIGAHARA WINS 2ND WEEKEND
Sekigahara, Masato Harada's samurai epic about the single most important battle in Japanese history, won its 2nd weekend at the Japanese Box – Office turnstiles. Co -distributed by Toho & Asmik Ace, the film topped the 2nd Sept, 2017 & 3rd Sept, 2017 frame with $2.5 million from 214,000 admissions, while boosting its cumulative total to $10 million. In 2nd was Despicable Me 3. Distributed by Toho – Towa, the film made $1.49 million, driving its Box – Office turnstiles total to $60 million in its 7th week on release. Meanwhile, Warner's Wonder Woman recorded a slightly higher USD1.51 million on a slightly lower 113,000 admissions, giving it 3rd place on the admissions based local chart.
HITMAN'S BODYGUARD WINS WEEKEND
2 foreign new releases scored top 3 places on a quiet weekend at South Korean Box -Office turnstile. Opening on Thurs, The Hitman's Bodyguard debuted on top. The American action comedy earned $5.64 million from 777,000 admissions over 4 days, accounting for 31% of the total weekend Box – Office turntiles. Opening on the same day, Luc Besson's Valerian And The City Of A Thousand Planets took 3rd place. It earned $2.62 million from 370,000 admissions between Thurs & Sun. Local action drama Midnight Runners climbed to 2nd place from the previous week's 3rd, despite a week on week drop of 44%. The Lotte Entertainment release earned $2.1 million between Fri & Sun for a total of $37.4 million after 4 weekends. Korean trio, Showbox's A Taxi Driver, Warner Bros Korea's V.I.P. & Next Entertainment World's The Mimic took the 3 following places. A Taxi Driver, the year's biggest film so far, added $1.75 million & extended its total to $82.6 million after 5 weekends. Crime drama V.I.P. earned $1.01 million for a total of $9.31 million after 2 weekends. Family horror, Mimic earned $554,500 for a 3 week total of $9 million.