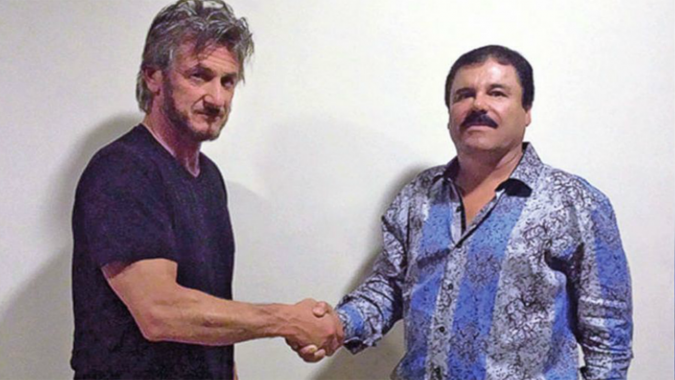 MEXICAN FILM INDUSTRY REACTS TO SEAN PENN – EL CHAP0 INTERVIEW
Did anything happen in Mexico over the last few days except for the recapture of El Chapo and Sean Penn's interview? If so, it was hardly getting much play late Sun and early Mon from the Spanish -speaking media. Mexican newspaper El Universal led with a special, "Kate, Sean, El Chapo Links – Documented" plus 6 Penn – hostile columns; Spain's El Pais American edition dedicated all its top 8 online stories to El Chapo's detention & interview. Meanwhile, however, members of Mexico's film industry, like Alejandro Gonzalez Inarritu & Gael Garcia Bernal at the Golden Globes, preferred to take a step back, get their heads round the Chapo – Penn meeting and set it in a broader context. "The fact that 2 actors had the chance to meet with El Chapo, the most wanted man in the world, only shows the incapacity of the Mexican Government to do what it is supposed to do," said Ozcar Ramirez, a Mexican producer.
ICE AND THE SKY RIGHTS ACQUIRED BY MUSIC BOX FOR FOR US
Music Box Films has acquired North American rights to climate change documentary Ice And The Sky and plans a 2nd quarter release. Ice And The Sky, which was the closing night film at last year's Cannes Film Festival, centers on Claude Lorius who, over the course of multiple expeditions to Antarctica, pioneered the study of ice cores to identify and understand the human impact on global warming. He began researching in Antarctica in 1957 by measuring carbon dioxide bubbles in ice (some of it 800,000 years old) and was among the 1st scientists to make the case for global warming. The film is directed by Luc Jacquet, who won an Oscar for March Of The Penguins. "Luc Jacquet is a proven documentarian with an eye for finding the narrative in nature," said Music Box Films' president William Schopf.
CAROL BAGS GAY & LESBIAN ENTERTAINMENT CRITIC AWARDS
Todd Haynes' Carol, which missed out on key nominations for "Best Picture & "Best Director" from the Academy last week, bagged the Gay & Lesbian Entertainment Critics Association's top categories, the org announced recently. The film won top honors for "Film Of The Year" and received gongs for director Haynes, lead actress Cate Blanchett & screenplay. Haynes also took the "Wilde Artist Of The Year Award" (named for the group's "patron saint," Oscar Wilde), while the film was named LGBTQ "Film Of The Year" as well. Leonardo DiCaprio won the lead actor prize for his performance in The Revenant. On the small screen side, Fargo & Orange Is The New Black tied for the drama series award, while Transparent won a trio, for "Best Comedy" series, comedy actor (Jeffrey Tambor) & LGBTQ "Show Of The Year".
JANE FEATHERSTONE LAUNCHES SISTER PICTURES
Jane Featherstone, former chief executive of Kudos, co – chairman of Shine UK & executive producer of dramas including Spooks, Humans, River & Broadchurch, has launched independent production company Sister Pictures. Sister Pictures will produce drama for both UK & international buyers, and has a number of projects in development. Among the initial slate of projects, Featherstone recently revealed the development of a drama series based in the world of divorce lawyers, called The Split, from Abi Morgan, creator of TV series The Hour & River, and writer of films including The Iron Lady & Suffragette. Katie Carpenter joins the company as head of development from Kudos, where she was a development executive.
5 ACTORS TO STAR IN THE DINNER
Richard Gere, Steve Coogan, Laura Linney, Rebecca Hall & Chloe Sevigny are to star in Oren Moverman's The Dinner, which is based on the bestselling novel by Herman Koch. The Dinner starts as Paul Lohman & Claire Lohman get ready for a dinner with Paul's politician brother Stan, and his wife Barbara. Tensions already exist between the 2 brothers, Stan is a smooth talking celebrity who is the favorite to win the Governor's race, while Paul has a chip on his shoulder and is currently not working. But, as the evening in a chic restaurant progresses, dark secrets emerge about their respective children. A monstrous crime has been committed by the Lohman kids, and the 2 couples are divided about how to handle the situation.
BAFTA TO PRESENT ANGELS COSTUMES
The British Academy of Film & Television Arts is to present the 175 year old costume company Angels Costumes with its annual award for outstanding British contribution to cinema atBAFTA's film awards ceremony on 14th Feb, 2016. The award is presented in honor of Michael Balcon, the British film producer known for his work with Ealing Studios. Previous recipients include Mike Leigh, Kenneth Branagh, Derek Jarman, Ridley & Tony Scott, Working Title Films, the Harry Potter franchise & former Film4 boss Tessa Ross. Last year's recipient was BBC Films. Angels, which was established in 1840, is a 7th generation family business. Today it is led by chairman Tim Angel, who has also served as chairman of BAFTA and as a Governor of the British Film Institute.
LYGO TO REPLACE FINCHAM AS DIRECTOR OF TELEVISION ITV
ITV's director of television Peter Fincham is to step down after almost 8 years at UK commercial broadcaster, and will be succeeded by Kevin Lygo, currently managing director of production unit ITV Studios, ITV averred recently. According to an unconfirmed report, ITV chairman Archie Norman is about to quit the broadcaster as well. Julian Bellamy, managing director of ITV Studios in UK, will move up to replace Lygo. David McGraynor, ITV Studios finance director, will take on the new role of chief finance & operating officer of the Studios division. Lygo was director of television at Channel 4 from 2003 to 2010 when he was brought in by ITV chief executive Adam Crozier to run ITV Studios. He also spent 2 years at Channel Five from 2001 to 2003, and prior to that was Channel 4's head of entertainment.
Lygo & Bellamy will begin their new roles on 1st Feb, 2016.
CORUS ENTERTAINMENT TO BUY TV COMPANY IN $1.86 BILLION DEAL
Canadian media company Corus Entertainment is all set to acquire Shaw Communications' TV unit Shaw Media for $2.65 billion ($1.86 billion). The deal will create a TV operation comprising 45 specialty television channels, 39 radio stations, digital assets, the content studio Nelvana, and 15 conventional television stations. Shaw Media's assets include the specialty channels Food Network Canada, HGTV Canada, DIY Network Canada, Slice, Lifetime, History Canada, H2, Showcase, National Geographic Canada, Nat Geo Wild Canada, Action, MovieTime, IFC Canada, Global News: BC1, BBC Canada, DejaView, Crime + Investigation, DTOUR & FYI. It also includes Global Television's national conventional service with stations in Vancouver, Okanagan, Edmonton, Calgary, Lethbridge, Saskatoon, Regina, Winnipeg, Toronto, Montreal, Halifax & Saint John.
ENTERTAINMENT ONE CLOSES LONDON BASED FILM SALES OPERATION
The London based film sales arm of UK – Canadian film & TV company Entertainment One, formerly known as Entertainment One Films International has been shuttered, according to reports. The move has been in the cards for some time, following the departure of the sales team boss Harold Van Lier and the integration of the sales team into eOne Features last year. Last week, eOne announced that the international sales all of its movies, both those it produces & acquires, would be handled by Sierra Pictures. Entertainment One also took an equity stake in Sierra Pictures, which is led by Nick Meyer & Marc Schaberg. This move effectively spelled the end of its London based film sales operation, and put the future of its sales team there in doubt, although they may be redeployed within the company.
OUR LITTLE SISTER SCORES RECORD NOMINATIONS FOR JAPANESE AWARDS
Hirokazu Kore-eda's ensemble drama Our Little Sister has scored an unprecedented 12 nominations for this year's Japan Academy Prizes, including "Best Picture", "Best Director", "Best Screenplay" (Kore-eda), "Best Actress (Haruka Ayase), "Best Supporting Actress" (Kaho & Masami Nagasawa) & "Best Newcomer" (Suzu Hirose). Our Little Sister, which screened in competition at Cannes last year, is also unusual in that all 4 of its lead actresses have been nominated, in varied categories. Japan's contender for the foreign language Oscar, Masaharu Take's boxing drama 100 Yen Love, was nominated for 5 prizes, including "Best Actress" for star Sakura Ando. The Japan Academy Prize Association, whose 3,900 members include employees of major film companies, as well as directors, actors and others in the Japanese film community, awards prizes in 15 categories, including "Best Animation" & "Best Foreign Film". The winners will be announced on 4th Mar, 2016 in Tokyo.
STAR WARS: THE FORCE AWAKENS WINS 3RD WEEKEND
Star Wars: The Force Awakens won its 3rd consecutive weekend at Japanese Box Office. In 16th Jan, 2016 – 17th Jan, 2016 frame it recorded $3.3 million on 236,000 admissions, while running its cumulative total to $77 million. The RPG -game – based animation Yo -Kai Watch The Movie 2: King Enma And The 5 Stories, Nyan! held onto the number 2 spot for 3rd weekend in a row. Distributed by Toho, the film earned $1.36 million on 137,000 admissions, while boosting its cumultive past the JPY5 billion ($43 million) milestone. The highest new entry was Paddington, landing in 3rd, some 14 months after it premiered in UK. Released on 15th Jan, 2016 by Kino Films, the animation – live action hybrid scored $1.1 million on 99,900 admissions from 315 screens on Sat & Sun. The forecast for its final total is $7 million.
STAR WARS: THE FORCE AWAKENS WINS WEEK – EDGED OUT IN 2ND WEEKEND
Star Wars: The Force Awakens emerged on top of the Chinese box office chart in its 1st full week of theatrical play. But in its 2nd weekend it was beaten by local animated feature Boonie Bears III. In the 7 day week to Sun (11th Jan, 2016 – 17th Jan, 2016) Star Wars: The Force Awakens earned $44.0 million at the Chinese box office, according to local data supplier Entertainment Group. That lifted its cumulative score to $97.5 million after 9 days in Chinese theaters. That followed a powerhouse 2 day opening weekend (9th Jan, 2016 – 10th Jan, 2016) in which it scored $53 million. Its 2nd weekend Star Wars: The Force Awakens won the Fri session with $5.43 million, but was beaten into 2nd place on both Sat & Sun by kids franchise movie Boonie Bears III, which released on Sat (16th Jan, 2016) Boonie Bears III scored $8.56 million on Sat, ahead of the $8.51 million for Star Wars: The Force Awakens. On Sunday (17th Jan, 2016) Boonie Bears III earned $6.52 million, against $6.31 million for Star Wars: The Force Awakens. After 2 days on release, Boonie Bears III had a cumulative score of $20.1 million including previews. On Sat & Sun exhibitors gave Boonie Bears III some 10% more screenings than Star Wars: The Force Awakens, apparently skewing their product mix to the family market. Preliminary data for Monday (18th Jan, 2016) points to that position being reversed again for the more adult weekday audiences. For the week to Sun, Detective Chinatown took 3rd place with $13.9 million, lifting its cumulative score to $112 million after 18 days. Fri (15th Jan, 2016) release Royal Treasure earned $11.9 million in 3 days, good enough for 4th place in the weekly table. The Last Witch Hunter, which also opened on Fri took $9.54 million in 3 days, for 5th place on a weekly view.
CHINA LAUNCHES NEW CAMPAIGN AGAINST BOX OFFICE FRAUD
China's media regulators will this week launch a new round of their regular campaign against Box Office fraud. The move, reported by state news agency Xinhua, will be a 3 stage operation organized by the State Administration for Press Publishing Radio & Television."Producers suffer badly from Box Office cheating as their profits rely heavily on theatrical Box Office sales," said Zhang Hongsen, film bureau head of the SARFT, according to Xinhua. China's theatrical Box Office grew an official 49% last year to $6.7 billion. And more than half of ticket sales are now online, particularly through online apps. But the pace of growth & the arrival of numerous small, inexperienced theater operators creates plenty of opportunity for cheating.
WANDA FORCASTS 30% LEAP IN ENTERTAINMENT REVENUES
Dalian Wanda is forecasting a 30% growth in its revenues following the recently agreed deal to buy Legendary Entertainment for $3.5 billion. For 2016 the company said that target revenue from its cultural sector businesses is $10.2 billion (RMB66.6 billion). That follows a year in which the cultural sector expanded by 45% & revenue hit $7.83 billion (RMB51.3 billion). it said that Legendary 's revenues in 2016 are forecast to be $613 million (RMB4.02 billion). The privately held parent group, which controls a mixture of private & publicly listed companies, announced details of its yearly performance & New Year targets at a corporate retreat in Xishuangbanna, Yunnan Province, site of Wanda's newest full scale theme park. The group as a whole is expected to see growth in net asset value & profits in 2016.
MICHAEL KEATON GETS FRANCE'S ORDER OF ARTS & LETTERS HONOR
After winning a string of awards for his perf in Oscar – nommed Spotlight, Michael Keaton received one of France's highest honors, becoming Officer of the Order of Arts & Letters during a Paris ceremony hosted by Culture Minister Fleur Pellerin. The honor, which has previously been given to Jim Jarmusch, Robert Paxton, Robert Redford & Meryl Streep, highlighted Keaton's career achievements. Keaton's latest film, Tom McCarthy's Spotlight, has been nominated for 6 Oscars. The movie also won Los Angeles "Critics' Choice Award" for outstanding film of 2015. "Yours is a culture that has such respect for beauty & art that if I even in the smallest way made a tiny contribution to beauty or art in this culture, or in any culture of the world for that matter, I'm honored & grateful & proud. This is one of the biggest days of my life," said Keaton on stage.
ROLA BAUER T0 SPEARHEAD US ACTIVITIES
European studio Studiocanal, one of the continent's leaders in movie & television production & distribution, has given Rola Bauer the mandate to lead all of its production & co -production television activities in US market. In addition to being CEO of Tandem Productions, Bauer's responsibilities as a Studiocanal executive have been broadened to include working with & coordinating activities for Studiocanal's production & partnership companies' scripted formats & co – productions in US market, as well as exploring synergies with Universal Music Group. Bauer will also be responsible for strategic alliances with writing /show – running talent in US for the studio's television division.
DIRECTV LATIN AMERICA ACQUIRES RIGHTS OF SPOTLESS
DirecTV Latin America has acquired dark, irreverent one hour crime drama series Spotless from Studiocanal, which is handling worldwide distribution. The series, which airs on NBCUniversal's Esquire Network in US, stars Marc – Andre Grondin, Denis Menochet, Brendan Coyle & Miranda Raison. The show was co – created by Ed McCardie & Corinne Marrinan, and is produced by Munich based Tandem Productions. The 1t 10 episode season of Spotless received plaudits from US & French media. The Washington Post stated, Esquire Network finds a winner with 1st scripted drama, the Philadelphia Inquirer called the show "brilliant", Le Figaro applauded it as "a French -British co – production of a rare quality," while Le Monde said it was "a complete success."
UNIFRANCE UNVEILS LINE UP OF MY FRENCH FILM FESTIVAL
UniFrance has upped the ante for the 6th edition of its online festival namely My French Film Festival, expanding the fest's global reach with more partners & movies. The prestigious launch was hosted at the Eiffel Tower before a crowd of filmmakers, actors, French industryites & international journos. In attendance was Danish helmer Nicolas Winding Refn, who had directed Only God Forgives, who is presiding the filmmakers jury, along with his fellow members Marjane Satrapi, Felix Van Groeningen, David Robert Mitchell & Valérie Donzelli. "My French Film Festival gives young people the opportunity to see the films and understand film is a futuristic language," said Refn on stage.
FILM REPUBLIC ACQUIRES THE DREAMER
Xavier Henry – Rashid's London based sales company Film Republic has acquired Adrian Saba's 2nd feature El Sonador (The Dreamer), which receives its world premiere at next month's Berlin Film Festival. The stylish film, which plays as part of Berlin's youth films section Generation 14plus, is a coming – of – age story set in Lima, Peru. Film Republic also worked with Saba on his 1st feature, El Limpiador (The Cleaner), which premiered at the San Sebastian Film Festival, and received a New Directors Award special mention. The film screened at more than 100 film festivals, and won the New Visions / New Voices award at Palm Springs Film Festival, the Fipresci Critics' Award at the Transylvania Film Festival, and was Peru's official entry for the foreign language film Oscar in 2014.
INDIGNATI0N T0 PLAY IN THE PANORAMA SECTION OF BERLIN FILM FESTIVAL
Berlin Film Festival section Panorama has added further films to its lineup, which will include Indignation, the directorial debut of producer James Schamus. Panorama also revealed that a Special Teddy Award, which celebrates gay & lesbian filmmaking, will be awarded to Christine Vachon, one of the producers of Carol. The Panorama Special program will open on 12th Feb, 2016 with Daniel Burman's El Rey Del Once (The Tenth Man), and the previously announced War On Everyone by John Michael McDonagh. El Rey Del Once, the festival said, is "a sensitive tale that bursts with vitality, a loving portrait of multi -layered life in Once, the Jewish quarter of Buenos Aires." Burman's debut film, A Chrysanthemum Bursts In Cinco Esquinas, opened the main program of Panorama in 1998, and his 2004 film Lost Embrace won 2 Silver Bears in Berlin.
PORT OF CALL BAGS HONG KONG CRITICS AWARDS
Dark detective drama, Port Of Call was named "Best Film by Hong Kong Film Critics' Society recently. Directed by Philip Yung Chi – kwong, the film is based on real events involving the murder of a woman. It features superstar singer -actor Aaron Kwok as a disheveled & downbeat detective. The Society's "Best Actor" & "Best Actress" awards, however, went to Port of Call's other stars Michael Ning & Jessie Li. The "Best Director" award went to Tsui Hark for his mainland Chinese war story The Taking Of Tiger Mountain. The "Best Screenplay" award went to Kageyama Yukihiko & Sylvia Chang for Chang's musical Murmur Of The Hearts which was the opening film of the Hong Kong International Film Festival in Mar, 2015. Port Of Call had its premiere as the closing film of the HKIFF and on theatrical release earned a rare Category III rating for gore & nudity.
HAF PROJECT MARKET UNVEILS POWERFUL SELECTION
The 14th Hong Kong – Asia Film Financing Forum (HAF) looks set to be one of the strongest ever editions of the annual project market. The event is organized by the Hong Kong International Film Festival and runs 14th Mar, 2016 – 16th Mar, 2016 concurrently with the 1st 3 days of film & TV rights market FilMart, and is a component of Entertainment Expo. Directors presenting new projects include Wang Bing, Pema Tseden, Sonthar Gyal from China, Adam Wong from Hong Kong, Thailand's Rooth Tang, Taiwan's Tom Lee & Philippines' Lav Diaz, whose A Lullaby To The Sorrowful Mystery appears next month in competition in Berlin. Noted producers pitching projects include Isabelle Glachant & Shozo Ichiyama. Actress – director – producer Sylvia Chang is pitching Lieutenant Yi, the 1st time feature directing effort by celebrated Taiwanese actress Rene Liu.
HONG K0NG FESTIVAL TO HONOR WONG KAR – WAI'S JET TONE FILMS
The Hong Kong International Film Festival (21st Mar, 2016 – 4th Apr, 2016) will hold a 25th anniversary tribute to Jet Tone Films, the production & talent management company founded by Wong Kar – Wai. The festival will screen a selection of Jet Tone signature movies. Wong will also hold a master class and a the festival will publish a book about Jet Tone with rare photos & interviews. "Jet Tone is known by cineastes worldwide for its unique brand of artful filmmaking," said the festival. Its credits include Happy Together, In The Mood For Love, 2046 & The Grandmaster, by Wong himself. It has also produced Miao Miao & Touch Of The Light. Its 1st film under a deal with Alibaba Pictures Group is the now -in production The Ferryman.
GLOBO & BURMAN TEAM UP FOR SUPERMAX
Brazil's Globo, Latin America's biggest TV group, is for the 1st time ever bringing its huge production might to 100% Spanish -language production at Globo Studios, teaming with Daniel Burman, a leading light of the New Argentine Cinema, to create TV series Supermax. TV Azteca will broadcast Supermax in Mexico. An adventure – thriller, Supermax was unveiled to potential buyers at Natpe on Tues 19th Jan, 2016 on the market's 1st day of trading. It weighs in as not only Globo's flagship 2016 new series but also the 1st fruit of a new strategy that could see the Spanish -speaking TV world gaining a giant new production player. On Supermax, this groundbreaking move sees Globo linking to prominent movie figures in the Latino film business.
THE REVENANT OPENS ON TOP
Fox's The Revenant opened on top of the Korean Box Office, earning $5.5 million from 821,000 admissions between Thurs & Sun. The survivalist drama was the best opening score for both director Alejandro Inarritu & actor Leonardo DiCaprio. The Dark Knight Rises, which earned $14.8 million over opening 4 days, remains Tom Hardy's best Korean debut. Launching on the same day as The Revenant, local romantic drama Mood Of The Day opened in 2nd. The Showbox release made $2.36 million from 354,900 admissions over 1st 4 days. The previous week's winner, The Good Dinosaur slipped to 3rd, earning $1.66 million between Fri & Sun, for a total of $6 million after 2 weekends.
NETFLIX IN SINGAPORE DEALS WITH STARHUB
StarHub Deal gives boost to Netflix in Singapore Video streaming service, Netflix has struck a deal with cable, broadband & phones operator StarHub in Singapore. StarHub's FibreTV subscribers will be able to access Netflix through their set – top boxes by the early 2nd quarter of 2016. StarHub says it will also join the Netflix Open Connect program in order to provide the best – quality viewing experience for StarHub mobile & broadband customers. "Fibre TV customers will enjoy a seamless viewing experience as Netflix will be directly integrated into their set -top boxes, making StarHub TV the only stop for the entire family's entertainment needs," said Howie Lau, chief marketing officer of StarHub. "In addition, all StarHub customers will be able to charge their Netflix subscription to their StarHub bill, removing the hassle of paying multiple bills."
ANTITRUST PROBE MAY EXPLODE THE CONTINENT'S BUSINESS MODEL
Later this month, when Margrethe Vestager, the European Union's antitrust commissioner, sits down with representatives of the Big 6 Hollywood studios & Europe's leading pay TV operator, Sky, the result of the discussion may well affect the model upon which the continent's film & TV business has been built. The European Union wants to open digital commerce for the 500 million people who live in its 28 member countries, and Vestager asserts that the exclusive contracts that the studios have signed with Sky for UK are anti -competitive. On the face of it, the issue is fairly dry, dealing with the idea of "passive sales", in which a consumer from one territory seeks to buy unsolicited products or services from a seller in another territory, but the way the matter is decided will affect pay TV operators, broadcasters & streaming platforms across the continent, and may also have serious consequences for the film & TV industries as a whole.
COMEDIES DRIVE ROBUST 2015 FOR FRENCH EXPORTS
Luc Besson's EuropaCorp, family entertainment & comedies pushed French film export to a strong €600 million ($657 million) and 106 million in ticket sales outside France, the 3rd best year in history, UniFrance announced recently in Paris at a ceremony hosted by French Foreign Minister Laurent Fabius. Taken 3 was France's biggest hit abroad, notching up €261.7 million($286.6 million). Results also signal the 3rd time in 4 years French movies have punched cinema theater tix sales above the symbolic 100 million admission mark abroad, after 2012's 144.1 million & 2014's 120.2 million. Yet, it's not just the figure but the way French films got there in 2015 which is significant: Led by The Little Prince, produced by Aton Soumache & Dimitri Rassam at ON Entertainment, who re, who received the plaudit of UniFrance's 2015 French Cinema Award at the Fri night sales figure presentation, 3 out of the Top 10 French films abroad were animated features, and a 4th another kind of family entertainment movie, though maybe a borderline one in this case, the fairy tale riff Beauty And The Beast.
EUROPEAN UNION LAUNCHES PROBE INTO NEW MEDIA LAW
A new media law in Poland has provoked an argument with the European Union about freedom of speech and the nature of democracy. Following Oct, 2015's election in Poland, the right – wing Law & Justice Party came to power, and one of its 1st acts has been to tighten its grip on the public broadcaster, TVP. At the end of last year, the Polish Government extended its powers to allow it to hire & fire the heads of TVP, which commands the largest share of the country's TV audience, as well as the publicly owned radio network & press agency. Previously the public media chiefs reported to a media supervisory committee. In response to the new law, the heads of Poland's public TV channels resigned in protest on 31st Dec, 2015.
PALM TRESS IN THE SN0W DISLODGES STAR WARS: THE FORCE AWAKENS
Distributed by Warner Bros International Pictures Spain, Fernando Gonzalez Molina's epic romance Palm Trees In The Snow, an Atresmedia Cine production, dislodged over Epiphany Star Wars: The Force Awakens from the No. 1 Box Office berth in Spain. Vicente Canales' Film Factory Ent. handles international sales. The ambitious Spanish – language pic, toplining local film & TV stars Mario Casas & Adriana Ugarte, held its leading position over the 8th Jan, 2016 – 10th Jan, 2016 weekend, scoring €10.5 million ($11.3 million) at the local Box Office. Bowing 25th Dec, 2015, Palm Trees In The Snow collected $4.97 million in 2015, and $6.3 million – plus in 2016. By 13th Jan, 2016, the film had cumed $12.1 million, overhauling Telecinco Cinema's Capture The Flag as the 2nd biggest Spanish release of 2015.
RAI CINEMA SETS ITALO RELEASE FOR FIRE AT SEA
Timely migrant crisis -themed docu Fire At Sea by Italian director Gianfranco Rosi, whose previous docu Sacro GRA won the 2013 Venice Golden Lion, is all set for an Italo theatrical release during the Berlin Film Festival via Rai Cinema, through its 01 Distribuzione unit in tandem with Istituto Luce. The high – profile Berlin competition entry, the 1st teaser for which has just been released, is shot on & around the Sicilian island of Lampedusa, near the North African coast, which has become a symbol of Europe's migrant crisis. Lampedusa has been making global headlines as the 1st entry point for hundreds of thousands of African & Middle Eastern migrants hoping for a fresh start in Europe.