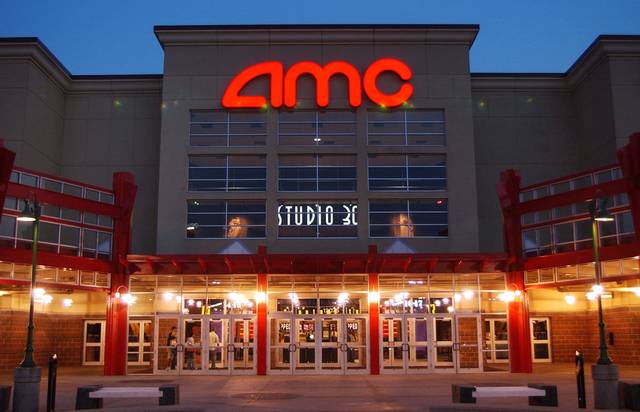 AMC ENTERTAINMENT EARNINGS BEAT FORECASTS
Revenues at AMC Entertainment hit record levels in 4th quarter of 2015 on the strength of Star Wars: The Force Awakens, the theater chain said Mon. Total revenues grew approximately 10.1% to $783.9 million compared to $712.2 million in the prior year period, setting a new high water mark. That still missed analysts' projections. Wall Street had been looking for theater chain to post $801.8 million in revenues. Theater chain did beat on earnings, however, posting profits of $41.6 million, or 42 cents per share, compared with $29.8 million, or 30 cents in rior year period. Consensus estimates had the exhibition company hitting $39.6 million, or 41 cents per share, for the 3 month period ending in Dec, 2015.
YAHOO STOCK RISES ON ALIBABA TAKEOVER SPECULATION
Yahoo shares climbed more than 3% Mon, amid speculation that Alibaba Group may be poised to swoop in & acquire the Internet media company and after Yahoo company revealed projected charges related to its 15% workforce reduction. On Mon, Alibaba said that chairman Jack Ma & vice chairman Joe Tsai will spend around $500 million of their own cash to buy back shares in the Chinese ecommerce company. That's part of a $4 billion share buyback program announced last Aug.
Yahoo has said it is approaching buyers potentially interested in all or part of the company, and Alibaba's financial moves have some investors wondering if the Chinese conglomerate is ready to make a play for Yahoo. Others reportedly interested in making a bid for Yahoo include Comcast, Time Inc., Verizon & AT&T.
HAN CAPITAL MANAGEMENT RAISES $500 MILLION
New York based HAN Capital Management has raised $500 million for an entertainment fund that will invest in Chinese film & TV productions. The company, founded in 2008 by experienced financier John Liu, aims to help fund, develop, produce & distribute 15 feature films through 2017. Productions will target Chinese and global audiences and could have large budgets of up to $150 million. "With the middle class in China booming and demands for entertainment consumption growing, it's one of a few high growth and hot investment sectors in China right now," Liu said in a press statement. HAN Capital Management describes itself as "a multi – strategy, multi – assets, global arbitrage hedge fund. It also manages a trio of different China funds. It is also contributing $200 million to the new entertainment fund.
BRITISH FILM INSTITUTE. GETS SERIOUS
Long before the lack of minority nominees for this year's Oscars led to a controversy that motivated the Academy of Motion Picture Arts & Sciences to examine ways it can improve diversity among its membership, UK film business was working on a strategy to improve cultural representation in its ranks. In Oct, 2015 the British Film Institute finalised plans for the model, called the BFI Diversity Standards, a policy in the works for more than a year, across all of its funds. It also launched a £1 million ($1.4 million) Diversity Fund to be rolled out across development, production & distribution. Other UK funders, including Creative Skillset, Creative England, Creative Scotland, Film Cymru Wales, Film London, Into Film & Northern Ireland Screen, have adopted the BFI model.
YU – FAI SUEN TO LEAD PINEWOOD PICTURES
Yu – Fai Suen, the chief operating officer at Elton John's Rocket Pictures, is set to become managing director of Pinewood Pictures, the movie production & financing arm of Pinewood Studios Group. Robert Norris will take up a new position as senior VP of Pinewood Pictures. Before joining Rocket, Suen held senior roles at Aramid Capital Partners & Momentum Pictures, and was involved in the film financing of District 9,Blue Valentine & Bronson, amongst others, as well as arranging a number of studio slate deals & corporate media transactions. At Pinewood, Suen will administer Pinewood's own investments and those of its client funds, including the Isle of Man Media Development Fund & Welsh Government's Media Investment Budget.
IMAX CHINA TO OPEN 100 VENUES IN 2016
Imax China is all set to open 100 new cinemas in 2016. That would be an increase of roughly a 3rd on its current total of 307 in Middle Kingdom, Hong Kong & Taiwan and an expansion of its theater openings schedule. For 2015 the company reported revenues of $110 million, and increase of 41%, and adjusted profit of $43.4 million, an increase of 39%. It opened 75 new theaters last year. The results were 1st published by Imax subsidiary since it floated as a separate company on Hong Kong Stock Exchange. The company exhibited 31 films in Imax format in 2016 in China, and an additional 10 in Hong Kong & Taiwan. They achieved a combined gross box office of $312 million, up 54%. Per screen average also grew by 10% to $1.34 million, the company said. "Despite concerns over a macro economic slowdown in the region, we continue to see business that has never been better and a commitment from our exhibitors that has yet to waver," said chairman Richard Gelfond in a statement.
BONA POISED TO RELEASE THE REVENANT & ROOM IN CHINA
Bona Film Group is all set to release triple Oscar winner The Revenantin China next month. And it expects to have Room which earned Brie Larson "Best Actress" Oscar in cinemas later in the year. In a Weibo social media blog posting Bona said that it would release The Revenant on 18th Mar, 2016. Local film news site Mtime reports that the film had originally been eyeing a mid – Feb 2016 release in China, but that the delay will allow cuts to be made. China's censors are expected to require multiple cuts due to the film's graphic violence. The country has no film rating system and approved movies must be deemed suitable for audiences of all ages. It is also being reported that
Leonardo DiCaprio, who won the "Best Actor" Oscar for his performance in the film, will visit China to promote the film's Middle Kingdom release, which will be jointly handled by Bona, China Film Group & Alpha Pictures. The Revenant was one of a trio of New Regency movies co – financed by Taiwan's Catchplay & Hong Kong's Alpha, giving Catchplay rights in China, Hong Kong & Taiwan.
THE MERMAID SWIMS TO $481 MILLION TOTAL
Stephen Chow's watery environmentalist fantasy The Mermaid topped the weekend box office in China and extended its all time theatrical record. The film soaked up a further $27.9 million over the Fri – Sun weekend, a total that was 3 times that of 2nd placed picture Monkey King 2, according to data from China's Ent Group. That score pushes the cumulative for The Mermaid to $481 million after 21 days, a total nearly $100 million ahead of last year's Monster Hunt which previously held the record when it beat Fast & Furious 7. (Mermaid also scored $675,000 in North America this weekend, extending its score to $2.02 million according to ComScore. That is one of the largest scores for a Chinese film in North America in recent years.) The Monkey King 2 was released on the same day as The Mermaid and now has a cumulative of $177 million, after 21 days. 3rd place on the week, Crouching Tiger Hidden Dragon II: The Green Destiny slipped to $5.56 million, giving a 10 day score of $35.9 million. 4th over the weekend was The Man From Macau III (aka From Vegas To Macau III) which won $5.12 million and has amassed a cumulative of $166 million after 21 days. Newcomer, Japanese animation Saint Seya – Legend Of Sanctuary opened in 5th place with $4.46 million, ahead of Chinese – US animation Kung Fu Panda 3. The Kung Fu Panda sequel earned $4.04 million at the weekend and now stands on $149 million after 31 days. That total may have been a disappointment, but is enough to overtake last year's Monkey King: Hero Is Back" for the record. Nicolas Cage starrer Left Behind earned $3.60 million in 3 days for 7th place.
ALIBABA BOSSES TO BUY $500 MILLION OF COMPANY SHARES
Alibaba Group chairman Jack Ma & vice chairman Joe Tsai are to spend some $500 million of their own cash to buy shares in the company. The purchase by the pair is part of a $4 billion share buyback program announced by the company last Aug. The move is intended to show their continued confidence in the company, which sees its stock trading slightly uncomfortably close to the $68 offer price at which the company went public in New York in Sept, 2014. In early New York trading on Mon the shares were up by some 2.5% on the news. International investors have fallen out of love with Chinese equities since last year, when it became clear that the Chinese economic slowdown could have global repercussions. Late last week financial media reported that Alibaba was seeking a $3 billion – $4 billion loan that it could use to fuel acquisitions. The company had some $18 billion in cash on its books at the end of the year. But loan talk & financial analysts' recent calculations suggest that Alibaba is preparing to accelerate the pace of expansion through acquisition. The Alibaba name has, inevitably, been linked as a possible suitor for Paramount, the Hollywood studio for which parent company Viacom last week said it was exploring strategic options.
TROTMAN TAPPED CEO OF STUDIOCANAL
Elizabeth Trotman has been tapped CEO of Studiocanal in Australia & New Zealand. Trotman, who was previously working as general manager of sales & marketing at Studiocanal in New Zealand & Australia, succeeds to Robert Slaviero. Trotman will report to Rodolphe Buet, Studiocanal's president of international marketing & distribution. Trotman's appointment will be effective as of 14th Mar, 2016. Studiocanal enjoy a strong footing in Europe with direct distribution operations in France, Germany & UK. The company is now focused on fast -tracking its growth in Australia & New Zealand, a region deemed strategically important due to its proximity to Asia and unique dynamic. Studiocanal acquired Hoyts Distribution 4 years ago to kick off direct distribution activities in Australia & New Zealand. "Elizabeth has a perfect understanding of Studiocanal's local activities and teams and we have faith in her marketing experience & expertise, as well as her international profile, to help the studio cross a new threshold in this part of the world," said Buet.
MAD MAX: FURY ROAD GIVES AUSTRALIA BIGGEST EVER OSCAR HAUL
Australians are revelling in the multiple Oscar award successes for Mad Max: Fury Road. On Sun night the George Miller directed post apocalyptic sequel collected 6 of the technical awards on offer, rewarding 8 Australians. The previous best total for Australia was 6 Oscars in 4 categories in 1996, when Miller's Babe & Mel Gibson's Braveheart amassed hauls. Australian winners in "Best Production Design" category were Colin Gibson & Lisa Thompson. Australian winners in the "Best Make – Up & Hair" category were Lesley Vanderwalt, Elka Wardega & Damian Martin. Margaret Sixel was named as "Best Editor. She was born in South Africa, studied in Australia and is married to Miller. British costume designer and previous Oscar winner Jenny Beavan also scored for her Mad Max: Fury Road contribution. Australian winner in "Best Sound Editing" category was David White, alongside Mark A. Mangini. The Australian winner in the "Best Sound Mixing" category was Ben Osmo, alongside Chris Jenkins & Gregg Rudloff. The film had been a consistent winner throughout the awards season and was nominated for 10 Academy Awards. Miller missed out on the "Best Direction" prize, which went instead to Alejandro Gonzales Inarritu, who made history with his 2nd successive win. The film's other misses included cinematographer John Seale & visual effects team Andy Williams & Australians Dan Oliver, Andrew Jackson & Tom Wood.
ENNIO CHEERED FOR THE HATEFUL EIGHT OSCAR SCORE
Italy on Mon cheered Ennio Morricone's Oscar victory for composing the original score for Quentin Tarantino's The Hateful Eight, which marks the 1st competitive Oscar won by the 87 year old maestro with more than 500 movie credits to this name. "After an almost 60 year long career & 5 nominations which had left him empty handed, Ennio Morricone finally brings an Oscar for "Best Music Score" home," trumpeted daily La Republica on its website. "Superb Maestro, finally!" tweeted Italian prime minister Matteo Renzi at dawn, Italian time. Also on Twitter Italo Culture Czar Dario Franceschini enthused that "an all time movie giant has triumphed." Morricone, who received an honorary Oscar in 2007, had been nominated 5 previous times, for Days Of Heaven, The Mission, The Untouchables, Bugsy & Malena.
VATICAN PAPER PRAISES SPOTLIGHT'S OSCAR WIN
Vatican daily L'Osservatore Romano on Mon praised Spotlight, calling it "convincing" and "not anti -Catholic as such," in the Vatican's 1st official comment since the film's Oscar win for "Best Picture" on Sun night. In a front page editorial published Mon afternoon, the newspaper owned by Holy See said the drama reconstructing the Boston Globe's investigation into sexual abuse in the Catholic Church, and efforts to cover it up, faithfully portrays how the Church tried to defend itself despite a "horrible reality." "Predators do not necessarily wear ecclesiastical vestments, and paedophilia does not necessarily stem from the vow of chastity" cautioned the editorial's author, Lucetta Scaraffia. "But it is now clear that, in the Church, too many people concerned themselves more with the image of the institution than the gravity of the act."
SETUAIN REJOINS IMAGINA INTERNATIONAL SALES
Experienced film & TV executive Beatriz Setuain has rejoined Madrid based film & TV rights distributor Imagina International Sales as head of sales for the Western Europe & US markets.
Beatriz Setuain will report to Laura Miñarro, who was tapped as Imagina
International Sales director in Dec, 2015. Until recently, Setuain served as head of international sales at Lagardere Active's Boomerang TV, a leading producer & distributor in the booming Spanish TV fiction sector. Like many other key Spanish film & TV executives, she took her early professional steps at Prisa's distribution company Sogepaq, before joining Imagina International Sales in 2008, to head IIS' then new film division. IIS forms part of powerful Spanish multimedia conglom the Imagina group, which Jaume Roures' Barcelona based right broker Mediapro co -founded in 2006 alongside Spain's top TV drama producer, Globomedia.
FRENCH CULTURE MINISTER TO REFORM MOVIE RATINGS SYSTEM
Audrey Azoulay, who recently took over as France's culture minister from Fleur Pellerin, has vowed to reform the local ratings system & strengthen its board, whose decisions have repeatedly been criticized by conservative values group Promouvoir. Azoulay was reacting to a report commissioned by Pellerin and put together by Jean – François Mary, the president of the French film classification board, which highlighted the necessity to clarify ratings rules for movies containing violence & sex in order to prevent further attacks from Promouvoir. Regulated by the National Film Board, CNC, the commission comprises of members from the film industry, guilds, parents, psychologists & civic society, including varied organisations dedicated to protecting families & children. Last year, Promouvoir, organisation headed by far – right -affiliated leader Andre Bonnet that claims to fight for the preservation of Judeo – Christian values & heterosexual families, has gained grounds, prompting heated debates over censorship and the country's growing conservative bent.
FATIMA BAGS THE "BEST FILM" AWARD
Underscoring the diversity of this year's Cesar lineup, Philippe Faucon's Fatima, a tale of a Moroccan born single mother, won "Best Film", "Best Supporting Actress" & "Best Adapted Screenplay" at 41st Cesar Awards ceremony that took place Fri night at the Chatelet Theater in Paris. Although the big win for Fatima was unexpected, it resonates strongly with the current divide in France and sheds light on the 2nd & 3rd generations of North African immigrants in France. The country was hit by its deadliest ever terror attack in Nov, 2015 and has seen the Far Right Party gaining ground in the run – up to the 2017 presidential election. The French academy's show of love for Fatima reflects the local industry's desire to fight the rise of xenophobia &
extremism through movies. A contemporary social drama loosely based on Fatima Elayoubi's poems "Priere a la lune" ("Prayer to the Moon"), Fatima turns on a single mother who emigrated from Morocco and faces cultural challenges as well as prejudice in France, where she raises her 2 daughters and works as a maid to make ends meet. Pic was just acquired by Kino Lorber for US distribution. Fatima also won the prestigious Louis Delluc prize, an award given by film critics, in Dec, and the Lumiere nod (French equivalent to the Golden Globes) for "Best Script" earlier this month.
VIVENDI PAYS $775 MILLION TO LIBERTY MEDIA
French media conglomerate Vivendi has paid John Malone's Liberty Media $775 million to settle claims of all claims related to a dispute that arose from a 2001 transaction involving USA Networks. The settlement, announced Friday by Liberty Media & Vivendi, resolves the legal action surrounding Vivendi's 2001 acquisition of Liberty Media's stake in USA Networks. In 2013, a US federal jury awarded Liberty Media about $1 billion in damages, siding with Liberty Media's claims that Vivendi concealed the state of its finances and artificially inflated the value of its shares. The deal gave Liberty Media a 3% stake in Vivendi Universal. Liberty Media said Fri it expects to net after tax proceeds of $420 million in cash from the settlement, after payments to its legal counsel & Liberty Global, a former subsidiary that was a plaintiff in the action. In a statement released Fri, Vivendi said that the settlement "should not be construed as a concession by Vivendi of the validity of any of Liberty Media's claims, or as an admission of any wrongdoing by Vivendi."
CANNES FILM MARKET ADDS ANNACY, FRONTIERES & COBOS
In further signs of growth, the Cannes Film Market has added 4 new festivals to its Goes to Cannes works – in -progress brand: France's Annecy Animation Festival, Panama Film Festival (PIFF), Mexico's Los Cabos Fest & Montreal's Frontières /Fantasia. Ramping up its Goes to Cannes line – up from its 2013 inaugural single event BAL Goes to Cannes, the Cannes Film Market is also tapping into some of world's fastest -growing events – Los Cabos, Panama; regions – Central America, Mexico; and movie types: international animation & genre, catered for by the Fantasia Fest's Frontières International Co – Production Market. Both Mexico's Guadalajara Festival & Dubai will repeat showcases from last year. Hosting detailed 90 minute presentations by Hotel Transylvania's Genndy Tartakovsky or The Peanut's Movie's Steve Martino, Annecy Festival's Work – in – Progress is a major industry / art fixture at Annecy, with the clout to attract animators from the studios, top – of – the -class practitioners in Europe, Ernest And Celestine received an Annecy WIP one year, Ballerina in 2015, and beyond.
6TH RIO CONTENT MARKET PUTS FOCUS ON OTTS FEMME CREATORS
Anonymous Content Chairman & CEO Steve Golin, producer of The Revenant, Spotlight & Homeland co – creator Howard Gordon and "Jessica Jones" showrunner Melissa Rosenberg form part of the keynote speaker line – up at the 6th edition of Rio Content Market, Latin America's biggest TV event. A mass training push to get the Brazilian industry into international markets, and dynamize Latin American TV business, Rio Content Market offers a combination of lectures, content exhibition by keynote speakers, case studies, one – to – one meetings & pitching sessions. Event runs from 9th Mar, 2016 to 11th Mar, 2016 at Hotel Windsor of Barra De Tijuca in Rio De Janeiro, with a warm – up day on Tues, 8th Mar, 2016. For the 1st time ever in RCM history, the 6th edition will bring together executives from top global OTT buyers: Amazon Studios, Hulu & Netflix. Tara Sorensen, head of kids' programming at Amazon Studios, will analyze the international TV landscape & Amazon's approach to kids & family TV content; Philip Matthys, Hulu's head of business affairs for original series, will present its business model & commissioning guidelines for original content for the streaming service; Erik Barmack, Netflix vice president for local originals, will talk about strategies to invest on international original projects.
POLISH DIRECTORS' GUILD EXPRESS OUTRAGE
The Polish Directors' Guild has written a letter to express its sense of "outrage" at the decision by Poland's public broadcaster TVP to screen a program strongly critical of Pawel Pawlikowski's Oscar winning film Ida immediately before the film aired Thurs on TVP2. The 12 minute program, titled "Around Ida" is composed of clips from the film & monologues by 2 TVP commentators, film critic Krzysztof Klopotowski of TVP Kultura & historian Piotr Gursztyn of TVP Historia & Maciej Swirski of Polish Anti – Defamation League, which campaigns against perceived attacks on Poland's reputation. In it they claim that the story told in Ida is historically inaccurate and presents an overtly negative picture of Polish people's actions during the Nazi Occupation. Swirski stated: "If a film is to be part of a nation's catharsis it should have a meaning that Polish people agree with." He added: "You should talk about horrible things in a nation's history but you cannot do it in a way that offends the nation." Gursztyn added: "Poles have every right to feel sensitive when they are accused of crimes they did not commit, or when they are accused of a scale of crime that is disproportionate to the actual events."
WARTIME SEX SLAVE DRAMA SPIRITS HOMECOMING OPENS ON TOP
Historical drama Spirits Homecoming topped the Korea box office, scoring $6.41 million from 1.06 million admissions between Wed & Sun. A story about wartime sex slaves known euphemistically as "comfort women", the crowdfcrowdfunded picture had been in the making for 14 years due to the sensitive nature of the subject and difficulties in getting investment. The previous week's winner, Deadpool slipped to 2nd, earning $3.09 million between Fri & Sun, for a total of $17.5 million after 2 weekends. With a week – on – week rise of 25%, Zootopia remained in 3rd, making $2.55 million between Fri & Sun. The Disney release has earned $6.81 million since 17th Feb, 2016. Korean made films took the following 5 chart places. Lee Joon – Ik's Dongju The Portrait Of A Poet climbed to 4th from last week's 5th, making $1.21 million between Fri & Sun, for a total of $3.74 million after 2 weekends on release. Showbox's crime comedy A Violent Prosecutor earned $1.16 million for a total of $61.7 million after 4 weekends, while CJ's romantic comedy Like For Likes made $615,900 for $4.56 million after 2 weekends. Starring Jeon Do -yeon & Gong Yoo, Lee Yoon -Ki's melodrama A Man And A Woman scored $772,000 between Thurs & Sunday, while Lee Eun – Hui's retro – themed melodrama Unforgettable made $1.02 million since its Wed opening. UPI's The 5th Wave and double Oscar winner Spotlight debuted in 9th & 10th, respectively earning $495,000 between Thurs & Sunday, and $583,300 between Wed & Sun.
LEE YONG – KWAN CLOSE TO EXIT
Lee Yong – Kwan will Fri lose his job as director of the troubled Busan
International Film Festival after the organization's general meeting ended on Thurs without taking a decision on key issues. The meeting ended abruptly when the city mayor, Seo Byeong -soo, who is also the festival's chairman, halted proceedings after an hour. The city authorities and the festival have been at odds since Oct, 2014, when the festival went ahead with the screening of controversial documentary Diving Bell against the wishes of the mayor. Since then the city unsuccessfully attempted to force Lee out of his job, then made him share it. Now, without decision – making by the assembly, it appears that Lee's contract will simply be allowed to expire. The feud meant that last year's 20th anniversary of the festival was operated with the city providing less finance than in previous years. The Thurs meeting began at 2pm with festival delegates presenting a request signed by 106 of its 152 members, seeking discussion of a change to the regulations. But the mayor refused to accept delivery of the letter.
Last week Seo offered to resign as chairman, but the infighting is so fierce that many doubt his sincerity.
TELEFONICA TO EXPAND PAY TV OPERATIONS IN LATIN AMERICA
Telefonica, Europe's 2nd biggest telecom, will expand pay TV services across Latin America in 2016 as it continues to invest in content to drive higher value customer base upgrades, Telefonica suggested Fri at a full year 2015 results presentation in Madrid. Featured in a bullet point presentation, the plans were not explained in detail at an analysts' conference call. The confirmation comes, however, a week after Paris based media giant Vivendi announced it was in advanced discussions with Telefonica to launch a mobile 1st video services across Latin America this fall. Telefonica's content presence remains limited still so it needs a partner to complement what they need and Vivendi looks like a logical fit," one analyst said. Underscoring continued recovery in sales, Europe's 2nd biggest telco saw total consolidated 2015 revenues hit €47.2 billion ($52.2 billion), up 4% on 2014.
CHINA IN A BID TALK FOR TURKEY'S MARS
China's Wanda Group, widely expected to unveil a major investment in a Parisian property & entertainment complex and believed to be a possible suitor for Paramount, may also be preparing another acquisition. The company's name has been linked to a possible purchase of Mars Entertainment, Turkey's largest cinema chain. So too is South Korea's CJ – CGV. "Mars is exploring strategic options through investment banks who are in touch with several international exhibition companies, including Wanda," a source close to Mars told Variety. "Timing of the deal is this year, but we do not know the price." Bloomberg reports that Goldman Sachs & Morgan Stanley were appointed in Dec, 2014 by Mars' owners and that a formal sale process could kick off in Mar, 2016. It also suggested that private equity firms would also be interested. Adding fuel to the speculation that deals -hungry Wanda could cut short the bidding process and quickly snatch up the Turkish chain, was the suspension of trading on Wed in the shares of Wanda Cinema Line.
DOHA FILM INSTITUTE'S INNOVATIVE QUMRA EVENT UNVEILD
The Doha Film Institute has announced 33 projects, mostly from the Arab world, which are set to participate in its Qumra event blending creative workshop and festival elements. Qumra, which is an Arab word believed to be the origin of the word "camera," is dedicated to supporting & shepherding 1st & 2nd works by Arab directors. This innovative incubator, now at its 2nd edition, will run from 4th Mar, 2016 to 9th Mar, 2016 in Doha. The previously announced top -notch line – up of masters / mentors comprises James Schamus & Joshua Oppenheimer, revered Russian auteur Alexander Sokurov, Turkey's Nuri Bilge Ceylan & Naomi Kawase from Japan. Works on display in varied stages will provide a fascinating glimpse into a wide range of narratives in the pipeline from a region with the makings to become a cinematic hotbed. Features in development include Qatari director Mohammed Al Ibrahim's Bull Shark, about an investment banker who gets caught up in an embezzlement scheme involving the region's most prominent Islamic bank; Qatari / American artist -film maker Sophia Al -Maria's Evil Eye, a North African take on the "teen witch" film genre; and Lebanese – Spanish director Laila Hotait Salas' drama Stolen Skies, in which a bomb explosion in present day Cairo prompts suppressed memories to resurface in 3 generations of related women.
WALLONIA – BRUSSELS – NETHERLANDS OPEN UP TO WORLD
2 film powers key to Europe's multifaceted film industry, Belgium's Wallonia Brussels Federation and the Netherlands, inked on 25th Feb, 2016 a bilateral co -production treaty designed to open up their national industries to broader & dynamizing horizons. Punching above its weight in Europe, Wallonia – Brussels made up of 4.5 million French speaking Belgians in Southern Belgium & Brussels, while Flanders takes in Northern Belgium & Brussels, regularly places movies at Cannes, think Jean – Pierre & Luc Dardenne, and, sluiced by Belgian national tax breaks, has been the go to co – producer of French movies in Europe. The Netherlands is the European Union's 6th biggest movie market in gross Box Office terms, worth Euros 275.7 million last year, with a large feature output, 84 features in 2014, and a considerable home market share: 20.9% in 2015, 18.7% last year. Netherlands -Wallonia – Brussels have co – produced before, as on Antoine Cuypers' Prejudice. backed by Benoit Roland's Brussels based Wrong Men and Dutch film house CTMPictures. But to do so, they used the Council of Europe's Co – production Convention.
SMUGGLER & RED ARROW LAUNCH PRODUCTION COMPANY
Smuggler Inc. co – founders Patrick Milling – Smith & Brian Carmody have teamed with Germany's Red Arrow Entertainment to launch Cove Pictures, a major new international TV production company headed by Heather Rabbatts that will focus on high end drama, comedy & factual programs for the global market. Cove has already landed its 1st major coup by forming a creative alliance with Barbara Broccoli & Michael G. Wilson's Eon Productions, the company behind the James Bond franchise, to develop a number of internationally targeted TV programs. Red Arrow, a subsidiary of German broadcasting group ProSiebenSat.1, holds a minority stake in the company and will distribute its projects internationally. Like Smuggler, Cove is based in London, New York & Los Angeles.
HONG KONG FESTIVAL UNVEILS 40TH ANNIVERSARY LINE – UP
The Hong Kong International Film Festival will kick off its 40th anniversary celebrations with the twin opening night screenings of mainland Chinese comedy Chongqing Hot Pot, and the Johnnie To produced Trivisa. Running for 15 days (21st Mar, 2016 – 4th Apr, 2016), the festival will close with the world premiere of Kurosawa Kiyoshi's thriller Creepy. The lineup was announced at an event on Wed in Kowloon's Mong Kok district. The selection runs to a hefty 240 titles from 66 territories. "It is good to celebrate Hong Kong cinema in the festival's 40th year, keeping a diverse profile that is different to the action & kung fu genre that is Hong Kong's brand name, said Roger Garcia, executive director of the HKIFF Society. Emphasizing his Hong Kong industry roots, Wong Kar -Wai will present 14 films from his Jettone company, which also celebrates its 25th anniversary.
HONG KONG GOVERNMENT TO BOOST FILM MARKETING
The Hong Kong Government is to increase funding for the marketing of Cantonese films in China. Finance secretary John Tsang said Wed that he will provide an additional HK$20 million (US2.6 million) via the Film Development Fund for the distribution & publicity of Hong Kong produced Cantonese language films in mainland China. The Pearl River Delta area boasts over 100 million Cantonese speakers and has Box Office revenue of over RMB4 billion (US$610 million). Tsang said that the measure "will assist the film industry in leveraging the enhanced measures under the Closer Economic Partnership Arrangement (CEPA)." The funding is in addition to the HK$200 million ((US$25.8 million) of top up cash that Tsang provided last year to the FDF. He said that last year's injection had been used to relaunch the 1st Feature Film Initiative. Hong Kong last year produced 59 movies, up from 52 in 2014.
BELL INKS MULTI – PLATFORM PACT WITH BBC WORLDWIDE
Canada's Bell Media & BBC Worldwide North America have signed a new multiplatform licensing pact for Doctor Who that sees Bell's specialty cable channel Space continue to be the exclusive Canadian broadcaster of BBC series, & CraveTV become the show's exclusive Canadian streaming service. CraveTV will carry Doctor Who beginning with Season 9 this summer; Seasons 1 through 8 will be available exclusively on the service by the end of this year & Season 10 and additional upcoming episodes will also be streamed exclusively on CraveTV following their full season broadcast on Space. Season 9 of Doctor Who had an audience of 697,000 viewers in its 9 pm ET Saturdays timeslot on Space. The 2015 Christmas special The Husbands Of River Song drew 856,000 viewers on 25th Dec, 2015 at 9 pm ET, making it the most watched program on Christmas Day on Canadian television among the 25 – 54 & 18 – 49 demos.