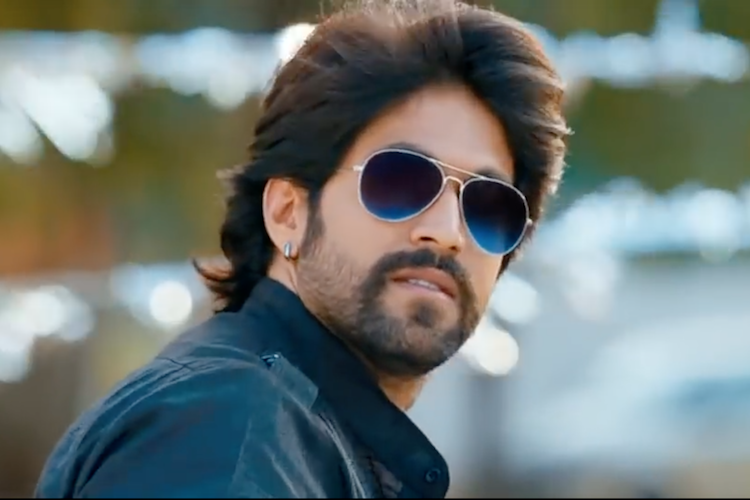 The rocking star Yash sitting on the success chariot on the verge of completion of another mammoth budget cinema KGF in Ugram fame director Prashanth Neel. Already the posters of KGF creating buzz in the market. Yash is taking on a tough cop role in Raana while his beautiful wife Radhika Pandit is playing lead with Nirup Bhandari in Rockline Venkatesh production in Preetha"s direction. Famous dance director turned director A Harsha has completed Anjaniputhra starring Puneeth Rajakumar and sitting on the script of Raana for presenting rocking star Yash in a cop's role that has to be different cop from what we have seen in Indian cinema. Yash plays super cop and it is going on the floors only after KGF's release. Meanwhile KGF is getting ready in 4 languages. The tough role of Yash in KGF is consuming more time & budget.
Bhavana Rao Is Busy With 3 Upcoming Releases
The Gaalipata kirik girl Bhavana Rao an exponent in dance was in a sort of confusion when the super hit film did not give her required status in the cinema industry. She was not in dismay and continued with dance school "I Dollars Colony". She appeared in small roles in Kannada films namely Bahuparak & Parapancha. All of a sudden this Kannada & Tamil actress has 3 films slated for release one by one. In one week's time 3 of her films Sathya Harischandra with comedy hero Sharan, Dayavitti Gamanisi with new team & Tiger Galli with Ninasam Satish as hero are all set for release. On 20th Oct, 2017 it is Sathya Harischandra & on 27th Coct, 2017 she has the other 2 releases. Bhavana Rao's song in Sathya Harischandra is already popular, she has a different role in Dayavitti Gamanisi & in Tiger Galli she is a part of verbal action cinema from director Ravi Srivatsa. Meanwhile her stint in Tamil is not that successful. She was Veni in Kola Kolaya Mundriki, Meea in Vinmeergal, Chandini in Vaana Yuddam.
Sudeep Lauds Prem
The topnotch Kichcha Sudeep in a rare chat with a few media persons on Thurs evening at JW Marriott was in merry mood to take up questions on varied topics. Sudeep was at the launch of Big Boss 5 which he happily accepted and says it is a stress buster for him in the hustle & bustle of cinema activities. On the much hyped, very big budget film in the career of his The Villain with Dr Shivarajakumar, Amy Jackson and et al in the cast, Kichcha Sudeep says, "This film is very special to him. 1stly very caring producer Dr CR Manohar who is making everything score big for this film, 2ndly very passionate director Prem. With many hit films in his career Prem is making everyone feel good all times. He does not shout & knows perfectly to take convincing shots. The recent chase in Bangkok was something I have not come across so far in my career. It is so diligently handled for the film. On the dialogue part with me & Shivanna of over 3 decades year's experience, it is very strongly worded but it never hurts both of us. We have been very cool throughout. When we find Shivarajakumar on the sets, it is full of energy and The Villain is very special to both of us." Kichcha in Kitchen – Kichcha Sudeep will be showing another expertise in this Big Boss 5 season. That is his admiration for cooking. The Kichcha special from his specially designed kitchen will be mouth watering, calorie increasing food for the 17 inmates of Big Boss 5. Of course new mindset with 6 common people & 11 celebrities will be new experience for me he admits.
Latest Update On Mohanlal's Lucifer
Murali Gopi, who is penning the script for Mohanlal's upcoming film Lucifer recently made an announcement regarding the shooting details of the project. Through his social media live interaction with fans, the actor turned writer confirmed that Lucifer will go on the floors in May, 2018. He also revealed that the movie's pre – production is currently on in full swing. Talking about his association with Prithviraj, who will be making his directorial debut with Lucifer, Murali said, "Prithviraj is like my brother and I expect our culmination to bring out a wonderful production." Murali Gopi is currently busy shooting for Dileep starrer Kammarasambhavam. The big budget movie scripted by Murali Gopi is the directorial debut of Rathish Ambat. On the other hand, Mohanlal is gearing up for the release of Villain which has him playing a retired police officer. Villain is slated to be released on 27th Oct, 2017. Meanwhile, Prithviraj is busy with varied projects including – My Story, Ranam, Anjali Menon's directorial et al.
Manju Warrier Opens Up On Why She Supported Ramaleela
The release of Ramaleela was in the midst of quite a storm with many coming up against the movie as it had Dileep in the lead, while many others welcomed it for the same reason. But what came as a surprise was actor Manju Warrier's long Facebook post in support of Ramaleela. Now, in an interview, the actor has justified her stance. "Cinema is teamwork and the need for good movies to succeed is essential for the industry… I had supported Rameleela with genuine intentions," is Manju Warrier's explanation in the interview. Ramaleela has set the cash registers ringing on the Box – Office turnstiles in a big way and is regarded as a blockbuster at the Box – office turnstiles blockbuster.
Nivin Pauly To Play Legendary Dramaturge N N Pillai!!!
Nivin Pauly has announced an exciting new project on his birthday, a biopic on legendary dramaturge N N Pillai. The film, which will roll out next year is being directed by Rajeev Ravi & produced by E4 Entertainment. The film is a biopic based on the life of the greatest drama artist, legendary humanist & actor N N Pillai who had an event full life as a young soldier, freedom fighter alongside Nethaji in INA and as the greatest Dramaturge Kerala has ever seen… the story spans across continents and will reflect the history of Kerala & the role of Keralites in INA. N N Pillai is well known for his plays like Easwaran Arrestil, Kaapalika, Prethalokam, Gorilla et al. He is best known for his character Anjooraan in the blockbuster Malayalam hit Godfather. Actor Vijayaraghavan is the son of N N Piilai.
Dileep Is Back With A Bang!!!
Ramaleela, the recently released Dileep movie, has already emerged as one of the biggest Box – Office turnstiles success of the season. As per the latest reports from the Box – Office turnstiles analysts, Ramaleela is continuing its dream run at the Kerala Box – Office turnstiles and is on its way to enter the 50 Crore club, the highest grosser in Dileep's entire acting career. The Box – Office turnstiles collections have exceeded expectations, leading the theatres to increase the number of shows at many places including Cochin, Thrissur, Trivandrum & Calicut. According to trade analysts, the movie is doing good business outside the state as well. Though the official figures are yet to be revealed, undoubtedly, Ramaleela looks like the biggest ever film of recent times. The political thriller which marked the directorial debut of Arun Gopy is bankrolled by the Pulimurugan maker, Tomichan Mulakuppadam under his home banner Mulakuppadam Films. Ramaleela features Dileep & Prayaga Martin in the lead roles along with Mukesh, Salim Kumar, Siddique, Vijayaraghavan, Suresh Krishna, Renji Panicker & Kalabhavan Shajon in pivotal characters.
Meghana Raj To Enter Wedlock!!!
Meghana Raj is all set to enter wedlock soon. The lovely actress is reportedly getting engaged to Kannada actor Chiranjeevi Sarja in the 3rd week of Oct, 2017 while their marriage will take place in Dec, 2017. The 2 have worked together in the movie Aatagara and have been dating each other from quite a time and always denied about the togetherness when asked by the media. It is reported that their engagement is likely to be held at Chiranjeevi Sarja's residence with friends & family attending. Talking to a daily, Chiranjeevi Sarja said he would reveal all the details on soon. Meghana Raj has acted in several Malayalam movies such as Memories, Red Wine, Namukku Parkkan, Mullamottum Munthiricharum et al. In Malayalam, Meghana was last seen in Hallelooya. The gorgeous has acted in 3 projects gearing up to release – Zebra Varakal, 100 Degree Celsius Sequel & London Dreams.
Resul Pookutty Turns Actor!
Oscar award winning sound designer Resul Pookutty will now make his acting debut in a film which will be capturing a popular annual festival – Thrissur Pooram in Kerala. In the upcoming tri – lingual movie which will be made in Malayalam, Telugu & Hindi will feature Resul Pookutty as himself a sound designer, who comes to Thrissur to cover varied sounds at the festival. Titled The Sound Story, the upcoming venture will be directed by Prasad Prabhakar. As the movie has lots of prominence given to the sound of the festival, the team had used over 16 to 22 cameras & multiple microphones that can capture the festival to the fullest. According to the movie's director Prasad, there were 150 members working on the project. The movie has 164 tracks and 2 songs composed by Rahul Raj & lyrics are by Vairamuthu.