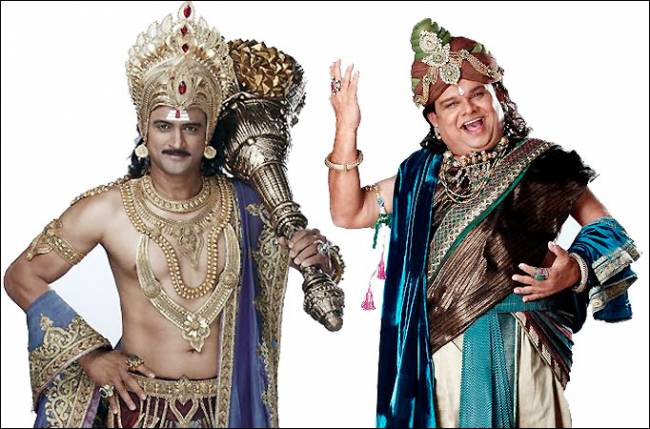 Yam Hain Hum To Be Replaced With Woh Teri Bhabhi Hai Pagle
After channels like Star Plus, Life OK, Zee TV et al are prepping to launch new shows this month, now Sab TV is all set to launch a romantic comedy titled Woh Teri Bhabhi Hai Pagle produced by Vipul Shah's Optimystix Entertainment. The show will launch on 18th Jan, 2016 and will be aired at 10:30 pm from Mon to Fri. Incidentally speaking it will replace Swastik Productions' Yam Hai Hum, which went off the air from 15th Jan, 2016. Yam Hai Hum was launched on 15th Dec, 2014 and will complete the journey of 283 episodes on Sab TV. Woh Teri Bhabhi Hai Pagle will have a hilarious love triangle set amidst a hospital and will present a fresh concept of a love clash between 2 men, Nathu Nakabandi (Ali Asgar) & Dr. Ranbir (Ather Habib) for the pretty Dr. Diya (Krishna Gokani). The approximate per episode expenditure of the show is estimated at Rs 60 to Rs 7 lakh.
Films Division Working On Docu TV channel & Resumption Of Short films in theatre's
A total of 110 films from over 20 countries including India will be screened in 4 sections at the forthcoming 14th edition of the Mumbai International Festival for Documentary, Short & Animation Films later this month. Renowned filmmaker Shyam Benegal will be the chief guest for the inauguration on 28th Jan, 2016 and the Festival will conclude on 3rd Feb, 2016. Jackie Shroff, the 1st ever brand ambassador for the Festival, will also be present. A record 825 entries has been received for the competition and 110 shortlisted for the international, National, New Media & Animation categories. The 5 member Jury for the International section is headed by Den Askarian of Germany and other members are Jesper Andersen from Denmark, Mathieu Roy from Canada & Siddharth Kak & Gitanjali Rao from India. The National Jury is headed by filmmaker Mike Pandey and its other members are Biju Dhanapalan & Uma d'Cunha from India, Andrius Stonys from Lithuania & Jane Yu from Taiwan. The jury for a special section on Public Service Awareness will be headed by the veteran Ramesh Meer with Sekhar Muklharjee & Ashish Kulkarni as members. In another major shift, the screenings of the films in the Festival will be held at the Films Division theatres, Russian Culture Centre & Sophia College theatres at Pedder Road, Mumbai. Until now, the Festival has been held at the Tata Centre at Nariman Point.
Life OK Channel Promises Sci – Fi Twist With Their New Show Bahu Hamari Rajni Kanth'
Hindi General Entertainment Channel (GEC) Life OK rings in 2016 with a new comedy drama titled Bahu Hamari Rajni Kanth, which is based around the familiar saas bahu concept but with a sci – fi twist to it. Conceptualised over a span of 6 months, the show will be produced by Sonali Jaffar & Aamir Jaffar of Full House Media. Though channel hasn't confirmed the exact launch date for the show, Sonali Jaffer informed that they haven't locked down on any dates so far but the pilot episode will mostly likely air from either 8th Feb, 2016 or 15th Feb, 2016.
9XM Media Is Not UP For Sale
Recent media reports had spurred speculations that the Pradeep Guha led 9X Media, which has New Silk Route Advisors as a private equity fund holder, is up for sale. However, refuting all such rumours, Guha clarifies that there is no truth behind the published statements. He futher added that he had read the report and was shocked. He then clarified that 9XM is not up for sale. The network now operates 5 channels namely 9XM (Bollywood music), 9X Jhakaas (Marathi music), 9XO (International music), 9X Tashan (Punjabi music) & 9X Jalwa (forever young Bollywood music). New Silk Route holds 80% stake in 9X Media while Guha owns 15%. Being a media company that has been operating for so many years, eventually the private equity had to come out at some point. And that's all that they are talking about at this stage. This does not imply any managerial or operational changes in the network or channel.
Channel V To Launch 2 New Shows In Jan 2016
Channel V is all geared up to launch 2 new shows in Jan, 2016 namely Mastaangi
as well as the 2nd season of Sadda Haq. The 2 new shows will see its launch on 18th Jan, 2016 & 19th Jan, 2016 respectively. The love story Mastaangi will be aired from Mon to Sat at 6 pm. The show transcends two lifetimes and is set against the backdrop of a college. The lead protagonists are shown as soul mates in past life but their love story comes to a tragic end with both of them meeting an untimely death. They meet again in a new life only to uncover the mystery of their past life and rekindle their love once again. On the other hand, the new season of Sadda Haq will be aired from Mon to Sat at 6:30 pm and is set in a space research centre. The female protagonist Sanyukta will play the role of a scientist working on Mission Mars 2020. The launches are backed with a 360 degree marketing campaign across key markets & platforms, targeting the core audiences. The new & current shows are also available on Hotstar.
Sumit Sambhal Lega To Be Replaced With Tamanna
Star Plus is all set to replace the Indian adaptation of Everybody Loves Raymond – Sumit Sambhal Lega, with a new show called Tamanna, from 1st Feb, 2016. The show, produced by Ramesh Deo Productions, will be aired at 10 pm from Mon to Fri. Meanwhile Sumit Sambhal Lega, which went off air on 9th Jan, 2016 will enjoy its presence on the channel till 30th Jan, 2016 in the form of Best of Sumit Sambhal Lega during the same time slot of 10 pm. Tamanna is based on the life of a female cricketer. The story will revolve around a woman who wants to become a cricketer and the sacrifices she makes to make her dream successful. Tamanna in the 10 pm time band will be pitched against other programmes across Hindi GECs like Colors' prime time show Meri Aashiqui Tum Se Hi, which is among the top rated show in Broadcast Audience Research Council (BARC) India rating. On the other hand, it will also compete against Zee TV's Yeh Vaada Raha, Life OK's Savdhan India, India fights Back; Sab TV's new show Sahib Biwi Aur Boss, which was launched on 21st Dec, 2015, &TV's Begusarai & Sony Entertainment Television's Power Couple.
Rishtey Refreshes Content Line – Up
In light of free to air (FTA) channels claiming a chunk of ratings according to all India data by Broadcast Audience Research Council (BARC) India, Viacom18's FTA channel Rishtey is all set to ride the wave by launching a volley of fiction offering covering 7 days a week as well as by extending its early prime time slot. Additionally, the channel will be sprucing up its weekend programming by introducing kids friendly content & airing blockbuster movies. What's more, along with the introduction of new shows, Rishtey will also be refreshing its channel packaging. With festivities kicking off in style, Rishtey's 1st major outing in 2016 will be the launch of a romantic drama Salaam -E – Ishq, a love – hate story of Zain & Aliya set against the Muslim milieu. The show was launched on 11th Jan, 2016 is being aired from Mon to Sat at 9 pm. Pertinent to note here is that this is the same show that previously had its run on Rishtey's sister channel Colors as Beintehaa.
Zeel Appoints Adesh Kumar Gupta
Zee Entertainment Enterprises Limited (Zeel) has appointed Adesh Kumar Gupta as an additional director in the category of independent directors with effect from 30th Dec, 2015. The company informed the Bombay Stock Exchange (BSE) that the Board of Directors of the company approved Gupta's appointment. With an experience of over 35 years in corporate strategy, M & A, business restructuring, fund raising & taxation, Gupta during his career of over 3 decades in Aditya Birla Group, held varied senior positions in companies like Indian Rayon, Birla Global Finance, Aditya Birla Nuvo Ltd & Grasim Industries Ltd. Post his retirement as whole – time director & CFO of Grasim Industries, Gupta ventured into the business finance & corporate service space as designated partner of Progressive Consulting & Business Advisory LLP. He had also represented FICCI as a member of NACAS (National Accounting and Auditing Standards) which was instrumental in setting up Accounting Standards in India. Additionally, Gupta currently serves on the Boards of Aditya Birla Insurance Brokers & Aditya Birla Trustee Company.
Vijay TV To Launch Tamil Dubbed Version Of Siya Ke Ram On 4th Jan 2016
After dubbing Star Plus' Hindi mythology saga Mahabharata in Tamil, Star India's Tamil General Entertainment Channel Vijay TV is all set to offer another show to its viewers. The Tamil dubbed version of Star Plus' historical series Siya Ke Ram, which has been titled Seethayin Raman will go on air from 4th Jan, 2016 and will be telecast from Mon to Fri at 7 pm. The show is sponsored by Poorvika Mobiles, powered by VBJ, Ramraj Dhoties & Shirts, co-presented by Cardia Life Perfect Care, Prestige & Sakthi Stabilizer & Inverter. This television series is directed by Nikhil Sinha under the banner of Triangle Films. The show features Ashish Sharma & Madhirakshi Mundle playing Lord Rama & Sita respectively.
Sony Six Acquires Masters Champions League (MCL) Rights
Sony Pictures Networks (SPN) India (formerly Multi Screen Media) has bagged the exclusive telecast rights to the 1st edition of the Masters Champions League (MCL), a T20 cricket league, which is slated to begin on 28th Jan, 2016. Further expanding its bouquet of international sporting events, Sony Six will telecast all the 18 matches of the inaugural edition of the tournament live & exclusive from Dubai & Sharjah across the Indian sub – continent. The MCL has also roped in Mahendra Singh Dhoni, the current captain of the Indian national cricket team as the brand ambassador. Six teams will take part in the tournament led by an iconic player and each team has been named after zodiac signs, such as Libra, Gemini, Sagittarius, Virgo, Capricorn & Leo.
Viacom Asks Shareholders To Reject "Mini – Tender" Offer By TRC Capital
Canadian firm TRC Capital, which has been known for making "mini – tender" offers for stock in big companies at below market prices, has now targeted Viacom Inc. TRC Capital has made an unsolicited "mini -tender" offer to purchase up to 2.5 million shares of Viacom Class B common stock at a price of $38.88% share, which is approximately 4.7% below the closing price on 22nd Dec, 2015, the day before the commencement of the offer, and approximately 5.6% below Wed's closing price of $41.18. The offer is for approximately 0.72% of the outstanding Class B shares of Viacom common stock as of 4th Nov, 2015. Viacom says that it does not endorse TRC's unsolicited mini – tender offer and recommends that shareholders do not tender their shares.
Zee Kannada Spruces Up Its Weekends With New Seasons Of 2 Non – Fiction Shows
Zee Kannada recently spruced up its weekend by bringing back 2 of its most popular weekend non – fiction shows namely Sa Re Ga Ma Pa season 11 & Weekend With Ramesh season 2. Sa Re Ga Ma Pa Season 11 saw approximately 8500 people between the age group of 18 to 80 taking part in the auditions, out of which 30 best singers were selected from Udupi, Shivamogga, Gadag, Mysore, Yadgir, Bellary, Bangalore and varied other places of Karnataka. Mentoring & channelising this talent will be the judges namely singer Vijay Prakash, composer Arjun Janya & Rajesh Krishnan. To add glamour & fun, Anushree will continue as the host of this season too. In Weekend With Ramesh Season 2, actor – director Ramesh Arvind will take the centre stage and will narrate real life stories of reel life stars. The show will unravel what happens behind the scenes as well as showcase celebs and their lives. Arvind will take the audience on an inside journey with the celebrities through all walks of their lives. While Sa Re Ga Ma Pa will be aired at 7.30 pm, Weekend With Ramesh season 2 will be aired at 9 pm on Sat & Sun.
Aaj Tak Leads Tally With A Reach Of Over 100 Million
The current leader in the Hindi News channels' genre Aaj Tak has managed to garner a reach over 100 million Hindi Speaking Market (HSM) viewers for 4 weeks in a row as per Broadcast Audience Research Council (BARC) India analysis (Mkt – HSM (U+R), TG – 4+ Yrs, NCCS All, Wk -46 -49' 15, Avg Weekly Coverage). With this feat, Aaj Tak has managed to widen the gap between itself and the other trailing news channels.
Star India Acquires Asia Cup Global Media Rights Till 2023
Strengthening its cricket portfolio, Star India has acquired the global media rights of Asia Cup for a period of 8 years, running from 2016 to 2023. The events, which are included under this agreement are as follows: Asia Cup, Women's Asia Cup, Emerging Asia Cup & U19 Asia Cup to be held from 2016 – 2023. The Asian Cricket Council (ACC) took the decision to award the rights to Star India at its meeting held on 20th Dec, 2015 in Singapore. ACC president Sidath Weetimuny said that the value offered by Star India for the eight year rights was significantly higher than any of ACC's previous commercial contracts.