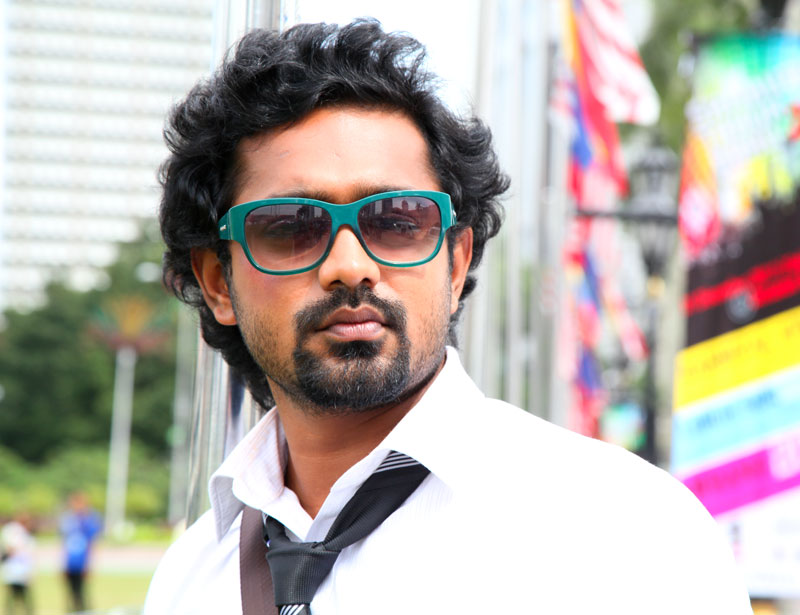 Asif Ali Bags A New Heroine Anju Kurian
She is all set to play the lead heroine in a movie. As her leading man, she has none other than Asif Ali opposite her. Anju had hit the big screen with Om Shanti Oosana. She was also part of Premam and had appeared briefly as Nivin's sister in it. The upcoming Asif Ali starrer is titled Kavi Uddeshichathu. Asif Ali plays Kaavalam Jimmy who tries to woo Anju's character. Narain & Biju Menon are the other & lead actors in the movie. The shooting of this comic entertainer is on at Kannur.
Chowka Five Men Army Gets Many Additions
The 50th film of Karnataka pride Dwarakish Chitra's Chowka gets many strong value additions. It has 5 well known faces in the star cast – Lovely star Prem, Vijay Raghavendra, Diganth, Prajwal & Aindrita Ray. In the technical department also director Tarun Sudhir (debut) has brought in big names. Five cameramen – Sathya Hegde, S Krishna, Shekar Chandru, Sudhakar Raj & Santosh Rai Pathaje have stood behind the camera. For music of 5 songs V Harikrishna, Gurukiran, Anoop Seelin, Sridhar Sambram & Arjun Janya, for dialogues of this Chowka, Anil Kumar, Simple Suni, A P Arjun, Chitan & Yoganand Muddan have written. In the art department 5 expertise who have worked at Arun Sagar, Ravi Santhehaklu, Mohan B Kere, Hosmane Murthy & Shivakumar.
Major Cinema Organisation Supports Jayalalitha
During elections of the past it has been in vogue for Rajinikanth to voice his direct or indirect support to one of the parties and every leader would wait with bated breath for that. This time the superstar has kept mum and similarly Illayathalapathy Vijay has also instructed his fan club members to vote for their favourite candidates. At this juncture, it comes as a surprise that FEFSI the umbrella organisation of cinema which comprises of 24 craft unions has extended support to the AIADMK after the President G. Siva and other office bearers meeting with party supremo Jayalalitha.
Anjali To Be Seen In The Role Of Kannagi
Director Karthick Subbaraj in his Iraivi though having on board heavy weights like Vijay Sethupathi, Bobby Simha, S. J Suriya, Radha Ravi & Karunakaran has reportedly given more space to the heroines Anjali, Kamalinee Mukherjee & Pooja Devariya. Incidentally speaking Anjali's role has been based on the epic characterization of Kannagi and this will turn out to be one of the path breaking roles for the talented actress on the lines of Angadi Theru & Engeyum Eppodhum.
Sri Divya Heaps Praises On Soori
At the recent press interaction for her upcoming film Marudhu pretty Sri Divya heaped praises on her costar Soori stating that he "merselled' (mesmerized) her by his solid performance as a character artiste. Hero Vishal too was of the same opinion that Soori has excelled both in comedy & sentiments. Marudhu directed by M. Muthaiah and produced by Gopuram films has music by D. Imman & Radha Ravi in a pivotal role.
Maddy's Sensational Heroine In Thala 57
After the blockbuster Vedalam' which even survived & conquered the epic Chennai rains, Thala Ajith & Siruthai Siva are ready to begin their next in Jul, 2016. As of now the production company Sathyajyothi Films have confirmed Anirudh as the music director and rumors are rife that Santhanam has agreed to do a pivotal role. There are huge speculations regarding who would be the heroine of Thala 57 and Anushka has been roped in as one of the heroines and talks are on with Rithika Singh, who played the young boxer in love with Madhavan in Irudhi Suttru.
Vikram Opens Up About Prequel To 24
One may say that Vikram Kumar is a proliflic story – writer. Even when he was making 13B, he had written the story lines of 13C & 13D, apparently sequels to the Madhavan starrer. For some reasons, he couldn't make the films with Maddy. Latest, it has been speculated that he will make a sequel to 24. It has been said that Athreya, the villain, has not been shown to have been dead conclusively enough. It's also said that Vikram has deliberately left unconcluded the fate of the watch. Putting to rest the speculations, Vikram has said that it's not a sequel that he has in mind, but a prequel.
This film will go on the floors after Vikram is done with his two bi – linguals, one each with Allu Arjun & Mahesh Babu.
Anushka Reveals A Thing About Bhagmathi
Anushka reveals a thing about her next movie Bhagmathi, which happens to be a historical drama, and one which sees Anushka being cast in the role of the Quli Qutub Shah's wife. UV Creations is producing the project. The film was recently launched in a puja ceremony. Speaking about the movie, Anushka has said that it will be made like a thriller. Since thrillers are gaining currency of late, one can expect this one to be a hit. For a period drama, it's an innovation as well. The shooting will begin once Anushka is done with Suriya's S3. This ambitious film, which tells the legendary story of Bhagmathi, wife of Quli Qutub Shah, will be directed by Ashok G of Pilla Zamindar fame.
Chuttalabbayi's climax being shot
Chuttalabbayi, starring Aadi and directed by Veerabhadram Chowdary of Aha Naa Pellanta & Poola Rangadu fame, is currently filming its climax in a Shamshabad temple. Dragon Prakash is choreographing the sequences. The producers say, "The songs filmed in Bangkok & Rajahmundry have come out very well." The director says that John Kokkin is playing the villain. "The climax is turning out very well. Thaman has given extraordinary tunes." We are planning to release it in June. As per the makers, "It's an out & out fun film. Brahmanandam, Posani, Prudhvi, Raghu Babu, Shakalaka Shankar will have the audience in splits." Krishna Bhagawan, Abhimanyu Singh, Jeeva, Surekha Vani, and others are part of the cast.
Kajal Speaks On her Brahmotsavam Role
It is a film which has got many wondering what the story might be, especially given the fact that it has 2 ace actresses romancing Mahesh Babu. The trailer has hardly thrown the hint. Meanwhile, Kajal Aggarwal has opened up about her role in this mega budgeted family entertainer. In this Srikanth Addala directed summer bonanza, the pretty diva plays an independent minded woman who is firm. Does this mean that Kajal (not to forget Samantha) has a meaty role in Brahmotsavam? Apparently, yes. It has to be seen how her strong minded character fits in the scheme of the things. For sure, many feminists are going to warm up to her role. Before all, Kajal is understandably in love of her role because the character admittedly reflects her true self in real life in terms of the strength that she shows.
Bhavana To Enact the role of a committed school teacher
She is all set to play a committed school teacher in an upcoming movie. She plays a character named Aswathy Ananthakrishnan. She is bold and works for the children tirelessly. She is also a counsellor at the juvenile home. The film to be helmed by Vijay Menon has been titled Vilakkumaram. The movie has been scripted by Vijay's son Nikhil. This is a woman centric movie and has a serious & strong theme & message. However the director assures that the movie will be an entertainer. The film rolled recently and will be shot at Trivandrum & Ladakh.
Kabbaddi Kalpana 2 To Star Upendra In A Kannada Remake
The super hit Tamil film of Raghav Lawerence Kanchana 2 coming up in Kannada with super star Upendra in the lead and with 2 lovely looking heroines Priyamani & Avanthika Shetty. It is almost near the completion of shoot. At a playground in Malleshwaram super star Upendra representing Karnataka team with some protection to his knee took part in the national game Kabbaddi. The opponent party was Bihar team. The game was also mixed with song & dance that was directed in Kalai Kumar dance direction. When Upendra is there, the on lookers are huge. It happened so at the public playground. With this song the shooting also comes to an end says director Anantha Raju. Dr KM Rajendra of Kalla Police fame and Shilpa Srinivas are joint producers of this Kalpana 2 in the direction of Anantha Raju.