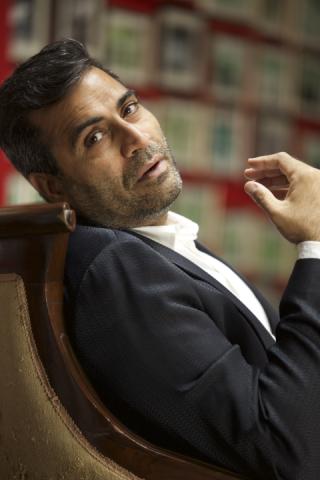 Shailendra Singh, imbibed with a dynamic persona, is a young at heart, energetic and enterprising man. He is full beans at any given moment of the day. Shailendra Singh also happens to be the Jt Director of Percept Limited, an event management company which also deals with commercial ads. Besides as a filmmaker he has producer 74 films till this date. He is now making his directorial debut with his upcoming film Sunshine Music Tours And Travels, which is all set to hit the marquée on 2nd Sept, 2016.
As a producer you have made scores of films over the years. Then how come you took so long to make your directorial debut?
As a producer I had spent my hard earned money from my event management company Percept Limited and gave a break to many directors, actors and even many technicians. And till this date I have ended up producing, distributing and releasing 74 films. So when I thought of making my directorial debut I started searching for the right producers to back my most ambitious project centering around the most popular annual Sunburn Festival of Goa. I really enjoyed producing films with my own money and now I wanted to see if I can really enjoy making a film by putting other producer's money at stake.
Time to briefly narrate the concept of Sunshine Music Tours And Travels.
My upcoming film Sunshine Music Tours And Travels is a musically oriented travel film. The film revisits Bollywood's superhit travel film Bombay To Goa. It is a travel musical made especially for people who still believe that they are young at heart. My debut directorial film Sunshine Music Tours And Travels has ample doses of comedy and drama. It has all the ingredients of a commercial potboiler. It is full of non – stop entertainment, fun and enjoyment. In short the film travels from Kashmir to Goa covering a distance of 2874 KM carrying 14 strangers who all have dreams in their eyes and some of their dreams are fulfilled when they reach Goa and take part in Goa's most popular annual Sunburn Festival. The main protagonist of the film enacted by debutant Sunny Kaushal is named Sunburn. He is a small town boy of Kashmir who works in a dhabba and always listens to Sunburn music and dreams of attending the Sunburn Festival of Goa one day. Not only these all the 14 strangers who meet in the bus have their own dreams and stories to tell during their journey from Kashmir to Goa.
Is it a ploy to give more popularity to the Sunburn Festival of Goa, an annual event conceptualised and organised by your own event management company since its inception?
Sunburn Festival is already popular by now in India as well as all over the globe, with lakhs and lakhs of people attending every year in the month of January so it does not need any more popularity. Actually the film is based on a true story of a small town boy from Kashmir who always dreamt of visting the Sunburn Festival and the rest of the film is a fictionalised account centering around the Sunburn Festival.
Give us an insight into the cast & crew of Sunshine Music Tours And Travels.
As I said earlier the main protagonist of the film is Sunny Kaushal who was selected through an intense audition process. I only came to much later that Sunny happened to be the son of Bollywood's famed action director Sham Kaushal and also the brother of actor Vicky Kaushal who had made his debut last year with the most talked about film Masaan. Anyways the rest of the debutant actors will get a proper on screen inroduction. As far as the crew is concerned the film has been produced by Kavanjit Hayre, executive producer is Percept Pictures, associate producer is Yusuf Shaikh, screenplay and dialogues by Shailendra Singh and Sehaj K. Maini, edited by Keval Shukla, music by Edward Avil, background score by Kingshuk Chakraborty, cinematography by Arshad Khan, written and directed by Shailendra Singh and produced under the banner of Hayare Entertainment in association with Percept Pictures Presents.
You have taken all debutant actors for Sunshine Music Tours And Travels whereas you could have made the film with established stars.
Yes I could have made the film with established stars but still I opted for debutant actors as I did not wish to comprise on the freshness factor of the film. That apart big stars means big money and then what's the guarantee that the film will definately hit the bull's eye. Salman Khan's Sultan's budget
was around 150 crores and it earned around 300 crores so considering its huge budget I believe that its profit margin was no great shakes. I don't believe in such economics of filmmaking especially when I am making a film with other producer's money. So I decided to make a small buget film with an all new cast and if the film hits the bull's eye then our profit margin will also be great and everybody will have its benefits in their own way.
You have distributed and released most of your films so what do you feel is the distribution scenario in the present times?
Nowadays only a handful of corporate houses distribute and release only the films that they feel will be commercially viable. But even they tend to make a wrong move most of the time. So why do you think I used to distribute my own films most of the time?. Then the multiplex scenario is also nothing much to rave about. They are also desperate to exhibit only commercially viable films. Today a family ends up coughing a huge amount to watch a single film including the ever increasing ticket rates. And then also they are deprived of a common thing like water. I was the first person to install a water cooler in a multiplex. I also feel that Just as bars and pubs have "Happy Hours" for its customers then why can't the multiplexes also have "Happy Hours" for the cine goers. This is the sorriest state of affairs of multiplexes. So where will a common layman go to watch a film? But I think the days of single théâtres will be back soon.