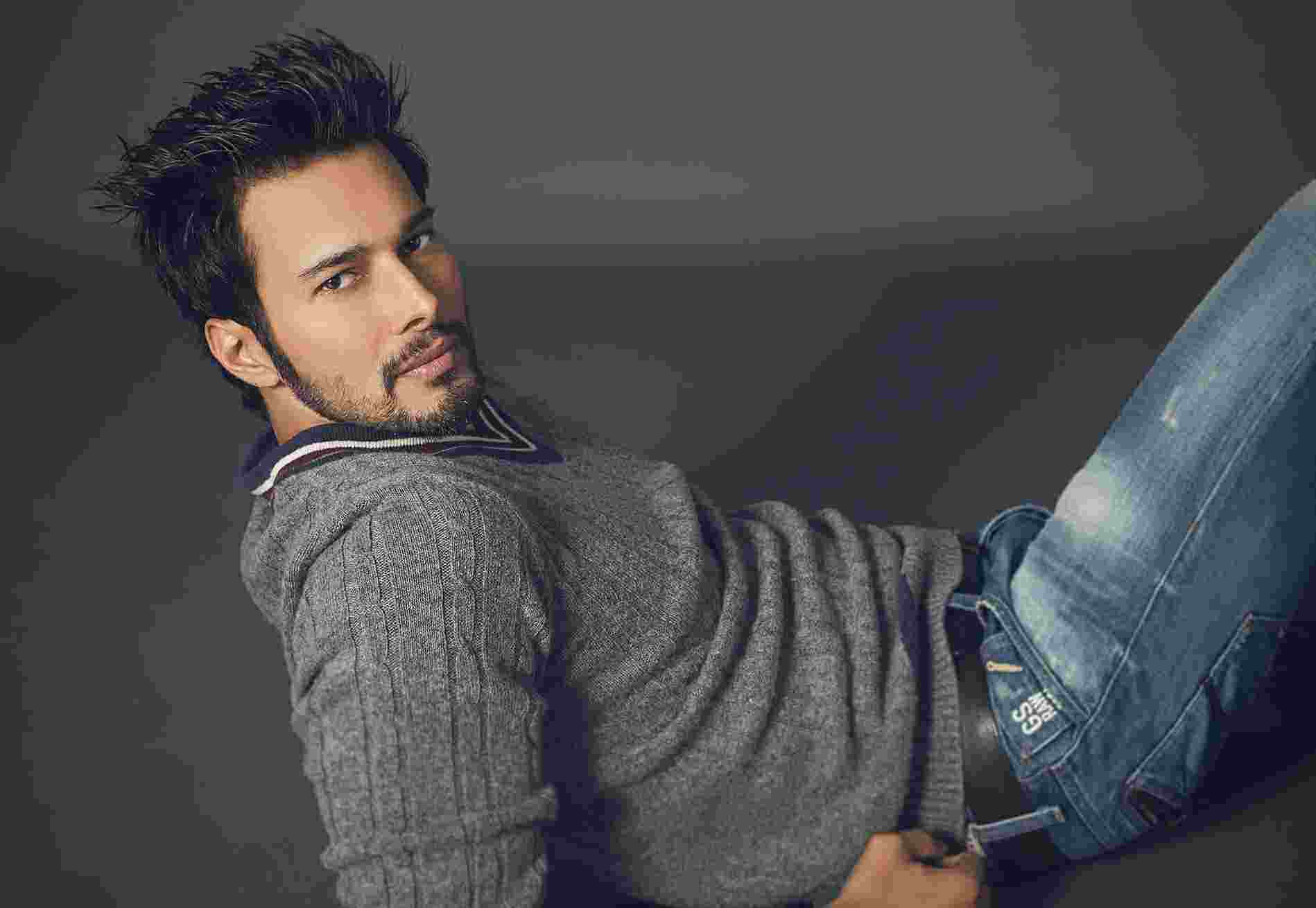 It's time to take a holiday from the ordinary you've been settling for and enter the world curated for lovers of all things luxe, unique & creative. Engineered by fashion lovers & founders of Knotty Tales, Pallavee Duggall (wife of Rajniesh Duggall) & Gauri Pradhan. There's room for everyone's fashion fantasies to come true, whether you're embracing eco – friendly, hankering for hand woven, enamored by ethnic or craving for couture. From renowned industry favorites to ambitious new designers experimenting with the world of prêt – a -porter, over 40 brands were present at the event. A countrywide representation of talent & culture was facilitated through the inclusion of designers from Mumbai, Delhi, Ahmedabad & Jaipur, giving fashionistas exclusive previews of their most exciting new inventions before they hit the racks. Rajniesh Duggal averred, "I feel it's a fantastic step that Pallavee Duggall & Gauri Pradhan (wife of Hiten Tejwani) have taken. They have successfully completed a year & a half of doing Pop ups (exhibitions) all over the country and are venturing into more things soon .Pallavee Buggall is a graduate from the LSE (London school of Economics) and is a brilliant business woman / wife."
SONY PICTURES NETWORKS PRODUCTIONS ANNOUNCES ITS NEXT, 'SOORMA'
Sony Pictures Networks Productions (SPN Productions), the film production arm of Sony Pictures Networks India (SPN), has announced its upcoming film, Soorma, directed by Shaad Ali. The film will bring to light the story of hockey player, Sandeep Singh, who played for India and went through many ups & downs in his personal & professional life. A true legend of the game, Sandeep Singh was also the captain of team India, which he led to victory on several occasions. Amongst his many achievements, he holds an unbeaten record of the fastest drag flick in the world (Speed 145 Km / hr). The role of this illustrious hockey player, Sandeep Singh, will be portrayed by Diljit Dosanjh and he has undergone arduous training in the sport with Sandeep Singh. Taapsee Pannu has been paired opposite Diljit Dosanjh and she too has gone through vigorous training to learn the skills & nuances of the sport. Angad Bedi will portray the role of Sandeep Singh's elder brother, Bikramjeet Singh. At 31 years of age, Sandeep Singh achieved what many could only dream of. His emotionally -charged life – story is inspiring in every way. Soorma will be Diljit Dosanjh's 1st ever Hindi film as a lead actor. Shaad Ali has teamed up yet again with Gulzar Saheb to pen down the lyrics of this film. Shankar –Ehsaan – Loy have been roped in as the music directors. Written & directed by Shaad Ali, the film will be released worldwide on 29th Jun, 2018. Soorma is produced by Sony Pictures Networks Productions, Chitrangda Singh & Deepak Singh.
'TANTRA' – VIKRAM BHATT'S NEW WEB SERIES FOR HIS CHANNEL VB ON THE WEB
Ace director & producer Vikram Bhatt is all set to produce a new web – series for his channel VB on the Web. VB On The Web is Indian filmmaker Vikram Bhatt's official web channel. The channel hosts filmmaker's original content in the form of web series across different genres. The previous series from this platform like Twisted, Maaya and others have been well appreciated by the audiences. The team is coming up with a new web series titled Tantra starring Aditi Arya, Vidur Anand, Salina Prakash, Karim Hajee & Sandeep Bharadwaj playing the central characters in this web – weekender. Tantra is a unique battle of a family feud and corporate politics played on the battleground of black magic. A game that is already this dirty is sullied further when everything is put on the board, murder, death, betrayal, deceit and above all trust. This web series will be produced under Vikram Bhatt's own banner Lone Ranger Productions Pvt Ltd, and the digital project will have an ensemble cast comprising of certain veteran actors. The story of this web series is written by Vikram Bhatt himself and directed by Sidhant Sachdev. The writer & the producer Vikram Bhatt added "Tantra is the 1st ever tri – weekly series on air across all platforms. The series is being directed by, Sidhant Sachdev. Sid is young & enthusiastic in his approach and has worked on 3 of our web series earlier viz. Hadh, Gehraiyaan & Spotlight 2. He has a knack for telling the story through its treatment. It will be a 48 episode series. As the story unravels, it will keep the audiences glued to our YouTube channel."
TUSSHAR KAPOOR SPOTTED WITH HIS SON LAKSSHYA KAPOOR AT THE TODDLER GYM
The new daddy in the industry, Tusshar Kapoor has always taken over the internet by posting pictures of his highly adorable son Laksshay Kapoor. Recently Tusshar Kapoor was spotted at the toddler gym spending some quality time with his son Laksshay Kapoor. Even since Laksshay Kapoor came in his life, he changed his lifestyle to be a perfect dad! He dotes on him and tries to be around him all the time. The father – son duo is definitely the new cool pair in the industry.
'OCTOBER' STARRING VARUN DHAWAN IS COMPLETE
It's a wrap up for Shoojit Sircar's October starring Varun Dhawan & newbie Banita Sandhu which isis complete. A slice of life love story directed by Shoojit Sircar & written by Juhi Chaturvedi, October stars Varun Dhawan & newbie Banita Sandhu in the lead. The film has been shot in Delhi & in Himachal Pradesh. The unit completed the shoot within 38 days much ahead of its schedule! Shoojit Sircas avered, "Varun Dhawan is trying to open up to different genres. Actors should keep exploring different genres, stories & directors. At the end of the day, you have to challenge yourself and Varun Dhawan does just that. When it comes to the genre of romance, it is always beautiful to see a fresh pairing. Something about seeing their reel chemistry blossom through makes you feel a part of their journey from the very beginning. For October, that was one of the main reasons why I chose Banita Sandhu for the lead role opposite Varun Dhawan. She had acted in one of my earlier commercials." Rising Sun Films' new venture, October, will be a sweet romantic journey of human emotion told in the inimitable tyle. With October slated for release on 13th Apr, 2018, the blazing baton moves forward.
RICHA CHADHA'S UNUSUAL GUEST APPEARANCE
When it comes to guest appearances, Richa Chadha may have clinched the most unusual of the lot. The actress features in American author – entrepreneur Timothy Ferriss's book, "Tribe of Mentors". A collection of advice from professionals from different walks of life, including actors, chefs, musicians, TV show hosts. And Richa is the only Indian actor to be featured in the book that also features Hollywood stars like Ashton Kutcher, Ben Stiller, Jimmy Fallon & Larry King.
AJAY DEVGN CELEBRATES PRODUCER KUMAR MANGAT PATHAK'S BIRTHDAY ON THE SETS OF 'RAID'
Ajay Devgn who is currently shooting for his upcoming film Raid, celebrated producer & manager Kumar Mangat Pathak's birthday on the sets of the film. Kumar Mangat Pathak's wife, Neelam Pathak along with the entire cast & the entire crew were present for the celebrations. Set in Uttar Pradesh in the 1980's, Raid is based on real life events involving one of the most high – profile income tax raids the country has ever known. The film is directed by Rajkumar Gupta.
IRRFAN KHAN ALL SET TO ENDORSE A CONDOM BRAND
Irrfan Khan is someone who's very popular amongst the brand world and has a variety of range of brands he endorses. This year alone he has signed as many as 4 brands post Hindi Medium. Also he has a certain unique quirk to himself. This is why a renowned condom brand chose him to be their ambassador. He's someone who's very particular when it comes to selecting his brands. His criterion for selecting a brand is solely on their ethics and how they intend to sell the brand. Irrfan Khan signed the brand as he strongly believes that it's important to create awareness. The ad world will go abuzz with Irrfan Khan signing for a condom brand. Normally every ad that is aired has models resorting to sleaze & glamour, with Irrfan Khan stepping on board for a condom brand will have all eyeballs set what Irrfan Khan has to offer in terms of branding & advertising. On the other hand, with his latest release Qarib Qarib Singlle Irrfan Khan treated the audiences with one of the most loved & warm quirky love stories of the season! It is now in its 2nd week in theatres and is still going strong!
AAMIR KHAN'S 'SECRET SUPERSTAR' TO RELEASE IN TAIWAN & RUSSIA!
As a reinforcement of its commitment of taking Indian Cinema across the world, Zee Studios International is all set to release Aamir Khan's Secret Superstar in Taiwan & Russia. The film will release in Taiwan today across 73 screens and in Russia on 3rd Dec, 2017 in more than 50 screens ensuring the widest possible footprint for Aamir Khan's cinematic genius. Secret Superstar's release is the widest Indian Film release ever in Taiwan. With its strong narrative & exceptional performance, the film has left an indelible mark on the hearts of its viewers. With the release in Taiwan & Russia, Zee Studios International aims to set a new benchmark of overseas collections of the film. "Russia & Taiwan are great markets for Indian Films with Indian Cinema legends like Raj Kapoor still being revered there. We are ecstatic to showcase Secret Superstar to such countries and offer them a film that's truly heart – warming & distinctive. At Zee Studios International, we stand committed to taking our films to international territories, known & unknown, as we strongly believe that good content should not be restricted by borders", averred said Vibha Chopra, Head – Zee Studios International (Film Marketing, Distribution &, Acquisition). Secret Superstar traces the journey of Insia, a 14 year old girl from Baroda, whose dream of becoming a singer changes her life & the lives of everyone around her. The film has been written & directed by Advait Chandan & produced by Aamir Khan & Kiran Rao, and has been Internationally distributed by Zee Studios International.
KARAN JOHAR HOSTS A BASH IN THE HONOR OF THE MAYOR OF LONDON
Karan Johar recently hosted a bash at Mukesh Ambani's SoBo residence in honor of the Mayor of London, Sadiq Khan, who visited India in the 1st Dec, 2017 but this time the filmmaker was accompanied by Akash Ambani & Parliamentarian Milind Deora. The trio hosted the bash. According to a source close to the development reveals, "The party was held on 3rd Dec, 2017 and amongst those who attended the bash were Shah Rukh Khan with wife Gauri Khan, Akshay Kumar with wife Twinkle Khanna, Alia Bhatt, Varun Dhawan, Sidharth Malhotra, Abhishek Bachchan with wife Aishwarya Rai Bachchan, Deepika Padukone, Rishi Kapoor with wife Neetu Kapoor and son Ranbir Kapoor & Ranveer Singh amongst others.
FARHAN AKHTAR STARRER, 'THE FAKIR OF VENICE', GETS A GREEN SIGNAL FROM CENTRAL BOARD OF FILM CERTIFICATION (CBFC)
In the past couple of months, getting a film cleared by the Central Board of Film Certification (CBFC) has become an uphill task for filmmakers. From Udta Punjab to Haraamkhor, and more recently, Lipstick Under My Burkha & Padmavati, films have faced the brunt of the Central Board of Film Certification (CBFC)'s scissors. However, the makers of Farhan Akhtar – Annu Kapoor starrer, The Fakir of Venice, were pleasantly surprised when the film was cleared with a U / A certificate. The Fakir of Venice, which was supposed to mark Farhan Akhtar's acting debut, is based on the story of 2 men who try to con the European art world. Annu Kapoor plays a Muslim who poses as a "Baba" and the makers of the film were worried if that might raise a red flag during the certification of the film. But now that the film is all set to release on 5th Jan, 2018, the producers are planning to release 2 songs from the film soon. Music of The Fakir of Venice has been composed by music maestro A R Rahman, and the film is loosely based on real life experiences of writer Homi Adajania. The film has been directed by adman Anand Surapur, produced by October Films & distributed by Yusuf Shaikh.
DIA MIRZA APPOINTED AS UN ENVIRONMENT GOODWILL AMBASSADOR FOR INDIA
Former Miss Asia Pacific, actor, producer, entrepreneur & environmentalist, Dia Mirza, has been appointed as UN Environment's Goodwill Ambassador for India. A long – standing supporter of environmental conservation, Dia Mirza will take up the role to add more weight to her work on raising awareness of & seeking solutions to environmental issues that the world, and India in particular, faces. "Environmental issues will be the defining challenge of this era, and I am committed to helping UN as a Goodwill Ambassador to do everything I can to provide a better future. Together, we will continue working towards conservation of nature, tackling climate change & inspiring people to live more sustainably." Dia Mirza has been the face of many pivotal environmental campaigns across India, and has worked towards the conservation of wildlife. Dia Mirza will work with the United Nations to further spread the message on priority areas including clean air, clean seas, wildlife protection & climate change. Dia Mirza has joined other accomplished & dedicated past & present UN Goodwill Ambassadors, including UN Environment's Li Binging, Gisele Bündchen & Don Cheadle, and others like Cate Blanchett, Anne Hathaway, Angelina Jolie, Katy Perry & Emma Watson.
MANDIRA BEDI LAUNCHES SCIENTIFICALLY DEVELOPED TASTY CHOCO – BITE FORMAT IMMUNITY SUPPLEMENT FOR KIDS
The concern for their child's health make mothers overprotective and they often put restrictions on their kids and end up saying "NO" without realizing how they perceive it and the impact it has on their personality. It is necessary that instead of saying "No" to kids always; their immunity is strengthened to keep them healthy & strong from within. Therefore, Cipla, the leading pharmaceutical company in India, has developed ActivKids Immuno Boosters, immunity supplement for children in a unique choco – bite format, to address the growing concern of low immunity by providing up to 100% RDA of key immunity nutrients. Mandira Bedi accompanied by her 6 year old son, Vir participated in a panel discussion with 3 experts to discuss about the importance of immunity in children, how to strengthen a child's immune system and how that can help moms say "Yes" to their kids more often. Mandira Bedi averred , "At one point of time, I too was a worried mother, always conscious about Vir's every activity, but the social experiment video conducted by ActivKids Immuno Boosters came as a revelation to me. I never realized what impact my frequent "No's" were having on my child's developing mind. I took the #YesChallenge & I have made efforts to become#YesMom by trying to avoid saying "No" unnecessarily".
PATRALEKHAA OVERWHELMED WITH POSITIVE RESPONSE ON HER CHARACTER IN 'BOSE DEAD / ALIVE
Patralekhaa, who made her mark with Hansal Mehta's Citylights, is currently getting noticed once again for her role in web series, Bose Dead / Alive. Patralekha is playing the character of Nandini, who idolizes Subhash Chandra Bose's passion for county's freedom. Inspite of the limited screen space in the series, she has been receiving lot of praise for her work. She averred, "I am overwhelmed with the response. I have been getting feedback that people want to see me more in the series."
MTV RETURNS WITH THE 7TH SEASON OF THE ICONIC SHOW 'MTV UNPLUGGED'
MTV Unplugged Season 7 is the perfect stage to feature India's musical perfection. Having given the country some of the most magical raw renditions, Royal Stag Barrel Select MTV Unplugged is back with yet another mellifluous season. The musical property will be coming back into full swing on our television screens on Sat 9th Dec, 2017 @ 8 PM on MTV. This season is special in every sense as it brings together the popular musical families of our nation on one platform. Brothers Armaan Malik & Amaal Malik will give tribute to the yesteryear's music composer and their grandfather Sardar Malik with "Main Rahoon Ya Na Rahoon" song. Bringing together 3 different generation of music will be the singing trio of Mahadevan family; Shankar Mahadevan, Siddharth Mahadevan & Shivam Mahadevan. Viewers will be witnessing legends, Vishal Bhardwaj & Shankar Mahadevan and fan favorites, Armaan Malik & Farhan Akhtar. Audiences will be in for a musical treat as Shankar Mahadevan will be seen performing with his sons Siddharth Mahadevan & Shivam Mahadevan & Vishal Bhardwaj will rekindle magic with his wife, Rekha Bhardwaj. Apart from this, Monali Thakur, Papon, Amaal Malik, Shalmali Kholgade, Amit Mishra, Tushar, Shaswat Singh, Naakash, Nikita Gandhi, Ahen, Akhil Sachdeva, Sunny MR will be delivering stunning acoustic performances.