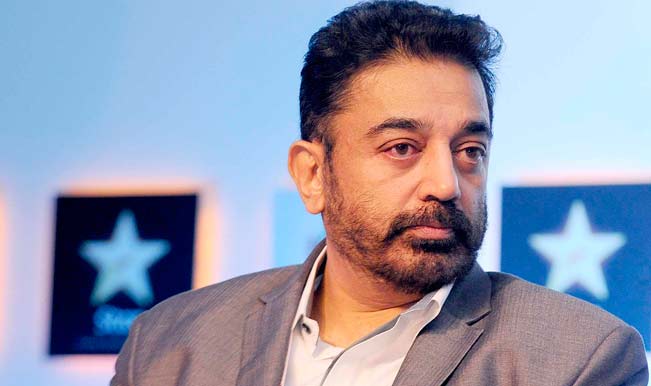 Kamal Haasan Confirms The Commencement Of His Next Film
In 2016 half of April has been completed, but Kamal Haasan is yet to start his next. This from the actor who gave as many as 3 films in 2015. The multi – talented actor has 2 projects one with director T. K. Rajeev Kumar and another with 'Thoongavanam' director Rajesh M. Selva in his hands this year. Now the legend has confirmed in his Tweet to actor Madhavan that he will start shooting for his next from from 29th Apr, 2016, thereby putting an end to the long wait. Kamal teams up with director Rajeev Kumar of Chanakyan fame after 26 long years for this film. Shruti Haasan will be acting in an important role in this film and this is her 1st film with her father after emerging as a top heroine. Ramya Krishna has bagged another important role in the film.
Rajinikanth Confirms 'Kabali' Release Date
Superstar Rajinikanth has received the Padma Vibhushan Award from Pranab Mukharjee, The Honorable President of India in the award ceremony held in New Delhi recently. The Superstar boarded the flight to the National Capital from Chennai Airport. He was thronged by reporters & media persons at the airport premises. Quizzed about the release of his upcoming film Kabali, Rajinikanth replied that the film directed by Pa.Ranjith & produced by Kalaipuli. S. Thanu will be hitting the screens by the last week of May, 2016 or the first week of Jun, 2016. This puts to rest, the rumours doing rounds for the past few days that the film's release has been postponed to Jul, 2016.
Dhanush And…Laud Trisha's First Attempt
One of the few heroines who has stayed right at the top in South Indian cinema for more than a decade is undoubtedly our own Chennai girl Trisha. In her forthcoming woman centric film Nayaki directed by Govi the ever green actress has made her singing debut for a song that is called the Bayam song. Leading Tollywood director Puri Jagganath released the single and those who have listened to the song are raving about how perfectly Trisha has nailed it. Dhanush, Varalakshmi Sarathkumar, Ganesh Venkatraman & Radhika Sarathkumar are among the many celebrities who have lauded Trisha on social media
RGV Says Powerstar 5 Times Better Than Rajinikanth
The King of controversies Ram Gopal Varma has stirred a hornet's nest by tweeting that Power Star Pawan Kalyan is 10 times better than Chiranjeevi & 5 times better than Superstar Rajinikanth. Pawan Kalyan's much hyped Sardar Gabbar Singh has turned out to be damp squib at the box office & RGV while criticizing Pawan's choice of films had angered fans of the star and then he has tweeted the comparison obviously to pacify the hero. But fans of Superstar Rajinikanth are seeing red and are lambasting RGV on every existing social network.
Suresh Babu Gets Relief From High Court
On 9th Feb, 2016 D. Suresh Babu was adjudged disqualified for contesting any election or holding any post at the Telugu Film Producer's Council by the City Civil Court, Hyderabad. The court made this ruling upon concluding that the ace producer & legatee of Suresh Productions hadn't submitted the requisite documents. Appealing against the order, Suresh Babu & the Film Chamber moved the High Court. They said that Suresh Babu is not indebted to the Chamber and that it's not appropriate to prevent him from performing his duties as he contested as per the rulebook. Today, the High Court has given interim relief by staying the City Civil Court's order, which rescued him from performing his duties as the President of the Film Chamber.
Samantha's Energy, Nithya's Dedication
Actor Suriya, speaking at the audio release function of the Tamil version of 24, had specific things to share with the audience about co – stars Samantha & Nithya Menen. He said that he likes Samantha for her energy levels at any time. Curiously, Samantha is a big fan of Suriya and she must have been even more upbeat about working with her favourite actor. As for Nithya Menen, Suriya says that he admires the way she puts a lot of effort regardless of the longevity of her role. In this sci – film directed by Vikram Kumar, Samantha plays Suriya's love interest, while Nithya is seen in an emotional role. Nithya has rendered the song 'Laalijo..' in this mega – budgeted movie.
Trisha Croons 'Bayam'
It's known that Trisha has rendered a song in her forthcoming film Nayaki. Music directed by Raghu Kunche, this one comes as a promo -kinda song. Seen in the promo released moments ago is Trisha singing with gusto into the mike. Shot along with other crew members, it puts on display the camaraderie between Trisha and others like Raghu Kunche. The lyrics talk about the all – pervading "Bayam". Since Nayaki is a thriller – horror where Trisha plays an actress, a song of this genre was in order.
Pawan – Trivikram Say Goodbye To Producer
Some months ago, Mythri Movie Makers, which is the producer of mega – budgeted movies like Srimanthudu & Janata Garage, had given an advance amount to Pawan Kalyan & Trivikram Srinivas for a movie in their combination. It was expected to go on the floors post the completion of SJ Suryah's movie. However, latest update reveals that Pawan & Trivikram have decided to opt out of the project. Mythri Movie Makers were informed about the same. Later, the Power Star – Trivikram duo returned the advance to the production house. As reported by a media house, the decision owes to Mythri Movie Makers' fault. It's learnt that the duo is planning to do the movie under some other production house, details of which are not known at present.
Marubhoomiyile Aana' 1st Look Out
The 1st look poster of the upcoming movie Marubhoomiyile Aana has been released. The poster shows lead actor Biju Menon in the garb of an Arab man. The scorching desert forms the backdrop. The movie was shot mainly in Doha. Biju Menon plays an Arab with a twist in the movie. Marubhoomilye Aana has been directed by V K Prakash. Samskruthy Shenoy & Sanusha are part of the cast. Y V Rajesh has scripted the movie. The shooting is on and the Thrissur schedule is being canned now.
Aparna Balamurali' Wows With Her Stunning Looks
Actress Aparna Balamurali who hit the high note with Maheshinte Prathikaram is going places. Her girl next door looks and a gutsy performance for a bold role were all lauded. The actress seems to be quite busy these days. There is no doubt that more can be seen of her in the days to come. A recent photoshoot of the actress for a popular magazine is the talk of the town. Gone are the girl next door looks and Aparna looks all glammed up and looking stunning. The launch was also done recently and in the event the actress was spotted in a lbd, looking all poised & glossy.
Shubha Punja Double Dhamaka
A beautiful & performing actor Shubha Punja had a very good Ugadi Festival this year. She had 2 releases on the same day. In Siganduru Chowdeshwari Mahime she is in traditional devotee role while in comedy flick Jai Maruthi 800 she is in modern outfit and counterpart to very popular actor Sharan. With one Tamil & Kannada film in Hrudayashiva direction almost ready and one song has to be completed, Shuba Punja looking for some freak out in Kashmir & Rajastan with her friends. Looking in bridal outfit Shuba Punja says she has worked for 22 days for Jai Maruthi 800. It is comedy flick while Siganduru Chowdeshwari Mahime is very interesting in my career she adds.
Dandupalya 2 On Floors
Director Srinivasaraju created sensation from Dandupalya film a few years ago and he is back with some more stock on the cruelest gang that is moronic to the society. After the photo shoot of Pooja Gandhi & others the film Dandupalya 2 went on floor at Varaprada Sri Srinivasa Sri Shakthi Ganapathi temple. KFCC President Sa Ra Govindu sounded clap board for muhurt shot, SIFCC President HD Gangaraju switched on camera for the muhurt shot. Srinivasaraju has written story, screenplay besides direction. Arjun Janya music, Venkat Prasad cinematography add to the technical list.