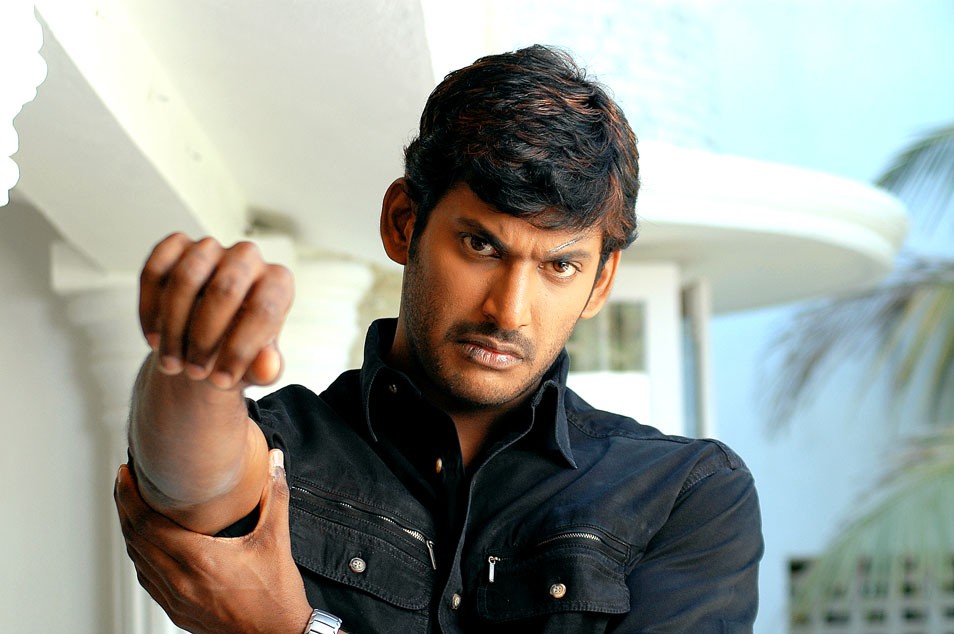 Vishal's Kaththi Sandai's Heroine To Be Finalised
Vishal's Kaththi Sandai's heroine to be finalised, meanwhile Vishal's Maruthu is fast getting ready to hit the celluloid silver screen on 20th May, 2016 and the tall & handsome actor will start shooting for Kaththi Sandai, to be directed by Suraaj, soon. The film will mark the comeback of Vaigaipuyal Vadivelu as the lead comedian and Soori has also been included for an important role to provide comic relief. The heroine of the flick was yet to be finalized. But now it seems Tamannah has bagged the female lead role in this film. If this is true this will be her first film with Vishal & 2nd with director Suraaj after the Dhanush starrer Padikkadhavan.
Kamal Haasan To Reprise His Earlier Role Of Ulaganyagan
Kamal Haasan to reprise his earlier role of Ulaganyagan. It is being said that Ulaganayagan Kamal Haasan will be reprising on of the famous character of his yesteryear film in his new film launched recently. It will be the extremely hilarious Balram Naidu the star played to perfection with a unique Teluguish Tamil accent in the 2008 blockbuster Dasavatharam. Noted dance master Raghuram who played Balram Naidu's associate in the film is no more. Hence Tollywood star comedian Brammanandam has been roped in for that role. The yet to be titled film will be directed by T. K. Rajeev Kumar in Tamil, Telugu & Hindi languages. Ramya Krishnan & Kamal's daughter Shruthi Haasan are the other prominent cast members. Isaignani Ilaiyaraja has been roped in for the musical score.
Vijay's 'Theri' Creates History In A Chennai Multiplex
Vijay's 'Theri' creates history in a Chennai Multiplex. Ilayathalapathy Vijay's latest release Theri has been creating box office records at various centers across the globe Here comes the latest addition. Theri has created a new record in Mayajal, which was probably the 1st Multiplex which was started in Chennai suburbs. The 1st 13 days after the Atlee directed film's release of the film has seen a record number of footfalls and generated humungous revenue. Sources close to Mayajal have revealed that over 1 lakh people have watched the film in their screens so far. The precise count is 1,00,077. With this the film has generated a whopping revenue of Rs.1.21 crores.
Lakshmi Menon To Romance With Dhanush!
The Marathon man Dhanush has his Thodari directed by Prabhu Solomon & Kodi by Durai Senthil Kumar ready for release and he has already started shooting for Gautham Vasudev Menon's Enai Nokki Paayum Thotta. Meanwhile Dhanush will begin work for the Karthick Subbaraj project from Sept this year and sources reveal that it is Lakshmi Menon who is going to play his love interest. Official announcement on this is awaited.
Tabu To Reprise Anausya Bharadwaj
Tabu to reprise the role of Anausya Bharadwaj. It's known that Kshanam is being remade into Hindi. From day one, the names of superstars like Salman Khan have been doing the rounds for the role of the male lead. While Sallu 'bhai' is still the one who might reprise Adivi Sesh's role, Anasuya Bharadwaj's role will most probably be reprised by Tabu, as reported by a national daily. It's also said that the Hindi writers are making suitable changes to the script to accommodate Tabu in a bigger way. If Tabu is finalised, she will have played a cop's role for yet another time after Drushyam, which incidentally was also a remake movie.
Bicchagadu To Release In May 2016
Bicchagadu to release in the month of May, 2016. The dubbed version of Pichaikkaran, the Tamil action thriller starring the music director – turned – actor Vijay Antony and Satna Titus in lead roles, will hit the screens in the month of May, 2016. Titled as Bicchagadu, it tells the story of a rich man metamorphosing into a beggar for a purpose. The film is directed by Sasi. Music by Vijay Antony, it has cinematography by Prasanna Kumar. Editing is by Veera Senthil Raj. The film not only garnered critical appreciation but also had a decent enough run. The overall review says, "Director Sasi's forte has been selecting a story with human values & emotions and creating powerful scenes with touching dialogues.
Rashmi To Rock In Antham
Rashmi to rock in Antham. The 1st look of Antham was released recently, marking the occasion of Rashmi Gautam's birthday. The film has Rashmi paired up wtih Charan Deep. Done with the shoot, the film is currently in post production stage. Belonging to the genre of suspense thriller, the film boasts of Rashmi's show. Director – producer GSSP Kalyan said that the movie has been so titled because he is a big fan of Ram Gopal Varma. "That's why I have gone for this title. This is a suspense thriller which we haven't seen before. Rashmi Gautam's performance will be a major highlight. Her act is apt for a lady oriented film like this. The audience will be thrilled by Rashmi's performance in the last leg. Vasu Dev & Sudarshan are the other important cast members." Director Kalyan has written the story & the screenplay.
Premam To Be Filmed In Goa
Premam to be filmed in Goa. Premam, the Naga Chaitanya starrer, will be shot in Goa for a period of 2 weeks. Once done, the film will have been done but for post production works. This Telugu remake of a Malayalam film, is directed by Chandoo Mondeti. Shruti Haasan has gotten into Sai Pallavi's shoes for this film. Anupama Parameswaran & Madonna Sebastian are the other female leads. Premam is slated for a Jul, 2016 release, although its release in May, 2016 seemed a possibility only a few weeks ago. It has been getting delayed for some reason or the other. The original Premam has its share of admireres among the Telugus. It has to be seen if the Telugu remake manages to acquire a mini – cult status.
Rana Daggubati Starts Training For Baahubali 2
Rana Daggubati starts training for Baahubali 2. After completing some high octane, never – before – seen underwater action sequences for his tri – lingual film Ghazi, the hunky actor Rana Daggubati has started training heavily for Baahubali 2. After losing weight for his submarine based war film Ghazi where he essays the role of a naval officer, Rana has been bulking up to reprise his role of Bhallala Deva in Baahubali 2.
Huma Qureshi Looses Her Cool Learning Malayalam
Huma Qureshi looses her cool learning Malayalam. Actress Huma Qureshi who is making her Mollywood debut opposite Mammootty in Uday Ananthan's White found it quite a task learning Malayalam. A teacher who teaches at the a school in London, Parvathy was assigned the task to teach her the language. Parvathy says that Huma was all game to learn the language but lost her cool time and again with words like "mazha" & "puzha" getting in her way. Huma admitted that it was a Herculian task and the dubbing was done by someone else.
Poonam Back In Action
Poonam back in action. Known for her physical strength than acting, the sexy siren Poonam Pandey returns to Kannada after Love Is Poison in which she was seen as an item dancer. She has a different role to perform in the maiden direction & production of Yuvaraj. It is Rs.3 crore budget cinema from Yuvaraj. Although Poonam Pandey is the main stay of the film, 4 youths are found in this horror thriller packed with romance & suspense. Yuvaraj has obtained 30 days call sheet from Poonam Pandey. He has experience of working in Telugu & Tamil films.
Akira Due For Release On 6th May 2016
Akira is due for release on 6th May, 2016. The biggest on 29th of April – Chakravyuha has made the well made and highly expected Akira to defer the release by one week. With power star Puneeth Rajakumar Chakravyuha's release Akira announced the release for 6th May, 2016. Akira of Aneesh highly expected film with 2 heroines Aditi & Krishi Tapanda in Naveen Kumar's direction has already made big news in songs and film is also sold for Telugu remake rights. For Akira power star Puneeth Rajakumar has also delivered a song. Akira by S2 Entertainment SS Reddy & Chetan Kumar Production has some lovely tunes from Ajanish Lokanath.