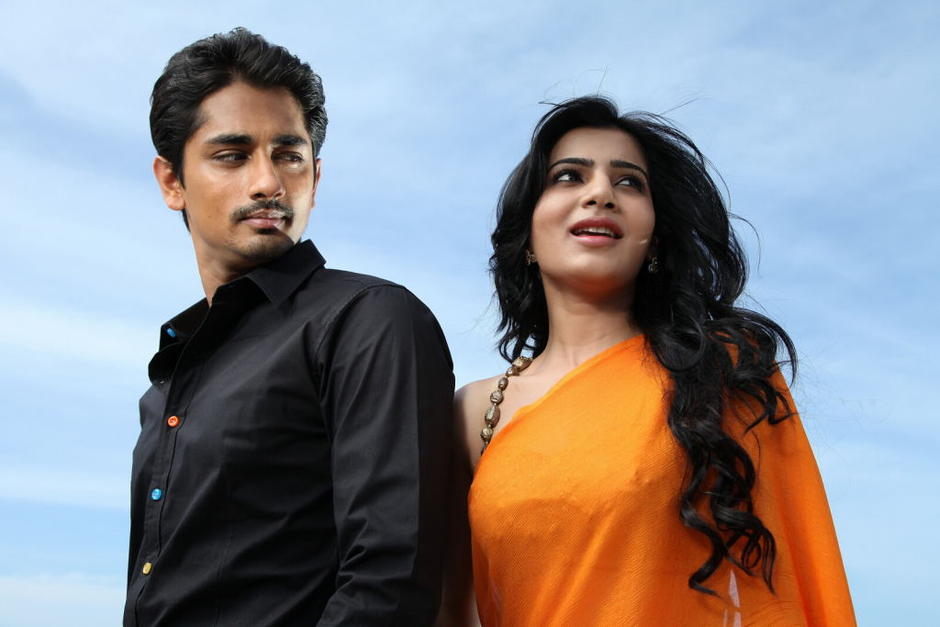 Siddharth & Samantha to come together again
After Simbu & Nayanthara doing the impossible of acting together after their breakup in 'Idhu Namma Aalu', one more former couple is also coming together for a film. The pair in question is Samantha & Siddharth who had broken up a few months back and walked out of 'Bangalore Days' because of that. Director Sundar C is the director who has achieved this casting coup for his film 'Aranmanai 2'. Siddharth, Trisha, Hansika & Soori are already on board for the project and reportedly Samantha has given her nod to play a leading role in the film which is getting bigger & bigger as the days pass.
Vijay Back On Duty For 'Puli'
Illayathalapthy Vijay after a couple of weeks rest from the non-stop shoot for his fantasy film 'Puli' is currently dubbing for his scenes for the past couple of days and the superstar was extremely happy the way the scenes have come out. The other credits are Natty Natraj's camera, Sreekar Prasad's editing, T. Muthuraj's art work & Chimbudevan's deft direction have combined to provide stunning visuals that would provide immense satisfaction to all Vijay fans. The pace at which the post production is going on indicate that producers P. T. Selvakumar & Shibu Thameens are planning to release the movie well ahead of the scheduled 17th Sept, 2015 as a treat for Vijay fans.
Sri & Rana Shooting In Mahabalipuram
The shooting of the Tamil remake of 'Bangalore Days' directed by Baskar is going on in full swing and right now scenes involving 'Kaaki Sattai' girl Sri Divya & Rana Dagubatti are being shot in and around Mahabalipuram. PVP Cinema are the producers of this full fledged multi-starrer that has Arya, Bobby Simhaa, Rana Dagubatti, Sri Divya, Nithya Menon, Parvathy Menon & Raai Lakshmi in the cast.
Abhinaya In An Action Thriller
Abhinaya of 'Nadodigal' & 'Easan' fame is back after a break. The actress plays a key role in a film titled 'Thudi', an action thriller based on the Mumbai hotel attack incident. Directed by Rithun Shankar, the film has Suman, Brahmanandam and others in key roles. "Abhinaya plays a receptionist in the hotel. Her role & performance will be talked about," says the director.
On why the title 'Thudi', he said, "Thudi means a music instrument in the hands of Lord Siva. Those days, it was used to communicate with people. We thought it would be the apt title for the movie." He added that the entire story unfolds in 12 hours, from 6 pm to 6 am.
'Ketugadu' In Post Production
Tejus, who made his acting debut with the movie 'Ulavacharu Biryani', has now teamed up with a new director named Kittu Nallari for a film titled 'Ketugadu'. Chandini Chowdary is the lead actress in this movie. Venkatesh Balasani is producing this film in association with '100 Crores Academy'. Famous writer VSP Thenneti is presenting this movie. Sai Karthik composed the music for this film.
The shooting was completed recently and the post production work is currently going on. The producers are planning to release the audio in the 1st week of Jun, 2015 and the film by the end of the same month.
Taapsee The Choosy Damsel
After playing an undercover agent in Hindi film 'Baby', Taapsee Pannu, is all set to play a cop in a Tamil film. The Delhi based model, who is currently basking in the glory of Ganga (Kanchana 2 in Tamil), will don khakis for her role in 'Kaan', directed by Selvaraghavan. The pretty damsel is paired opposite Simbu in the action thriller, which also features Catherine Tresa. Taapsee, who always looks for versatility in picking roles, goes deglam for a role in another Tamil film directed by Thiru. The actress would be playing a girl Tamizhchelvi who hails from Kumbakonam in the family drama. By picking roles that are diametrically opposite, Taapsee, who recently admitted that she's choosy when it comes to roles, once again proved that she's particular.
Rajinikanth Visits An Ashram in Coimbatore
Rajinikanth, who is known for his frequent spiritual sojourns, recently paid a visit to Arsha Vidya Gurukulam at Anaikatti in the outskirts of Coimbatore a couple of days back. The superstar has been a regular visitor to the ashram as he is a devotee of spiritual Guru Swami Dayananda Saraswati. Apparently, Rajini spent close to 2 hours at the Ashram and left for Chennai in the afternoon. Meanwhile the actor is gearing for his next film, which is said to be in a gangster backdrop and apparently, Rajini will be seen in role of a don.
Anushka Gains 15 Kgs For 'Size Zero'
That Anushka would gain & lose weight for her forthcoming bilingual film 'Size Zero' is evident. The Bangalore damsel has put on 15kg weight for her role of an obese woman in the comic drama. Apparently, the actress has been on a high carbohydrate diet and has not hit the gym in the last couple of months.
Besides Anushka will put on more kilos for her role and the actress seems to be pretty happy with it. The unit is currently shooting scenes on Anushka's hefty look and later, the actress will have to lose weight for a slim look.
Shalu To Canvas For Karthikeyan's Son
UDF has declared its new candidate from Aruvikara and that is Karthikeyan's son. While there is widespread dissatisfaction with this move, prompting comments of trying to bank on sympathetic votes, more bizarre incidents are unfolding. Popular actors canvassing for a political candidate is not new. But infamous actress Shalu Menon's confirmation that she will be canvassing for the UDF has prompted quite an outburst of sarcastic reactions, considering her part in the recent solar scam case. Shalu wrote that she and actor Jagadish will go on field. She says that having the UDF government in power is essential for the survival of a common person like her. The canvassing for Sabarinathan Karthikeyan will begin soon.
Prithviraj Wishes To Turn Director
Prithviarj is a self confessed cinephile. He is someone who dabbles in the various aspects of filmmaking and takes minute interest in the behind the scene workings of a movie. He is already a sensational actor and also a successful producer. Prithviraj has revealed that he has a wish to direct a movie. He says that this is only because he is a thorough lover of cinema. He observes that the cinescape has changed from when he worked with Shymaprasad in 'Akale'. A lot of changes have come in, including the technical aspects, he says. Prithivarj is someone who updates himself of all these changes and keeps abreast of the innovations happening in the field of cinema.
'Galli Bakery' Progressing
Twin Tower Entertainment Private Limited's Mohammad Mustafa's maiden production 'Galli Bakery' has completed major portions of shooting at Krishna Reddy residence in Vidyaranyapura, Uttanahalli & J P Nagar localities. In this schedule of shoot Suchindra Prasad, Yamuna Srinidi, Prajwal Poovaiah, Ramesh Bhat, Jayalakshmi, Santosh and others took part in the interior talkie portions of the shooting. K S Murthy is debut director, Ramesh Koira is cameraman & Sunad Gautham has composed music. Radhakrishna has penned screenplay, Sharanya Radhakrishna worked in the dialogues, Kaurava Venkatesh stunts, Babu Khan art, Madan & Harini's choreography add to the technical team. Santosh & Prajju Poovaiah are in lead roles. Soorya, Pradeep and others are also in the cast.
Huge Sets Constructed For 'Vijay 59'
Huge sets are being constructed for 'Vijay 59'. Illayathalapathy Vijay has gone to London for a holiday with his family and is expected to return home by the end of the month in time to begin shooting for 'Vijay 59' produced by Kalaipuli Thanu & directed by Atlee having Samantha & Amy Jackson as heroines and Bharathiraja & Radhika Sarathkumar playing pivotal roles.
Meanwhile, under the supervision of Art Director T. Muthuraj 2 huge sets are being erected at exorbitant costs. Both the sets will take about 40 days time to be completed and Vijay will be shooting the 1st schedule here in Chennai. The team will then fly to China for a major schedule in Sept, 2015.
Arya On A Cycling Trip
Of late Arya is on a cycling trip. He recently cycled from Chennai to Pondy. It seems cycling is the latest crush of Arya and the actor is practicing what he is preaching. Just recently, he went to Puducherry from Chennai on a bicycle, to take part in the shoot of 'Vasuvum Sivavum Onna Padichavanga'. Arya's good friend & co-star Santhanam averred, "I learnt fitness from Arya. His love for cycling is amazing and he has been making his friends & well-wishers to follow the suit. We were surprised when he came to Puducherry on a bicycle." 'Vasuvum Sivavum Onna Padichavanga' is directed by Rajesh M, who made 'Boss Engira Baskaran' with Arya & Santhanam earlier. Tamannah is the heroine, while Bhanu plays Santhanam's love interest. The audio will be released soon.
24 Secrets Of Suriya Revealed
The 24 most interesting secrets of Suriya were revealed recently. Some interesting details have popped up about Suriya's upcoming film '24', being helmed by Vikram Kumar. It is said that the movie is a remake of the director's recent Telugu hit 'Manam'.
Suriya is playing a triple role in the film namely that of a grandfather, father & son. In 'Manam', these roles were played by actors from the legendary Akkineni family like Nageswara Rao, Nagarjuna & Naga Chaitanya, respectively. The shooting for '24', produced by Suriya himself, is currently on in Mumbai. Samantha, who was part of 'Manam' as well, is the heroine of '24'. Music is by Allah Rakha Rahman and the maestro is already done with a few songs.
STR Takes A Break
The hot news is that STR Takes A Break. Simbu aka STR, after shooting non-stop for over 1.5 months for 2 of his upcoming movies namely Gautham Vasudev Menon directed 'Achcham Yenbadhu Madamaiyada' & Selvaraghavan's 'Kaan', has taken a break. "Done with a marathon of continuous shoot for more than 1 n half months for both #AYM and #KAAN … Finally a break :)" the actor wrote on his microblogging page. Also, Simbu has posted a picture of him standing in front of the famous Lord Murudeshwara temple near Mangalore. Meanwhile, he would soon join hands with director Ameer for a rural film in which he would play a rustic youngster.
Sunil-Kranthi Madhav Movie Titled
Sunil-Kranthi Madhav movie titled. Comedian turned lead actor Sunil is signing films back to back. He is currently acting in 'Josh' fame Vasu Varma's direction and also in Vamsi Akella's direction. 'Malli Malli Idhi Rani Roju' fame Kranthi Madhav is going to direct Sunil soon & Paruchuri Prasad will produce the film under United movies banner. The makers are considering the title 'Santosham Sagam Balam' for the movie and even registered it. This film will go on floors soon.
'Rudramadevi' Censored
'Rudramadevi' Censored. The censor formalities of Gunasekhar's magnum opus, 'Rudhramadevi', has been completed and the film is all set for a grand release on 26th Jun, 2015 in Telugu, Tamil & Malayalam. The Central Board of Film Certification issued a clean 'U' certificate for the film. The Tamil trailer of the film was launched by 'Maestro' Ilayaraja, who also composed music for this movie.
'Rudhramadevi' is India's 1st historical stereoscopic 3D film. It has Anushka, Rana Daggubati, Allu Arjun, Krishnam Raju, Nitya Menon, Catherine Tresa et al playing pivotal roles.
Disha Cast Opposite Varun Tej
Of late Disha has been cast opposite Varun Tej. Disha Patani is the latest addition to the cast of Varun Tej & Puri Jagannadh film. The former Femina Miss India runner up has been roped in as the leading lady in the breezy entertainer. The Mumbai model earlier featured in a few commercials. Meanwhile, Puri is giving final touches to the script and the film is expected to go on floors later this month.
Nikitha To Star Again With Mohanlal
Nikitha is all set to star again with Mohanlal. Nikitha who had made her Mollywood debut in the Fazil movie 'Kaiyethum Doorthau' is back in M'Town. The pretty actress is back with none other than Mohnalal, in the movie 'Kanal' which is being directed by Padmakumar. Though she has acted in a few Malayalam movies including 'Daddy Cool', 'Bus Conducter' et al, she had not been able to make much of an impact in the Malayalm film industry.
Nikitha had then gone on to do a few movies in Tamil & Telugu and her relationship with an actor was a fodder for much gossip. The actress is looking forward to take up good roles and rebuild her career. Her upcoming movie with Mohanlal in the lead is sure to help her in this respect. 'Kanal' stars Honey Rose & Sheelu Abraham in the leading roles.
Bhavana Missed Vijay
Bhavana really missed a Vijay movie. Bhavana of 'Asal & 'Deepavali' fame has not been seen in Tamil films lately, but she is one of the most sought after leading lady in Malayalam & Kannada cinema. The actress has been in the US for a long holiday and after coming back gave an interview to a leading Tamil daily. When asked whether she is not keen on doing Tamil films Bhavana was quick to reply that she Is waiting for a good role to come her way and also revealed that she was approached for an important role in Illayathapathy Vijay's 'Puli' but had to miss out due to her US commitments. Nandita Shwetha of 'Mundasupatti' fame did the role with Vijay that Bhavana missed out on.
'Rikki' Shooting Complete
The shoot of 'Rikki' has been completed recently. One of the acclaimed producers of Kannada cinema SV Babu has finished the shooting for 'Rikki' and at the same time he has commenced his next film, a remake of 'Pataas', in the direction of Manju Swaraj with golden star Ganesh in 'Gani' the boss. 'Rikki' the debut direction of Rishab Shetty for his story & screenplay with Rakshit Shetty & Haripriya in lead roles has finished a song shooting at Kashmir's Dal Lake surroundings for 10 days. 3 songs were captured for the film. Jayanth Kaikini 'Malage Malage Edeya Olage…….!, 'Jeeva Neenu Jeeva Neenu Elli Hode Helade' & 'Harusha Taalade Huchche Hidide Modala Notake Hrudaya Nintide' were captured in Imran Sardaria's choreography by cinematographer Venkatesh Anguraj.
'Shuruvaagide' Goes On The Floors
The film 'Shuruvaagide' has gone on the floors recently. 'Shuruvaagide' title meaning "it has started" went on the floor at Banashankeri Temple in Basaveshwaranagar recently with 2 known technicians K. Kalyan in lyrics & music, Manohar Joshi as cinematographer. Rest of the team comprises of débutante actors. Eminent lyricist & music composer K Kalyan has suggested the title for the film. Aasare Creations young buddy Shivashanker is a realtor and other petty businessman is producer. Shivashanker friend Srikanth is débutante director. Deepak Jayaram, Sowmya & Madhuri are making debut in lead roles. Deepak Jayaram son of Mahalakshmipuram JDS political party President is the director of the film. It is a film inside a film. Growing from scratch the protagonist reaches the director spot. Fresh problems come up for him. How he counters new problems is an interesting part says director Srikanth. 2 short films, modeling and one film 'Ugraksha' experience is the credibility of actress Sowmya Chetan.