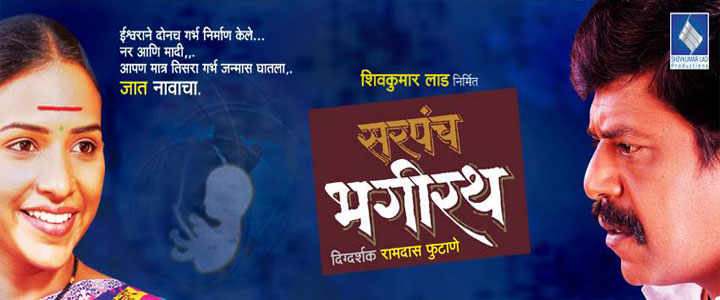 Producer: Shivkumar Lad
Director: Ramdass Phutane
Star Cast: Upendra Limaye, Veena Jamkar, Dr. Mohan Agashe, Kishore Kadam, Swarangi Marathe, Savita Malpekar, Jaimala Inaamdar, Vijay Joshi, Mira Umap, Vasant Avsarikar, Uday Lagu, Anand Panse & Jaywant Wadkar
Genre: Social Drama
Verdict: AVERAGE
Plot: Sarpanch Bhagirath tells the story of Rahi Girme and Bhagirath Girme, the OBC village headman. And also of the 6000 plus castes of this country and one of the millions of voters who are tangled in the caste system. God – The Almighty has created only two genders, xx and xy. But man has created a 3rd gender called 'caste'. And Sarpanch Bhagirath raises a pertinent question as to who will abort that.
Aces: The thoughtful intention behind making this film is laudable and the director Ramdass Phutane and his entire coterie of actors too deserve a special praise for doing justice to their roles to best of their ability.
Minuses: Too many subplots like the caste problems, the reservation problems in lieu with the OBC grievances mar the flow of the movie. And music too is another distraction.
Last Word: Sarpanch Bhagirath is a film meant for the rural masses. Single theatre audiences may appreciate the movie but it is certainly not a film for the multiplex audiences.