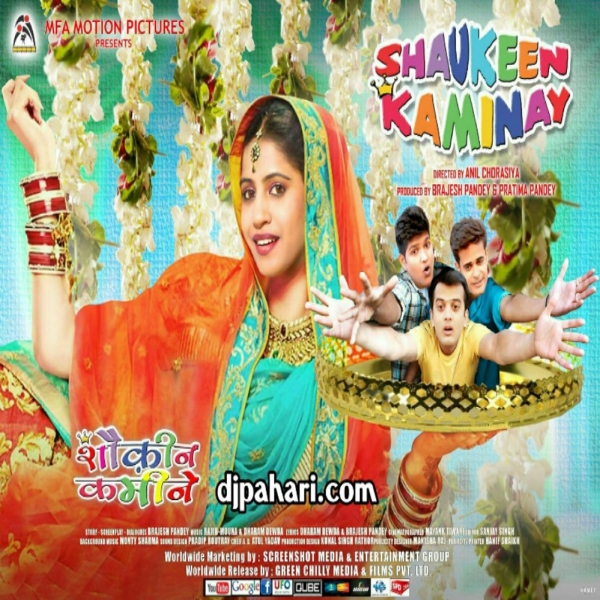 Q. What was your thoughtful inspiration behind making Shaukeen Kaminay?
A. To be very honest it has been my dream since the last 3 decades when I joined the film industry in 1986 to make a film which would have a message along with a pure entertainment value.
Q. Did you take it as a challenge to produce a full-length feature film like Shaukeen Kaminay for the very 1st time?
A. I have already worked with the stalwarts like Raj Kapoor, Yash Chopra, Shyam Benegal, Govind Nihalani, Manmohan Desai, Prakash Mehra, Ramesh Sippy, Subhash Ghai, B. R. Chopra, Yash Johar, Gulshan Rai, K. K. Pandya, N. Chandra, Kundan Shah, Rajeev Rai, Mansoor Khan, Mani Ratnam, Priyadarshan, Nadiadwala, Vinod Chopra, Sanjay Leela Bhansali, Rajkumar Hirani, Sanjay Gupta and many, many more. The past experience helped a lot and the journey eventually was spectacular.
Q. How did the idea germinate in your mind of making a film like Shaukeen Kaminay?
A. You see it so happened that Anil Chorasiya once brought a news headline stating that a man divorced his wife because of her virginity issue which had created a furore & spark in our mind. At that moment I thought what if that man was in the place of the women. This ignited our mind about making a film on virginity which is backed by a social message that why virginity is a privilege for men and justification for women.
Q. What was your motivational inspiration behind making Shaukeen Kaminay?
A. We feel that the film Shaukeen Kaminay is a contemporary film inspired by our honourable Prime Minister Narendra Modi's campagian "Beti Bachao Beti Padao" which works on elevating the status of women in our country and improving the mindset of the society.
Q. Ok so tell us why did you choose Anil Chorasiya only for directing Shaukeen Kaminay?
A. The choice was very clear for Anil Chorasiya who is trained by Hollywood directors and has made varied documentaries, ad films & short films. As Anil Chorasiya has been associated with us for a long time. His creativity, integrity & perseverance have influenced me to assign the direction of the film to him.
Q. Now give us details about the technical crew of Shaukeen Kaminay?
A. The entire cast & technical crew of the team especially the efforts of Atul Yadav & Kunal Singh Rathore are appreciable. I was very happy when our film was instantly liked by our distributor Pradeep Singh of Green Chilli media And films and in its 1st ever preview itself. He has acquired worldwide theatrical rights of the film which is releasing on 29th Apr, 2016.
Q. And any specific reasons for choosing only fresh faces for Shaukeen Kaminay?
A. We required fresh faces only for the film due to its subject of virginity, we hired trained artistes for the film. The performance of the artiste especially Vanshika Gupta & Yasmin Pathan are highly commendable.
Q. So what according to you is the USP of Shaukeen Kaminay?
A. The USP of the film is its social message "aurat ka jab maan badega, bharat ka samman badega". Besides this the music composed by Rajiv – Mouna & Dharam Dewda. The song "Maahi Re" has became instant hit among the youth.
Q. And what was your experience working as a 1st time ever filmmaker?
A. I got total cooperation from the film industry with whom I have worked for last 30 years. A special mention to Monty Sharma who has scored the background music for the film.
Q. And one last question what is the target audience for the film?
A. This film is specially targeted at the young generation who need guidance & counselling in social & matrimonial relationships because a woman not only gives birth to man but to mankind too.