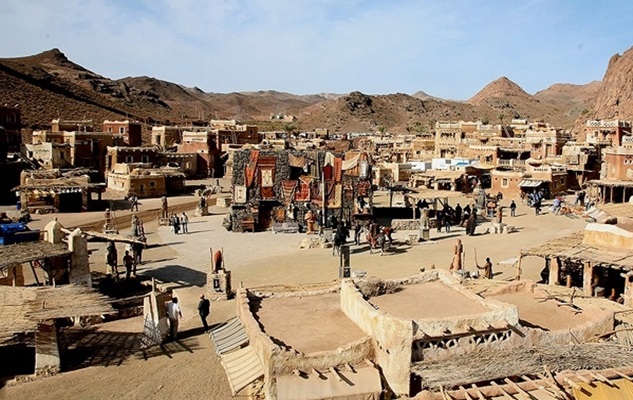 The movie 'Muhammad' To Open in Montreal World Film Festival
The movie 'Muhammad', having the music of A R Rehman, will open the Montreal World Film Festival. 'Muhammad', the latest film by renowned Iranian director Majid Majidi will open the 39th Montreal World Film Festival with its world premiere. This 171 minute epic on the early years of the prophet of Islam is considered the most expensive film made in Iran, with a budget of over $50 million. The entire production took 5 years. Renowned Indian composer A R Rehman also contributed to the music of the film. MWFF president Serge Losique said, "The Festival is very proud to be able to host the premiere of this important work, a film of very high artistry aimed at a very wide audience. There have been many movies dealing with key figures of the world's great religions, including Jesus, Moses & Buddha, but this is only the 2nd epic screen treatment of Islam's founder." Majidi will be present in Montreal along with principal members of his cast & crew. The Festival, which is the only one in north America to be recognized by the International Federation of Film Producers Associations (FIAPF) will take place from 27th Aug, 2015 to 7th Sept, 2015.
Salman Khan To Donate Profits 0f 'Bajrangi Bhaijaan'
Salman Khan has taken a decision to donate the profits of 'Bajrangi Bhaijaan to farmers. We have often seen Salman Khan flaunting his well – toned body and kicking some bad men in his films but the actor is equally famous for his generous nature. With 'Bajrangi Bhaijaan' already creating records of sorts, Salman Khan has decided to use the profits earned through the film for the benefit of the common man. Considering the many issues that farmers are dealing with today, news is that Salman Khan has wishes to donate the profits that he will earn through 'Bajrangi Bhaijaan' to them. Reportedly, BJP Leader Shaina NC who is thrilled with this move announced about this noble deed and also added that Rockline Venkatesh, who co -produced the film along with Salman, may also contribute his share for the donations. The move is being considered to relieve farmers who are in debt and are committing suicide in order to save themselves from the financial crisis. However, there has been no official announcement regarding the same from Salman Khan yet.
Pakistani Journalist Chand Nawab Wants Compensation From Salman Khan
Pakistani journalist Chand Nawab wants compensation from Salman Khan. Though Salman Khan walked away with a lot of praises for his portrayal as Pawan in Bajrangi Bhaijaan, it was Nawazuddin Siddiqui who too received applause for his role as a Pakistani journalist. However, many who watched the film felt that Nawaz's character was inspired from Pakistani journalist named Chand Nawab. Now, Chand Nawab has revealed his desire to get a compensation for being an inspiration to the role in the film. Also, Chand clarified that he wouldn't opt for any legal or serious action against the actor and the other makers of the film if they refuse any such compensation. He, also, thanked Salman Khan & Kabir Khan for using him as an inspiration since the film has given him a lot of fame. He added that his character has become so popular that he has been receiving offers to star in Pakistani commercials. In fact Kabir Khan & Salman Khan have even expressed their wish to meet the journalist and Nawab is very excited about the same.
'Bin Roye' Is All Set To Release On 7th Aug 2015
Mahira Khan's 'Bin Roye' is all set to release on 7th Aug 2015. After the smashing overseas Box Office success Mahira Khan starrer 'Bin Roye' is now all set to release on 7thAug, 2015 in India. The makers of the film, had decided to reschedule the release considering the clash with Salman Khan's 'Bajraani Bhaijaan' and the overwhelming response received by 'Bahubaali', however the movie will now be releasing on 7th Aug, 2015 in cinemas. 'Bin Roye' is distributed by B4U.
'Calendar Girls' Postponed By 50 Days owing to Censor trouble
Believe it or not but director Madhur Bhandarkar's most ambitious film 'Calendar Girls' has been postponed by at least 50 days. Originally slated for 7th Aug, 2015 arrival, the film has now been pushed ahead to 25th Sept, 2015. Even this release date is tentative as the film is yet to close on the exact date. A major reason for this is a fight that Madhur Bhandarkar may have to put in now, courtesy the changes that have been suggested by the Censor Board. Since the filmmaker isn't willing to take it all lying down, he is planning to approach the revising committee and put forth his case for the suggestions to be rolled back. The film has been passed with an 'A' certificate and Madhur is fine with that. However, he is not fine with the 'mute' button that Censors have pressed. Madhur's argument is that since the film is for 'adults only' viewing, audiences are expected to be mature enough when these words play. This is the reason why he is planning to take the film to the revising committee. This means that there is no way the film can make it to the 7th Aug, 2015 release deadline that was earlier set for it.
'Angry Indian Godesses' India's 1st Female Buddy Film
'Angry Indian Godesses' will be India's 1st female buddy film in all aspects & respects. In a way it will be like a bachelorette set to destroy all romcoms. So India is all set to get its 1st all out female buddy film named 'Angry Indian Goddesses'. Helming the project is the internationally acclaimed filmmaker Pan Nalin, who is best known for his award winning documentaries and the Indie film
'Samsara'. 'Angry Indian Goddesses' that marks Nalin's debut in mainstream Bollywood, boasts of an impressive line up including Sandhya Mridul, Tannishtha Chatterjee, Sarah -Jane Dias, Anushka Manchanda, Amrit Maghera, Rajshri Deshpande, Pavleen Gujral and is being produced by Gaurav Dhingra, who has earlier co -produced 'Peddlers' among many other noted films. Jungle Book Entertainment, co – founded by Nalin & Gaurav, with a strong slate of international films, is now entering the mainstream Bollywood space with 'Angry Indian Godesses.
San Francisco Film festival 2015 officially selects "TARA"
Festival Of Globe (FOG) San Francisco Film Festival 2015 officially selects Indian Hindi feature film "TARA".
In fact "Tara" gets official selection from "Festival Of Globe (FOG) Sanfrancisco Film Festival 2015. The film festival will be held from 6th to 16th Aug, 2015. "Tara" is produced & directed by Kumar Raj of Kumar Raj Productions & co – produced by Dharm, starring Rekha Rana. The film was released all over India by PVR / Cinemax & Rajesh Thadani. It had run for 50 weeks in one of the biggest & oldest heritage "Imperial cinema".
It has already received 48 International awards. In fact the actress Rekha Rana has received 12 International awards as "Best Actress". That apart she has been invited by Hollywood director Steven Spielberg to attend Hollywood film acting workshop in New York Film Academy in Los Angeles, Usa from Jul to Oct 2015.
Tirlok Malik's 'On Golden Years' Had A DC Premiere
A New York Emmy nominated filmmaker Tirlok Malik's New Film 'On Golden Years' had a Washington DC Premiere'. Incidentally speaking the Washington DC Premiere of Tirlok Malik's new film 'On Golden Years' was held on 19th Jul, 2015 at DC Cinema by Noor Naghmi who is the one of the lead actors of the film. The premiere was attended by many cast & crew members along with 300 invited guests, which included many media & community leaders. The MC of the evening was Dr. Zulfiquar Kazmi. Indian Ambassador Arun Kumar Singh sent his best wishes for film and the team was represented by Shiv Ratan (Counsellor – Community Affairs). The film portrays the complex emotions, which come at the time of retirement for immigrants. The film stars Ranjit Chaudhary, Jyoti Singh, Reeves Lehman, Sheetal Shah, Noor Naghmi, Tirlok Malik, Shruti Tewari, Farokh Daruwala, Indu Gajwani, Prof. Indrajit S. Saluja, Lovllien Kaur, Sandeep Suri, Iggy Ignatius, Kamlesh Gupta et al. The film On Golden Years is written & directed by Tirlok Malik. The film is produced by Iggy Ignatius who is also the co – director of the film. The film has been shot at the only Indian retirement community Shantiniketan in Florida. Other credits of the film are cinematography by Christo Bakalov B.A.C., music by Peter Lobo, art by Sunita Babber & editing by Tom Knight.
"Gum Gum" 100 Year Old Assamese Song
Another Independent beautiful Assamese hundred year old folk song is "Gum Gum'. In the midst of an undying Bollywood music culture, a large group of independent artistes are trying to cut through the conventional and give independent or indie music it's due. To secure that space may have been an impossible task a decade ago, but now, thanks to Ampliify Times Music, the scope for making their presence felt has expanded. Keeping the legacy forward of Independent Music check out the next release by the record Label Ampliify Times Music in association with One Digital Entertainment Presents another Independent beautiful Assamese folk song "Gum Gum' sung wonderfully by Sumithra Narayanan.
Buddhism Documentary Bags An Award
A Buddhism Documentary by Benoy K. Behl bags an award at the recently concluded Madrid International Filmfest
'Indian Roots Of Tibetan Buddhism' by filmmaker & conservator Benoy K. Behl has bagged the "Best Documentary Producer" award at the Madrid International Film Festival. The film, produced by the External Publicity Division of the External Affairs Ministry, was in competition against around a 100 films from 50 countries. An eminent art historian & filmmaker who began his career as a photographer, Behl has made 130 documentary films in the past but this is the 1st ever film that he has ever entered in an international film festival. The film has already won awards at the Bioscope Global Film Festival in Delhi where he won the "Best Documentary Award" and another in Noida where the film won the award of "Best Script Writer". Behl's films are regularly screened in universities & museums around the world. They have also been screened on Doordarshan's National & DD Bharati channels.