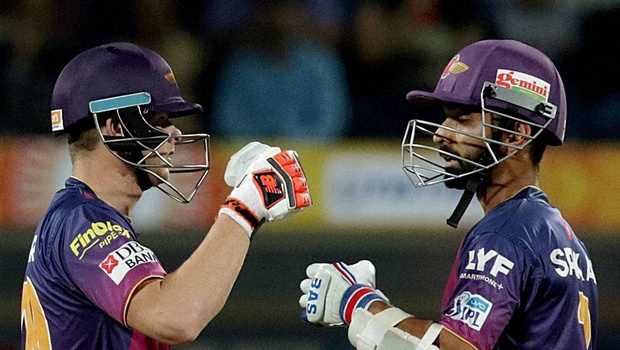 Bengaluru: With hosts Royal Challengers Bangalore (RCB) playing in the Indian Premier League (IPL-9) final on Sunday against Sunrisers Hyderabad (SRH) for the elusive title, Bengaluru is bracing for a high octane clash at the M. Chinnaswamy stadium in the city centre.
"The city has been put on a high alert for hosting the event (IPL final). Security measures are in place to ensure safety of players and fans at the stadium, which has been sanitised and fortified to prevent any incident," city additional police commissioner K.S.R. Charan Reddy told IANS on Saturday.
A Bombay High Court order to shift IPL games, including the final out of drought-hit Maharashtra to save water has been a windfall for the frenzied fans, as its board (BCCI) awarded the Karnataka State Cricket Association (KSCA) to host the final.
The city had hosted the IPL-7 final on June 1, 2014 when Kolkata Knight Riders (KKR) defeated Kings XI Punjab by three wickets to lift the title for the second time.
"Besides deploying about 1,000 police personnel in and around the venue, an anti-sabotage drill is being conducted to secure the stadium. A dog squad and a bomb squad have been pressed to sniff out any threat to the venue," Reddy said.
Though RCB played twice in IPL finals and lost — first at Johannesburg in South Africa in 2009 against the defunct Deccan Chargers and second in Chennai against the suspended Chennai Super Kings in 2011, they are playing in an IPL final on home turf for the first time and hoping to be third time lucky in lifting the cup.
With tickets for the high-voltage match sold out online and offline by May 25, a day after the home team entered the final by beating Gujarat Lions in the first qualifier, KSCA is expecting about 40,000 fans to pack the floodlit stadium on a summer night for a cracker of a contest.
"As half the seats in stands are reserved for complimentary tickets and passes, the remaining (about 20,000) went on sale even a fortnight before RCB entered the final. With RCB in the final, there was a surge for tickets online since May 24 night and tickets across counters at the stadium were sold out in two hours due to heavy demand," a KSCA official said.
Apart from franchisee of both teams and their sponsors, complimentary tickets are given to BCCI-IPL, various cricket associations, their members and former players, while passes are doled out to VIPs, including ministers, lawmakers, celebrities and officials of civic agencies involved in providing support facilities to the stadium.
Police have made elaborate arrangements to maintain peace and order during the summit clash, regulate vehicular movement and ban parking for one km around the stadium to prevent traffic snarls.
"Additional constables and home guards will be on duty from 5pm to midnight on all roads and signal junctions leading to the stadium for smooth traffic flow. Being a Sunday, we hope to minimise traffic jams if drivers maintain lane discipline," a traffic inspector of Cubbon Park police station told IANS ahead of the match.
State-run city road transport and metro rail corporations will be plying additional bus and metro services from 5pm till 1am for the convenience of fans flocking to the stadium for an exciting match.
(IANS)