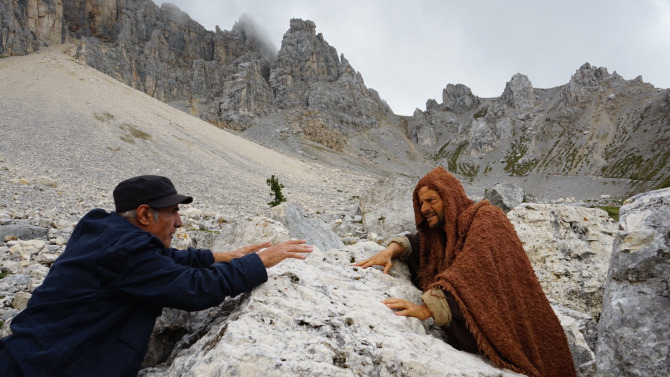 SATINE NOIR PICKS UP 'RETRIBUTION'
Indie Italian distributor Satine Film has created a genre label, Satine Noir and made its 1st acquisition, buying Dani De La Torre's 'Retribution' in a deal broached & sealed at Venice Fest. Pic unspools in Venice Days. Satine has also optioned Italian remake rights to Lucas Belvaux's 'Not My Type', a tragic tale of class snobbery, starring Emilie Dequenne. Satine Noir will release a highly select numbrer of titles, not just horror fare but thrillers & action movies, taking genre in a broader sense, Satine Film's acquisitions & co -productions head Claudia Bedogni told Variety. Produced by Spain's Vaca Films & Atresmedia Cine, 'Retribution', an action thriller set against the background of Spain's banking crisis, will be given an arthouse style release in the spring, she added. Bedogni & Film Factory head Vicente Canales sealed the deal at the Venice Film Market. Since founding Satine in 2013, Bedogni has seen considerable success, starting with Sundance hit "Beasts Of The Southern Wild', releasing films that are "not pure popcorn movies but talk about serious ideas," as she told Variety on Lido. "Beasts" and other pick-ups 'The Broken Circle Breakdown', Belvaux's 'Not My Type' have all sold over 100,000 admissions in Italy, Bedogni said.
SPT NETWORK LAUNCHES VOD PLATFORM
Sony's cable / sat network AXN Latin America can now be seen everywhere and on demand in the region via its new VOD platform AXN Play. More than a 100 hours of programming are available on AXN Play, allowing auds to catch up on earlier episodes of such hit shows as 'Hannibal', 'Scorpion' & 'Helix'. AXN Play will also offer the latest episodes of 'Criminal Minds', 'CSI Cyber', 'Hannibal' & 'Crossing Lines' after they air on AXN Network. AXN Play apps for smartphones & tablets are due to launch during the 4th quarter of 2015. AXN Play and the recently launched Canal Sony Play are available to subscribers of the following operators in Latin America and the Caribbean: DirecTV pan – regional; Dish in Mexico; TCC, Nuevo Siglo & Montecable in Uruguay; Telefonica of Coyhaique, Telefonica del Sur & GTD -Manquehue in Chile; Cable Onda in Panama & TV Cable in Ecuador. SPT Networks Latin America is in talks with other operators in the region to further expand the reach of both VOD platforms.
AMIR TO SHOOT 'MOUNTAIN' IN ITALY
US based Iranian auteur Amir Naderi, who is a Venice fest aficionado, will shoot his 1st feature in Italian, titled 'Mountain', set in a semi – abandoned village at the foothills of an Alpine peak. It follows his Japan set 'The Cut' & 'Vegas: Based On A True Story', in competition on Lido in 2008. 'The Cut', which was an homage to Yakuza Movies, opened the fest's Horizons section in 2011. Nader was also in Venice last year with 'Mise En Scene: A Conversation With Arthur Penn', which was in the fest's classics section. The highly symbolic 'Mountain' is set centuries ago in a village under Mount Latemar, in Italy's Alto Adige region, where a farmer and his wife struggle with the fact that the 2,500 meter tall peak keeps the sun from shining on their crops. "The film is 100% in Italian, though, like my other movies, there isn't that much dialogue in it," Naderi said. "In all my movies I try to push the characters in different cultures, different countries, different situations. "Ultimately my characters are all survivors, because I believe humans should always make something impossible possible," he added.
VINCENT SHAKES UP CANAL PLUS MANAGEMENT
Named chairman of Vivendi and its crown jewel Canal Plus last week, the shrewd and hands on Brittany born tycoon Vincent Bollore has launched a vast shakeup of Canal Plus' management to consolidate its business and streamline its operations with Vivendi's. Underlining his strategy in a letter to the company's employees, Bollore said the paybox group will now be totally integrated into Vivendi along with the other major Vivendi subsidiaries, Universal Music & Daily motion. As such, Bollore, who became a majority shareholder of Vivendi in Apr, 2015 and shortly thereafter got rid of Canal Plus chief Rodolphe Belmer, has proceeded to ax more key Canal Plus execs, notably the head of cinema Nathalie Coste – Cerdan, who was replaced by Didier Lupfer, the former boss of production & development at Ubisoft Motion Pictures. Bollore also tapped Guillaume Zeller to run the news & Thierry Cheleman as head of sports. The only remaining pillars of Canal Plus are Fabrice De La Patelliere, the boss of fiction & Manuel Alduy who handles the company's web & digital offerings.
TEAMTO & THURISTAR KICKS OFF PRODUCTION
Leading French animation shingle TeamTO & Belgian outfit have started the production of CGI animated medieval series 'My Knight And Me'. The toon skein has been pre – bought by Canal + Family, Teletoon +, Super RTL, VRT – Ketnet, RTBF – Ouftivi & distributor Cake Entertainment. "Modern everyday heroes accomplish extraordinary challenges, in incredible settings worthy of a classic chivalry film all with tremendous humor. This show genuinely has all ingredients of a great show," said Laurence Blaevoet, director of kids programming at Canal Plus. A spinoff of Thuristar's short film '850 Meters', 'My Knight And Me' centers on the adventures of Jimmy the Squire & Cat the Princess who are best friends at Epic High. Thuristar is producing short imaginary 2D sequences while TeamTO is handling the 3D animation. "We are very excited to produce a 2nd series with Joeri Christiaen. The quality of his pacing is simply remarkable, while his very particular & distinct sense of humor is one of a kind," said TeamTO exec producer Corinne Kouper.
FREMANTLEMEDIA NABS FRENCH PRODUCTION COMPANY
Aiming to further expand its presence globally,FremantleMedia has acquired a 51% stake in Fontaram, the French scripted company recently launched by producer / writer partners François Aramburu & Pascal Fontanille. The deal with Fontaram, which follows the acquisition of Italian TV & film company Wildside, was brokered by FremantleMedia France CEO Monica Galer, who will have a seat on the board of the new company.
"François (Aramburu) & Pascale (Fontanille) are incredibly talented drama producers with a wealth of experience & long standing relationships with all of the major French broadcasters. This is an important deal for FremantleMedia as we establish our scripted presence in France and I look forward to a successful creative partnership with the duo." François Aramburu & Pascal Fontanille said that their partnership with FremantleMedia would give their "new production company the best possible foundation to grow while also fulfilling our creative ambition." The pair added, "Joining an international group to produce French drama &b international co – production both broadens our opportunities and allows us to develop new content, within an environment that is constantly changing."
NBCUNIVERSAL SIGNS A MOVIE DEAL WITH CHINA'S ALIBABA
NBCUniversal International has signed a multi – year licensing pact with China's Alibaba Group, the world's largest e – commerce company. The agreement encompasses titles from Universal Pictures' new release & library slate, available on Alibaba's TMall Box Office service from this month. Included in the Alibaba deal are $1 billion – topping blockbusters 'Fast & Furious 7' & 'Jurassic World', which were also box office hits in China, as well as 'Minions', set for a 3D release in China on 13th Sept, 2015. Universal Pictures has enjoyed a record breaking year around the globe, achieving the highest grossing box office in a year for any studio, both in US and internationally. The agreement forms part of NBCUniversal's ongoing plans to expand its businesses outside US, particularly in key consumer growth markets such as China, where subscription VOD is forecast to grow rapidly in the next few years. Kevin MacLellan, chairman, NBCUniversal International, commented: "This partnership will continue to increase our reach in the market, as well as driving additional revenues for us in Asia. NBCUniversal is committed to licensing high – quality programming to Chinese platforms in order to provide great entertainment experiences to the Chinese audience."
'BABY(A)LONE' SELECTED FOR OSCAR RACE
Luxembourg has selected Donato Rotunno's 'Baby(a)lone' to be considered for a foreign language Oscar nomination. Adapted from Tullio Forgiarini's novel "Amok" 'Baby(A)lone' takes place in an affluent, contemporary Europe and centers on a girl & a boy who forge a unique partnership which involves violence but is meant to help them find love & hope. 'Baby(a)lone' is co – produced by Luxembourg's Iris Productions & Belgium's Iris Film. It premiered at the Luxembourg City Film Festival in Mar, 2015 followed by selections at the Stockholm Junior Film Festival in Apr, 2014 & the Brussels Film Festival. The movie stars teenage actors Joshua Defays & Charlotte Elsen along with Etienne Halsdorf, Gintare Parulyte & Fabienne Hollwege. Luxembourg took home its 1st ever Oscar in 2014 with Laurent Witz & Alexandre Espigares' animated short 'Mr. Hublot'. The deadline to submit Oscar foreign language entries is 1st Oct, 2015. The nominations will be announced on 16th Jan, 2016 and the Academy Awards will take place on 28th Feb, 2O16 at the Dolby Theatre in Hollywood.
'PARADISE SUITE BOOKED AS DUTCH CANDIDATE FOR OSCAR RACE
Joost Van Ginkel's 'The Paradise Suite', which will world premiere at Toronto, is set to represent the Netherlands in foreign language Oscar nominations' race. Pic depicts the lives of 6 people from different places & backgrounds who become inextricably linked in Amsterdam. Penned by Van Ginkel, the movie is "a profound & lyrical reflection on human resilience in the face of ongoing evil within 21st Century Europe," stated the Dutch film institute. The film's characters include a young Bulgarian woman, an African woman, Serbian war criminal, a Bosnian man, a Swedish piano prodige & his father. Set to premiere in Toronto's Discovery section, 'Paradise Suite' features an international cast: Issaka Sawadogo, Anjela Nedyalkova, Magnus Krepper, Raymond Thiry & Dragan Bakema.
ARNOLD TO RECEIVE ZURICH FILM FEST AWARD
The Zurich Film Festival will honor Arnold Schwarzenegger with its Golden Icon Award, which is the event's top trophy. Schwarzenegger will receive the award, which recognizes the lifetime achievements of an actor or actress, on 30th Sept, 2015. Schwarzenegger also will present his latest film, 'Maggie' and discuss his body of work at a workshop presented within the public ZFF Masters series. "We are extraordinarily proud to welcome Arnold Schwarzenegger, one of Hollywood's most iconic legends, to Zurich and are delighted that he will share his films & stories with our public," said the festival's artistic director Karl Spoerri. "Arnold has had a transformative career that no one in Hollywood can match & established himself as a global brand, even beyond the box office. We are honored to present him with our Golden Icon award at this year's festival." As well as his career as an actor, the award recognizes his public service as California's 38th Governor.
KIEFER TO RECEIVE ZURICH FILM FEST AWARD
Kiefer Sutherland, who won 2 Screen Actors Guild awards, an Emmy & a Golden Globe for his role as Jack Bauer in '24', will be the recipient of the Zurich Film Fest's Golden Eye award, which he will receive on 25th Sept, 2015. "The way Kiefer Sutherland has reinvented himself throughout his career is a testament to the rare acting skills he exhibited at a young age and honed as his roles evolved through various mediums," said ZFF directors Karl Spoerri & Nadja Schildknecht. The Western inspired film 'Forsaken', in which Sutherland stars alongside his father, 'Hunger Games' star Donald Sutherland, Demi Moore & Brian Cox, has been selected for a gala premiere. The film is helmed by Jon Cassar, who won Directors Guild of America awards for '24' & 'The Kennedys', and is adapted from a script by Brad Mirman. The producers are Kevin DeWalt, Gary Howsam, Bill Marks, Josh Miller & Isabella Marchese Ragona. The festival runs from 24th Sept, 2015 to 4th Oct, 2015.
FOX TV SWEDEN PICKS UP 'LIMITLESS'
Fox TV Sweden has acquired 'Limitless', the TV drama based on the eponymous feature film starring Bradley Cooper, from CBS Studios International. The series centers around Brian Finch (Jake McDorman), an ordinary man who discovers the brain boosting power of a mysterious drug known as NZT and is coerced by the FBI into using his extraordinary cognitive skills to help them solve complicated cases. McDorman stars opposite Jennifer Carpenter who plays a highly skilled special agent with a dark past, Hill Harper as a former military officer who has become a special agent, Mary Elizabeth Mastrantonio, as a canny manipulator who is in charge of special agents and has a clandestine relationship with a shady senator and presidential hopeful played by Bradley Cooper. 'Limitless' is produced by CBS Television Studios in association with K / O Paper Products & Relativity Television. Repped by CBS Studios International, the series is exec produced by Craig Sweeny, Alex Kurtzman, Roberto Orci, Heather Kadin, Marc Webb, Bradley Cooper, Todd Phillips, Ryan Kavanaugh, Tucker Tooley & Tom Forman. 'Limitless' will premiere on Fox on 12th Oct, 2015.
'RAMS' TO VIE FOR OSCAR NOMCANNES
Un Certain Regard winner 'Rams' has been selected by the Icelandic Film & TV Academy to compete for a Foreign language Oscar nomination. Directed & written by Grímur Hákonarson, 'Rams' is produced by Grímar Jónsson for Netop Films & co – produced by Ditte Milsted & Jacob Jarek for Profile Pictures. A tragicomedy, 'Rams' tells the story of 2 brothers who haven't spoken to each other in 40 years & live side by side in a remote Icelandic farming valley, tending to their sheep stock & prized rams who are considered one of the country's best. When the entire valley comes under threat because of a lethal sheep disease the brothers are forced together to save what's dearest to them their sheep. New Europe Film Sales has sold the film to over 40 territories including US with Cohen Media Group. Most releases are being scheduled between Nov & Feb. 'Rams' played at Karlovy Vary and will next screen at Telluride & Toronto. Besides Un Certain Regard, 'Rams' has won a flurry of prizes, notably the special jury nod & the audience award at the Transilvania fest & the Golden Tower for "Best Film" at the European Film Festival Palic in Serbia. 'Rams' also received a nomination for the LUX Prize, the annual film award given by the European Parliament and is among the 52 films on the European Film Academy's selection list for the European Film Awards.
'THE WAVE' RIDES FOR OSCAR RACE
Norway has selected Roar Uthaug's disaster movie 'The Wave' to represent the Nordic country in the foreign language Oscar race. An epic tale based on the 1934 Tsunami which killed 40 people in Norway's Tafjord, 'The Wave' takes place in contemporary Norway and centers around a geologist who realizes the inferno is about to hit. "The Wave is Norway's & the Nordic countries' disaster movie; as a genre film with a well – written script, superbly directed, with great acting performances, the committee believes that it will make an impression in the Oscar race," said Sindre Guldvog, who chairs the Norwegian Oscar Committee and runs the Norwegian Film Institute. Uthaug's 4th feature, 'The Wave' will world premiere at Toronto. It had its Norwegian premiere at Haugesund film fest in Aug, 2015 and was released domestically on 28th Aug, 2015.
Produced by Martin Sundland & Are Heidenstrøm for Fantefilm Fiksjon, 'The Wave' stars up & comer Kristoffer Joner, Ane Dahl Torp, Jonas Hoff Oftebro & Fritjof Såheim. 'The Wave' was selected out of 21 Norwegian movies. The 2 other frontrunners were Henrik Martin Dahlsbakken's 'Returning Home' ('Å Vende Tilbake') & Anne Sewitsky's 'Homesick' ('De nærmeste').